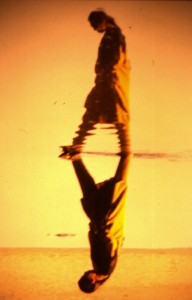 Iconic news anchor Walter Cronkite passed away this summer. Amongst the many praises and remembrances of his character and career, one thing stuck out — he never made himself the story. Cronkite was a trusted conveyor of information, always heralded for his objectivity.
This is a valuable reminder for wine critics and evaluators, particularly as the lines of classical journalism blend with digital media.
Recently, online wine media debated the topic of wine scoring and ratings, which is something of a cycling debate that never resolves itself. Arguments made by those participating in the dialogue are aimed at protecting, promoting or defending the critic's system and process. More to the point: it's about preserving the brand equity of the critic and promoting his or her advancement.
Time and time again, wine critics expound upon how their tasting notes are a reflection of THEIR experience with a wine and the rating is THEIR opinion and that the reader needs to follow THEM and taste along with them to calibrate their own palate.
What a narcissistic exercise.
Rating and recommendation systems employed by the vast majority of wine assessors today are purely a reflection of their own preferences and enjoyment. Whether they use points or other indicators of quality or desirability in their final verdict, it is insulting to the reader because, unfortunately, wine assessors of all degrees of prominence demure at the notion that they dictate taste. This is disingenuous. A critic is in a position to render verdicts which consumers take as endorsements.
Writing about drinking is the journaling of personal experiences. Approaching wine assessment as an evaluation of a consumer product is the essence of professional wine journalism. Wine evaluation (the practice of critical wine journalism) is not about the critics, it's about the wine and the readers and consumers who will buy it and drink it. Wine writing and wine assessment are supposed to serve consumers and guide their exploration and purchasing decisions rather than tell them what wines are worth their money and which wines are "good". Simply, a methodology and rating system needs to come about which takes personal preferences out of wine evaluation.
This is all the more true if we embrace the wholesale notion of the "subjectivity of wine." Assuming the most extreme degree of variation in sensory abilities, there is considerable common ground in sensory experience from human to human. Yes, there are some physiological variations in acuity and perception. Only a small portion of those, however, make for differing sensory experiences between individuals. Yes, there are some people who are statistical outliers in their sensitivity to a particular aroma or flavor. Neither of these things, however, gives wine evaluators license to throw their hands up in resignation and declare that it's useless to try to find some consistent and reliable way of communicating about wine. To take themselves out of the equation, wine assessors need to be informed and practiced while adhering to some criteria and process.
Wine evaluators should learn about and train themselves to recognize and identify aromas, flavors and textures in wine accurately. These are predetermined by the grapes' DNA and change expression to varying degrees with farming and vinification methods and other manipulations. Winemakers know how these sensory characteristics can be achieved through various growing and production methods. Wine evaluators should know this as well.
With this enhanced understanding in evaluation comes the understanding of what those aromas, flavors and textures (and their proportions) actually mean for the wine. If you can't tell a chardonnay from a viognier (assuming the two offerings before you are actually distinguishable) how can you judge if either wine is a good representation of the grape and growing region or if it is flawed, age-worthy or food-friendly? How can you make a reliable recommendation instead of telling your readers how "yummy" YOU thought the wine was?
When it comes to points, stars, or thumbs as indicators of your quality verdict, it's a waste of time to worry what one system's four stars means in terms of other scales. Instead, a predetermined set of some criteria for awarding points or other indices should be adhered to during the evaluation of each wine. Stating what four stars or 90 points means is not what I have in mind, either. The criteria should dictate how the taster arrives at those final ratings. The U.C. Davis scale was devised to evaluate student and experimental wines, but is a very good example of this process. It assesses different sensory attributes of each wine and tallies the points up for a final score.
All this is to take the focus away from the evaluator's personal enjoyment or preference. It focuses on the wine and strives to make the reviewer a conduit of information. It rests judgment in something more concrete than personal preference. It makes the reviewer more reliable and credible. The writing then truly becomes not about the reviewer but about the person reading the review, like Cronkite reporting the news – as a vehicle for fact and truth, not an arbiter of opinion.
— Arthur Z. Przebinda focuses on California wine stories, particularly those from the Central Coast, for PALATE PRESS: The Online Wine Magazine. Arthur founded redwinebuzz.com in 2006 to focus on California's Central Coast wines and to offer general wine education.