We are seduced by the Italian lifestyle – which is one of the main reasons we in the U.S. import the most Italian wine of any country in the world. And because of this, I got to hang out with a lot of Italian winemakers during VINO 2016 (aka "Italian Wine Week") which is an eye-opening several days of seminars and tastings held in New York every February.
As part of this event, dozens of wine producers brought their wines to show to prospective importers. You would think that the best Italian wines already have importers. But that's not always the case. Some wineries are from up-and-coming areas of Italy, some are small producers, and some are new. And many make wines that are trending in the world of wine: organic, biodynamic, rosé, and the new col fondo prosecco.
Organic and Biodynamic
In the large tasting area I first went to see Stefania Pepe, who I had met at her father's winery, Emidio Pepe during a big celebration honoring Emidio as an innovative winemaker in Abruzzo, Italy. Stefania broke away from the family to make the organic and biodynamic wines she believes in. I tasted a range of her Montepulciano d'Abruzzo wines and they range from pleasingly light to complex and spicy, some with fruit emphasis and some with more minerality.
Randomly continuing around the room, I stopped at a Sicilian winery, Deliella. Also organic, their youthful wines are made with indigenous grapes like perricone and frappato, full of big, soft fruit; a Grillo wine was nice and lively. It will be interesting to taste these wines when they've aged a few more months in the bottle.
Rosé from White Grapes
Another winery, a cooperative called Lunaria from Abruzzo, has 80% of its growers certified Demeter (biodynamic). The wines are full of flavors like herbs, flowers, honey, and lemon. A salmon-pink rosé wine was made only from the white grape pinot grigio. How is that possible? If you look carefully at bunches of pinot grigio, they actually look pinkish, and it's these skins that delicately color the wine.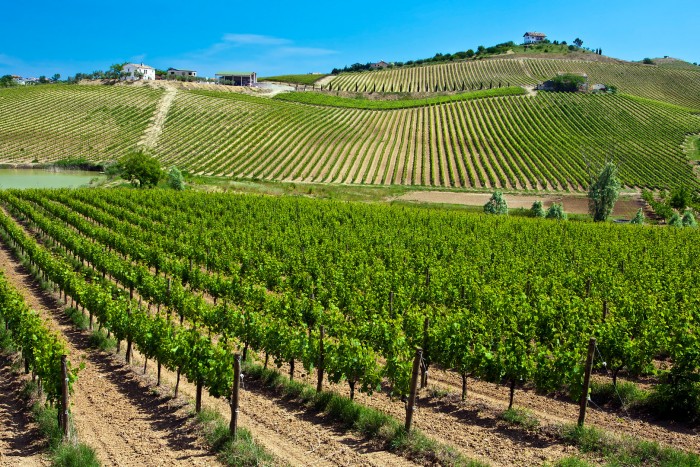 A New Style of Prosecco
From the north of Italy, I found Zago Prosecco which is making a new, super-dry Prosecco which is matured in a different way. This style of Prosecco is called col fondo, which means the wine is aged on its lees in the bottle, as is done in Champagne. But this is a completely different grape – glera – instead of the chardonnay, pinot noir and pinot meunier used in Champagne. Traditionally, prosecco wine has benefitted from not being aged like this because it was so easy for the glera wine to lose its beautiful freshness. Recently, a few producers have begun to figure out how to make bottle-aged Prosecco with a little more depth of flavor, with more control over temperature and other variables during fermentation and maturation. Maybe it also has to do with climate change's influence on grape ripening? In any case, this col fondo has lovely honeyed notes, and plenty of nice fruit.
These are the types of wines we're starting to find in the U.S. – from new wineries you may never have heard of before. Don't be afraid to try something new…