Open That Bottle Night is this Saturday, and will be hosted live on Palate Press by Dottie Gaiter. She shared here OTBN tips with us leading into this international wine holiday. Read them today, particularly if you plan to open an older wine.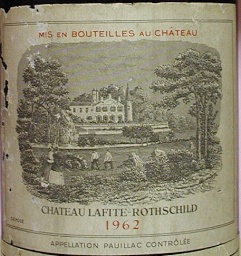 1.
Choose the wine. This is the all-important first step. You don't necessarily want to open your "best" wine or your most impressive wine, but the wine that means the most to you, the one that you would simply never open otherwise. Maybe it's Grandpa's garlic wine. You're looking for a bottle full of memories. On the other hand, if you have, say, a 1929 Lafite that's just sitting there, it's tough to argue with that.
2. Stand older wine up (away from light and heat, of course) for a few days before you plan to open it — say, on Wednesday. This will allow the sediment, if there is some, to sink to the bottom.
3. Both reds and whites are often better closer to cellar temperature (around 55 degrees) than today's room temperature. Don't overchill the white, and think about putting the red in the refrigerator for an hour or two before opening it if you've been keeping it in a 70-degree house.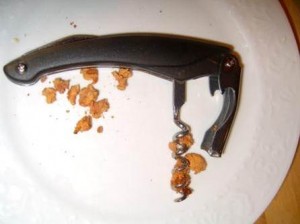 4.
With an older bottle, the cork may break easily. The best opener for a cork like that is one with two prongs, but it requires some skill. You have some time to practice using one. Be prepared for the possibility that a fragile cork may fall apart with a regular corkscrew. If that happens, have a carafe and a coffee filter handy. Just pour enough through the coffee filter to catch the cork.
5. Otherwise, do not decant. It's safe to assume that these are old and fragile wines. Air could quickly dispel what's left of them. If the wine does need to breathe, you should have plenty of time for that throughout the evening.
6. Have a backup wine ready for your special meal, in case your old wine really has gone bad.
7. If you are having an OTBN party, ask everyone to say a few words about the significance of the wine they brought. This really is what OTBN is all about, sharing.
8. Serve dinner. Open the wine and immediately take a sip. If it's truly, irretrievably bad — meaning vinegar — you will know it right away. But even if the wine doesn't taste good at first, don't rush to the sink to pour it out. Previous OTBN participants have said they were amazed how a wine pulled itself together and became delicious as the night wore on.
9. Enjoy the wine for what it is, not what it might someday be or might once have been.
10. Tell us about your evening, live, this Saturday night on Palate Press, the online wine magazine.