I used to make lousy cocktails. Not anymore.
I didn't go to a bartending class. Instead, I just paid attention to what good bartenders do, and took a few simple steps.
Now I'm going to share. This is not going to be a cocktail geek piece. These are things anyone can do, quickly, even tonight, to make your cocktails much better than they have been.
1. Use a cocktail shaker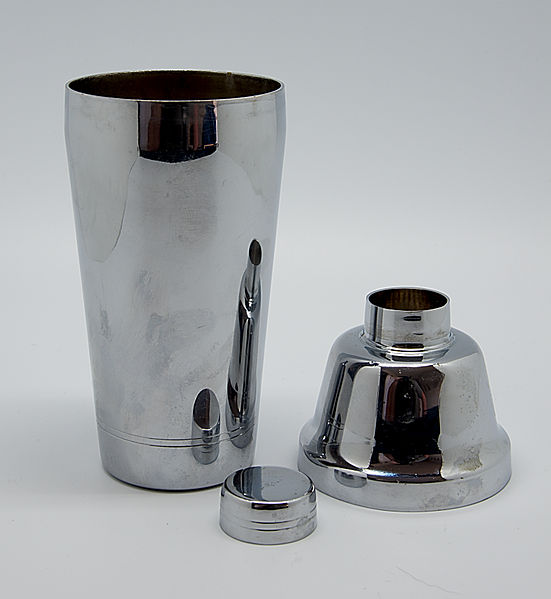 I had one sitting unused in the closet, a birthday present that came with four cocktail glasses. Instead of using it, I would pour two or three kinds of expensive booze on ice and wonder why the drink didn't taste better than the sum of its parts.
You never see a good bartender doing this. I don't want to get into the merits of shaking with ice versus stirring: personally I like cocktails shaken because I like them a little frothy. You can stir if you want, especially if you don't have a shaker yet. But the point is, mix the cocktail in one vessel, and serve it in another.
Now I feel my previous efforts were like eating directly from the frying pan.
2. Use only good-tasting ingredients
This sounds like a no-brainer; heck, all of these tips do. But this one is something plenty of people don't follow. Spoiled vermouth, cheap Triple Sec, crappy Cava, sweet and sour mix — if you put something that tastes bad into your cocktail, even as a minor ingredient, you are adding bad flavors. Rather than try to cover them up with good booze, just leave them out and make a different cocktail.
3. Use a measure
I don't use cocktail recipes; maybe I'd be better if I did. But my cocktails took a leap forward when I started pouring into a small metal measuring cup instead of directly into the shaker.
It's not so much that you need to get exactly 2/3 oz of Cointreau. And while preventing overpours is a good benefit, it's not the main one.
You can't get better until you understand what ratios create a balanced cocktail. Usually I make my second cocktail with different proportions than the first, maybe because I'm a wine drinker at heart and I like the variety. But I need to know what the proportions are; from that point, the learning curve for making your cocktails balanced is steep.
4. Lots of ice in the shaker; little if any in the glass
Cocktails need water to release their aromas and meld; this is one reason shaking them with ice is so effective. But unless you invest in a high-end professional-quality icemaker, your fridge ice will melt really fast in the glass, giving you a watered-down drink by the end.
At home I've taken to serving everything up, but I fill the cocktail shaker about 3/4 full with ice before I put any booze in it.
Incidentally, you don't have to shake for a long time: about 10 seconds of vigorous shaking is usually enough.
5. Start off working from a basic formula
You can get crazy with your liquor cabinet eventually, but you'll make more drinkable cocktails in the beginning if you start with something you know you like.
I like Manhattans. Roughly speaking, it's 2 oz of whiskey, 1/2 oz of sweet Vermouth, and a dash of bitters. That's easy.
Use Scotch instead of Bourbon or rye and it's a Rob Roy.
And you can augment from there. Put in 1/2 oz of orange liqueur. Add a little Italian soda syrup. Add Campari. All these things worked.
The other day I made a cocktail with 2 oz of Cognac, 1/2 oz of sweet Vermouth, 1/4 oz of dry Vermouth, 1/2 oz of blood orange liqueur, Peychaud's bitters and two Maraschino cherries. It was delicious. But to me it was just a variation on the Manhattan formula.
If you prefer Martinis or Margaritas, start there.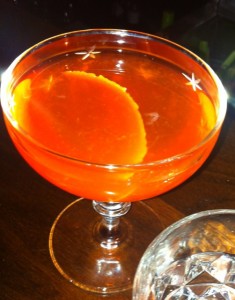 6. Vermouth is the greatest ingredient ever, if you respect it
Vermouth is so complex; it adds so much flavor to cocktails. But it's wine, and needs to be treated as such. When you open a bottle, store it in the fridge. And while it lasts longer than unfortified wine, you still need to replace it after 4-6 weeks.
I always keep a bottle of Vermouth in the fridge now, and usually two, one sweet and one dry. Sometimes I use both in the same cocktail, although in small quantities.
7. Bitterness is crucial for balance
We tend to think of sweet things when we combine cocktail flavors. Rum, Bourbon and flavored vodka are sweet; fruit juices are sweet; sodas, etc. You have to have bitter flavors in there or the cocktail will be insipid. This is what those little bottles of bitters are for. Buy one.
But don't stop there. In addition to botanical flavors, Vermouth adds bitterness. You can use Italian amaros as a bitter element. Campari works. It is possible to overdo it, as I did when I tried to make a 5-Bitter Manhattan. But I tried this because the 4-Bitter Manhattan was tasty.
8. Use fresh fruit juice sparingly
A little fresh lemon juice adds a lot of zing, but more than a little takes over your cocktail. You'll be surprised how much bang you get from half a teaspoon.
The pith is more useful than the juice. Peel it, squeeze a little over the cocktail and drop it in the top.
9. A bottle of real Luxardo brand Maraschino cherries is worth the extra money
My wife is helping me empty it by having three cherries every time I open it to make a cocktail.
10. Open bottles of booze will not last forever
You probably have to drink even high-alcohol booze within 2-3 years of opening it. The liquor won't go sour like wine, but it will lose its freshness and not be as tasty. Of course, if your cocktails are more delicious, using up your booze will not be a problem.
Happy to help.
[author] [author_image timthumb='on']http://palatepress.com/wp-content/uploads/2010/03/blake2.jpg[/author_image] [author_info]Wine writer W. Blake Gray is Chairman of the Electoral College of the Vintners Hall of Fame. Previously wine writer/editor for the San Francisco Chronicle, he has contributed articles on wine and sake to the Los Angeles Times, Food & Wine, Wine & Spirits, Wine Review Online, and a variety of other publications. He travels frequently to wine regions and enjoys coming home to San Francisco.[/author_info] [/author]