"The neighborhood is certainly right," the buyer must have thought.
"Those rich Rothschild cousins live just a few vine rows away, over on the other side of D2.  And the Tesserons at Pontet-Canet seem like good people, even though they have just recently moved here – well, 40 years ago – from Cognac.  But they certainly did a great job of sprucing up that property.
            "OK – so the location works, but the property itself has some problems.  Even though there are 86 acres of vines, they need lots of TLC, and the winery itself just won't do.  Plus the reputation of the place is horrible.  'The least-known and probably the most mediocre of all the 1855 classified growths,' Robert Parker sniffed in his book and said that it 'should be downgraded [from fifth grown status] to Cru Bourgeois level,' calling it 'the most obscure classified growth.'
"But how does that old house-hunting adage go? 'Always buy the least-expensive house in the best neighborhood you can afford.'"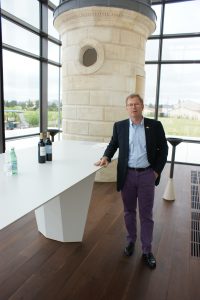 The buyer – real estate magnate and former rugby star Jacky Lorenzetti and his wife Françoise – certainly could have afforded whatever neighborhood they wanted. So in 2009 when he was looking at winery properties in Pauillac, Bordeaux' equivalent of a gated community, he purchased Château Pédesclaux, the ultimate fixer-upper, and asked Emmanuel Cruse, who knows a thing or two about local viticulture, to partner in managing it.  Today, the château has double-take-worthy architecture, the revamped winery is beyond state-of-the-art, the vineyards have grown to almost 120 acres, and Parker's Wine Advocate calls Pédesclaux' vintage 2015 "nicely proportioned and sure to age well."
What happened at Pédesclaux has been happening all across Bordeaux in the 16 years since the beginning of the new century, as buyers rush in to renovate distressed châteaux reportedly resting on great terroirs.  And not all of the buyers speak Chinese.  Owners of top-cru châteaux are buying second and third properties the way they once sought out vacation cottages at Arcachon.  Even a few American producers have gotten into the game of "this old château."
It is a warm day in June, and Vinexpo is in full swing when I accompany Cruse on the drive up to Pauillac from Bordeaux along the back roads of D1 until we reach Macau, then taking the more-travelled D2 for a tour and lunch at Pédesclaux.  I have been there once, about two years earlier, but now I am eager to see the new winery as well as architect Jean-Michel Wilmotte's modern take on a château, one that has local traditionalists buzzing.
"Jacky made perhaps the last great purchase of a classified growth available in Medoc," Cruse says as we arrive in front of the château, whose look divides people into lovers, haters and those who think "perhaps I'll get used to it in time." Wilmotte has preserved the middle section of the diminutive building with its large, off-white stones and mansard roof, but he has wrapped the two wings, one with its bell tower preserved like a trophy, in office-building glass boxes.
There is no doubting the inside beauty of the massive, low-profile winery off to the left, fading down the hillside toward the wide Gironde River.  It is ultra-modern, albeit with no pumps and 100 percent gravity flow, although tanks and barrels can "flow" vertically when necessary courtesy of industrial elevators.
Cruse, who three years ago took in Lorenzetti as an investment partner at his Château d'Issan in Margaux, had his first partial vintage as manager in 2010.  Vincent Bache Gabrielsen was brought on as the enologist or winemaker, and Eric Boissenot consults in the blending, as he seems to do at about every major maison on the Left Bank.
The wines?  The ones made post-takeover that I taste have a firm presence with a combination of bright and dark fruits, considerable elegance and complexity of structure that should – yes – make them age well.  But the re-construction of the vineyards is not complete, and it's Cruse's plan to plant more Cabernet Sauvignon in the years ahead. The makeover of Château Pédesclaux is a work in progress, but it certainly a delicious work in progress.
Before moving on, it should be noted that in 2008, a year before buying Pédesclaux, Lorenzetti purchased another, less-auspicious property nearby in St. Estèphe, in this case an estate that had already started on its way back, Château Lilian Ladouys.
Lilian Ladouys began life in the 16th Century as the La Doys estate, which eventually became Château Ladouys.  It fared well during the 18th Century, eventually being named a Cru Bourgeois Supérieur, but fell on hard times in the 20th Century when the estate was even split up.  In the 1980s, it was purchased by Christian and Lilian Thiéblot and became Lilian Ladouys.  Lorenzetti has continued its makeover.
There have been several other headline-grabbing châteaux makeovers undertaken since the beginning of 2000. Here is a partial listing in no particular order, with the buyer and the buyer's most-noted property listed first.
The Dillon Family (Château Haut Brion).  Haut Brion received its own renovation after young Prince Robert of Luxemburg took over family leadership in 2002. In 2011, he boldlymoved to extend the Dillon brand to the Right Bank, purchasing a lovely old St-Émilion property named Tertre Dugay, a classified growth located on an isolated perch as the western end of the plateau.  Shortly after the purchase, my curiosity got the better of me, and, ignoring the no trespass signs, I walked around the property. It had an air of haunted desolation.  The Dillons renamed it Château Quintus, then, in 2013, added to it by merging an adjoining estate, Château l'Arrosée.   The 70-acres are planted to two-thirds Merlot, one-quarter Cabernet Franc, and the remainder Cabernet Sauvignon.
Francois Pinault (Château Latour).  Beginning in the 1800's, the Guichard family over several generations built up holdings in three estates on the Right Bank – châteaux Siaurac in Laland de Pomerol, Le Vray Croix de Gay in Pomerol and Le Prieure in St-Émilion.  In 1998, Olivier Guichard, with the assistance of his daughter Aline and son-in-law Paul Goldschmidt, began a renovation of the properties.  When he died in 2004, the family was at a crossroads.  "My sister wanted to sell, and I didn't," Aline Goldschmidt told me in 2014when I visited Siaurac, a beautiful property with gardens to go along with the vines. "It took me two years to pay her off."
Renovations continued, then in 2014 the Goldschmidts took in as minority partner Francois Pinault and his Groupe Artemis to further elevate the estates. Pinault's move was a bit unusual in two ways.  One, the Left Bank premier grand cru was buying secondary properties on the Right Bank, and, two, it was unusual for Pinault to be a minority owner.  In recent years, he
has bought outright Araujo in Napa Valley, Domaine d'Eugénie in Burgundy and the neglected yet famous Rhone monopole, Château Grillet, still under renovation when I visited last year.
Count Stephan von Neipperg (La Mondotte). La Mondotte, one of four historic properties owned by the von Neipperg family, itself was actually an odd sort of makeover.  When authorities would not allow the family to add Mondotte's 4.5 hectares to their Château Canon de la Gaffiliere in the 1990's, von Neipperg decided to take it to St-Émilion's highest status, which happened dramatically in the early 2000's.  Since then, von Neipperg has invested in three other makeovers as a member of takeover teams.
The best known is Château Guiraud, whose purchase was hatched over a 2006 dinner among von Neipperg and three companions, the most notable being Oliver Bernard, also from Bordeaux "royal " and owner of Domaine Chevalier in Péssac-Leognan. Since then, the Sauternes property has become green-certified.  With Didier Miqueu, von Niepperg rescued two properties in outer St-Émilion – Château Soleil in Puissguin and Château Croix du Rival in Lussac.  (The satellites of St-Émilion plus Côtes de Castillon, which form a northeastern ring around the mother ship, are especially popular hunting grounds for châteaux flipping.)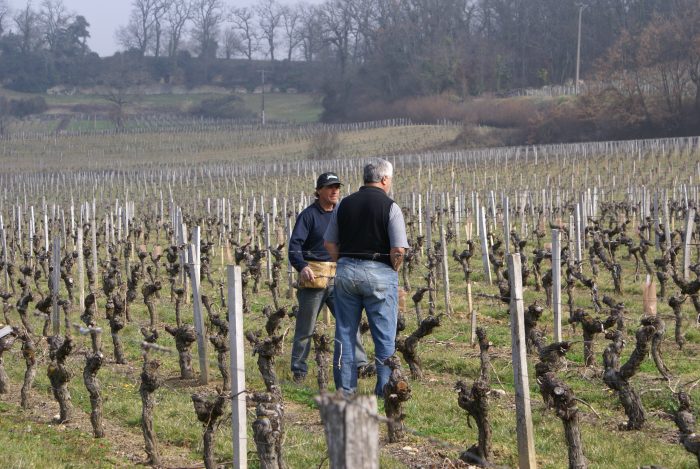 The Jacksons (Vérité in Sonoma) and the Seillans (Bellevue-Seillan in Gascony).  Pierre Seillan made wine for other people much of his career – in the Loire Valley at Château de Targe, in Bordeaux for Quancards and in California with the late Jess Jackson, where the two collaborated on Vérité, making Sonoma reds that scored 100 points seemingly more often than not.  In 2003, the Jacksons joined the Seillans in purchasing Château Lassegue, just up the road from Château Pavie.  A decade later, Lassegue has a beautiful new winery processing lovely red wines from the 60 acres of vines.
Jacques Thienpont (Le Pin).  The Thienpont family of France and Belgium are a large network of cousins who own, or make wine at, several châteaux in Pomerol, St-Émilion andthe northern suburbs.  Most famous are Alexandre at Vieux Château Certan, Nicolas at Pavie Macquin and Larcis Ducasse, Francois with his negociant wines and Jacques, one of the early garagistes with his Le Pin.  Along with his wife, writer Fiona Morrison, Jacques in 2010 moved on from the tight-knit world of Pomerol to Nicolas's neighborhood in eastern St-Émilion, buying Château Le Haut-Plantey and re-christening it Château L'If (a yew to go with the pine in the growing Thienpont forest!)
Shortly after the purchase, I asked Morrison if there was a "buzz" about this part of St-Émilion. "Well, if you take a look at the people who are making wines around us – Nicolas Thienpont, François Mitjavile [Tertre-Rôteboeuf], Peter Sisseck, Hélène Garcin [Poesia] and now Jacques Thienpont, those are some pretty impressive names."
Silvio Denz (former Swiss perfumist). Denz was not quiet about his desire to make an impact on the wine world, and one of his early collaborators was Peter Sisseck of Pingus fame in the Ribero del Duero.  After buying châteaux Faugères and Péby Faugères near Saint-Étienne-de Lisse in 2005, Denz brought Sisseck on board at Château Rocheyron in 2010.  All are in St-É's East End.  All the Denz properties have in this short period of time had physical and reputational makeovers, especially Peby, now rated among the highest of Bordeaux reds.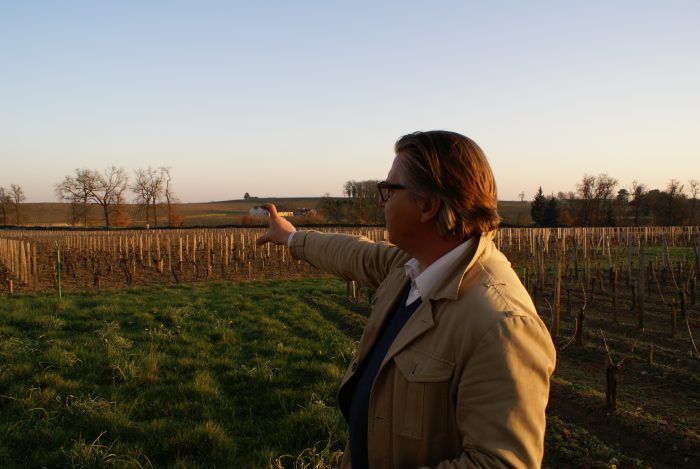 Over dinner a few years ago, Sisseck said the Rocheyron vines were actually in fairly good shape when he took over – "we wanted to do some additional inter-planting to stimulate the soil" – and pointed out that the location is ideal, the last section of the famous calcaire plateau.
The Moulins (Galeries Lafayette) and the Cathiards (Château Smith Haut Lafitte). Because of French regulations, many wine properties are owned as investments by banks and insurance companies. In 2014, one of them, BPCE Group, sold four Bordeaux properties to the Moulin family, owners of the Galeries Lafayette retail store chain, with Florence and Daniel Cathiard of Château Smith Haut Lafitte as minority shareholders.  All are fixer-uppers to some extent – châteaux St. Robert in Graves, Bastor Lamontagne in Sauternes and Beauregard and Pavillon de Beauregard in Pomerol.  The Cathiards say they entered the transactions more to hold the hands of their old friends, the Moulins, than to expand their own brand.  However the Cathiards, who only 26 years ago bought and started restoring SHL, acquired in 2012 some 29 acres of neighboring vineyards, which they now operate as Château Le Thil.
There is perhaps an unintended consequence of these château makeovers.  As eyesores turn into stunners, the surrounding properties begin to look a little less grand.  Perhaps in a few years, someone nearby enjoying newfound wealth will say:
"But how does that old house-hunting adage go? 'Always buy the least-expensive house in the best neighborhood you can afford.'"