For a long time, John Holdredge knew it was coming, but he kept it to himself. It was so contrary to his core beliefs that he questioned if he could do it. He wondered how he would feel, what his friends would say, how his customers would react. Then, one late afternoon in August of 2008, he heard himself speak the words out loud for the first time, almost involuntarily:
"I'm going to make a huge-ass Pinot."
John Holdredge, a simultaneously jocular and contemplative man, was one of those wine drinkers who found pinot noir to be its own spiritual category of grape. He might tell a friend that he hardly had time for weekly worship—"I have a law practice, a wife, a son, a daughter, a winery, and a girlfriend!" he would rant, pausing to allow you to realize he was kidding about the mistress, but serious about everything else. But he found plenty of time to worship at the altar of Burgundy. His transition into winemaking felt natural; he talked about being surrounded by 94-point California Pinots soaked with alcohol and boasting all the nuance of maple syrup, but he found the cooler climate of the Russian River Valley to be ideal for his goals. His small production of roughly 2,000 cases was largely Pinot, and most of his wines checked in around 13-14% alcohol. There were no huge-ass Pinots in the Holdredge line, and by the standards of his contemporaries, one might question whether there were even a medium-ass Holdredge Pinot to be found.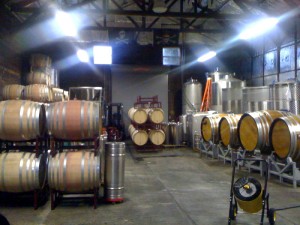 John had secretly imagined that, someday, this massive, dark Pinot would roll out to the surprise of his loyal customers, kept entirely private until its release. He would make a scant few cases, and only to say to the critics: "So there. I can do this, too. I can hang the grapes until they shrivel. I can add acid. I can add water back. I can do it all." He would see what score his bulky Pinot received. Then he would smile and return to his true, lithe love.
But the moment had not arrived by his choice—it had been forced upon him.
This lawman-turned-winemaker always preached the sincere and vital component of a wine's sense of place, but he knew  there was another, often ignored component that was equally important: a wine's sense of time. And in August of 2008, before his grapes were off the vine, he knew the 2008 Holdredge Pinot Noir's sense of time would demand that he make his first ever massive Pinot, whether he wanted to or not.
• • •
It began that spring, when a wave of pernicious May frosts did some serious damage to many—though certainly not all—Russian River vineyards. The frosts would have been significant enough that year without any added drama. John saw one vineyard cut its yield in half. Another parcel that typically produces 2.5 tons of pinot turned out a barely-there one-third of one ton.
"The fruit was intense," John says. "That frost was dramatic."
But it was the August heat spike that convinced John. He knew he was going to make a style of wine he had never made before. The sweltering August cranked up the sugars in his grapes, and John was surprised to see some Russian River growers picking on a normal schedule. "If you were picking by sugar levels, you were in trouble. There was high sugar but almost no flavor development. So there I was, sweating away, sort of dreading what was coming next." He confesses to feeling some disappointment that his original vision—the mysterious creation of this big, sappy, out-of-character Pinot—had been replaced by the very necessity of its creation. He had lost the opportunity to choose when to debut this hulking Pinot. But then, he couldn't fight the vintage.
As John Holdredge describes it, the 2006 and 2007 vintages in the Russian River Valley were grower's dreams. "You could pick when you wanted to pick," he says. "The wines were extremely expressive of the vineyard sites, and they reflected the stylistic choices of the winemakers. But in 2008, I didn't think there was much choice on picking. We had to let it go. And you know what? We ended up with really, really high sugar, but we got the great flavors we were looking for."
John couldn't recall ever seeing 28 Brix on his grapes before, but there it was. He was relieved to find that some of his other growers had not been hit with such severe weather that year, so he would have some bottlings of Pinot at more usual sugars and alcohol levels. But the grapes from that heavily affected site were going to challenge him.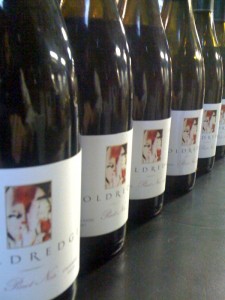 "Those big Pinots are not the wines I like," John admits. "But there are times when nature just bitch-slaps you. At that point, you have two choices. You can adhere to a silly dogma and some god-awful wine, or you can adjust to the vintage."
John chose the second option. He chose to acknowledge not only his wine's sense of place, but its sense of time—the individual characteristics of a growing season and vintage.
And so during the 2008 harvest, John decided to open what winemakers euphemistically refer to as "the toolkit." Some are ashamed of it. Some deny it exists. John Holdredge does not prefer to use the toolkit, but he is not going to lie about it, either.
• • •
Ask a California winemaker if they add acid, and he or she might pretend not to know what you're talking about. Not everyone adds acid, of course, but John Holdredge believes the public deserves to know more about the wine they're drinking.
"People adjust acidity," he says. "They water back. They use reverse osmosis. Look, it's nearly impossible to make these huge, ripe, extracted wines without doing that. That's the toolkit. You want that kind of wine, you have to use the tools."
Faced with the ripest, richest pinot of his career, John reached for the toolkit, too. "Darn right I did. I did the things I tend not to do. I watered back on that wine. I adjusted the acid. The wine would have been undrinkable without those steps."
Then he adds, "I don't adhere to the winemaker doctrine of 'None of your business.' I think it is my customer's business to know what I've done. Most of the time, I don't do a whole lot once the fruit comes in. But this particular wine—yes, I did."
The result was a Pinot packing 15.2% alcohol with a thicker, more viscous profile. And John Holdredge was almost embarrassed to admit he kind of liked it. Now it just needed a name.
• • •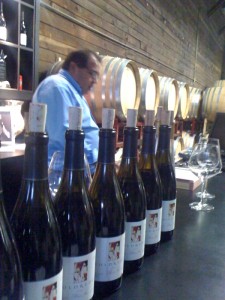 If you're trying to find the right name for your wine, you can always look to your children. John Holdredge had already done that. You can name it for the grower and vineyard. John does that regularly. But in the case of the huge-ass Pinot, you need a name with a special meaning. Recalling one of his favorite movie lines, John knew he had the perfect name: 11.
You're forgiven if you don't get it. If you've seen the 1980s Christopher Guest classic mocumentary "This Is Spinal Tap," you get it immediately. The wine is called "11," as in, "This wine goes to 11." The wine is best enjoyed in the spartan, authentic Holdredge winery and tasting room, with John reciting the line with a bad British accent.
The winemaker candidly says, "It's not the first Pinot I reach for." But he enjoys it more than he expected to. "It tells me a story," he says. "It's speaks of the spring frost and the August heat spike. It talks to you, just like Pinot should. And I guess sometimes, as a winemaker, you have to step outside your own palate."
Soon John will find out if his hunch about the critics was correct. He'll submit the 11 to a handful of writers. But even if the scores are high, he doesn't expect to make too many more wines like it. "If I went strictly by sales, I would make all of my wines this way," he says with a laugh, noting that the 11 has routinely been a popular wine during his many customer appointments. "But I don't have much of a marketing plan. I make the kinds of wine that I love to drink, and I'm fortunate that quite a few other people seem to agree with my take."
Then, ever the contrarian, he adds, "And don't believe what you hear from the critics about '08. They don't like it, but some of my best friends in the business prefer it to 2007. After all, Russian River vineyards had all kinds of diverse things to say in '08. You can't say it's not interesting."
---

Evan Dawson is the Finger Lakes Editor for the New York Cork Report and is completing a book about Finger Lakes winemakers. His paid job includes offering his best Ron Burgundy impersonation as a morning news anchor and political reporter for WHAM-TV in Rochester, NY.