Common wisdom often has it that to make its mark in the wine world, a region has to have a specific wine—often, a specific variety—that will be easily recognizable by average wine drinkers. A wine that provides a signature, a distinctive beacon on the ocean of wine that rolls around the planet. Think California Cabernet, Australian Shiraz, Argentinian Malbec or Alsatian Riesling. That signature grape, it is thought, will act as a locomotive for the rest of the regional or national production.
Try telling that to the vignerons of Jura.
As this region of eastern France, just north of Switzerland and south of Alsace, seeks to expand its reach and export to new markets, questions of self-definition have been raised by the Comité Interprofessionnel des Vins du Jura, the professional body that coordinates the local vignerons' efforts. Ideas had been bandied about to define a regional style, but as the CIVJ's director, Cécile Claveirole, explained during a June mission that took over 20 winemakers to New York and Québec, "the vignerons don't want to do that. We even tried to define two main styles of white wine, floral on the one hand and typé (traditional) on the other, but when we submit wines to define them, they can't agree on which is which."
The Jura vignerons are fiercely independent in spirit, and very attached to the region's unique traditions—and their own way of doing things. It is, in many ways, the complete opposite of New Zealand, where wineries aligned their Sauvignon blanc along very similar stylistic lines. Here, the same grape can lead to very different results—almost opposing styles, even—depending on each vigneron's approach.
Although some might find the whole thing a little confusing, it may be the region's true strength: how can you get bored with Jura wines, when every one of them is so different from the next?
Tasting through a range of producers' wines at their springtime mission was an illustration of that incredible variety.
Out in the range
Without even getting into individual wines or the effect of the various soil types and exposures, just looking at the range of wines produced in the region gives you an idea of the diversity of the region's offerings. There is crémant du Jura, the local bubbly made from chardonnay or pinot noir, generally (but not always) dry and crisp, with sometimes intriguing smoky notes. There are a whole range of still chardonnays and pinot noirs, with widely different tank or barrel regimens. Varietal bottlings of ploussard and trousseau, the two light-bodied yet surprisingly intense red grapes that are essentially unique to the region, are very distinctive, and the two grapes are often blended together or with pinot noir. You can also have late harvest wines, as well as vin de paille, made from grapes traditionally dried out on straw, to produce a rich, intense sweet wine. And let's not forget macvin, a delightful, mouth-watering blend of freshly-pressed juice and brandy produced from the estate's own marc (the French word for pomace).
Then there is the savagnin variety, with its unique blend of acidity, roundness, hazelnut and almond character, with spicy aromas reminiscent of curry and fenugreek. The range of styles made from this single grape is in itself truly remarkable. It is the only grape allowed in vin jaune, the region's unique oxidative wine (it stays a minimum of six years and three months in barrel, forming a "veil" of yeast at the wine's surface in the never-topped barrel). It is produced in ouillé or non-ouillé styles (i.e., with the barrels topped up or not, producing varying degrees or oxidative character), with floral character emerging in the ones that are non-oxidative, and an extra layer of spiciness in the more traditional non-ouillé wines. Others make bubbly from savagnin, including some luscious, fruit-forward pétillants naturels (wines that get bubbly because they finish their fermentation in bottle, instead of having a second fermentation done in the bottle, as is the case with champagne-style wines).
Getting down to individual wines is an even more diverse journey. It's difficult to overstate the differences between Domaine Rijckaert's 2007 Vignes des Voises "Vieilles Vignes" Côtes du Jura, which felt more like a well-rounded mâcon; the smoky, mineral, fatty yet lightly oxidative 2008 Les Brûlées from Domaine de Saint-Pierre; the bright acidity and spicy aromatics of the shortly skin-fermented 2008 Chardonnay Pamina Étoilé Arbois from Domaine de l'Octavin; or the 2007 Arrogance Côtes du Jura chardonnay, aged 18 months in 50% new oak, producing an affirmatively non-traditional wine that was elegant, long and showing nice ripe fruit.

I could go on and on about the constant sense of discovery that tasting Jura provides, as their June moveable feast (originally planned for April but foiled by a certain Icelandic volcano) amply demonstrated. Poulsard (or ploussard, as it's also called), could be found in delicious, fruit-forward styles made through beaujolais-style carbonic maceration at Domaine de l'Octavin or Domaine de la Borde, yet La Borde and Domaine de la Renardière also make traditional vinifications that show poulsard in a different, wilder, spicier light. Trousseaux could be light and fresh or built for long aging, like Philippe Bornard's 2007 Corps de Garde Trousseau, strong and intense and obviously made for the long term. At the opposite end of the spectrum, Bornard also makes the Ça va bien pétillant naturel, a delight of flowers and white fruit, sweet and expansively bubbly, that his vigneron colleagues kept coming back to taste.
Vins jaunes, all made from savagnin and dominated by oxidative character, can also be remarkably different from one producer to the other, with the nutty side prevailing in some, the curry spice jumping forward in others, and fruitier notes emerging here and there. Stéphane Tissot even showcases vins jaunes from different parcels (En Spois and Les Bruyères), convincingly demonstrating that jaunes from different soils take on oxidation very differently, producing wines of very distinctive personality. En Spois had a very unique, peaty side, while Les Bruyères was spicier—a character also found in the chardonnay Tissot makes from the Les Bruyères site. And I'm not even going to start on how the macvins had personalities that range from fruity and floral to Domaine de Montbourgeau's brilliant, aerial macvin, redolent of freshly brewed green tea.
The beauty of small things
For Cécile Claveirole, this extremely wide range of possibilities needs to be stated as a strength and a point of distinction: "We know that we are a truly original wine-producing region, and that's we want to offer. We can say that, globally, the reds are light and aromatic and that the whites carry intense aromas, but beyond that, it's hard to say anything in general. So we communicate our diversity, and the fact that you can just keep on discovering new things."
And there is still much to discover. Exports represent only 4.3% of Jura's production at this point, although this number is growing. By comparison, half of Burgundy's wine heads to countries outside France.
The key to successfully promoting this remarkable diversity may rest on the fact that the region has a very limited production.
Although it did have up to 20,000 hectares under vine at the end of the 19th century, today's 200-plus Jura producers now work on only 2,000 hectares. This small scale of  production also explains why so many of these producers work organically and make their wines with natural fermentations, often with low sulfur. They work at a scale where such approaches are more easily manageable—and they also share a lot of information on gentle approaches and effective solutions, like crushed orange peel to fight powdery mildew, or buttermilk sprays that are effective against mildews and pests.
Total yearly production is 8 million liters—less than one million cases. As Cécile Claveirole points out, some co-ops in Languedoc produce twice as much. By comparison, E & J Gallo produces some 900 million bottles a year, while the single brand Ménage à Trois wines created by Trinchero sell about 1.5 million cases a year. The Jura's production is roughly equivalent to that of wineries like Coppola, J. Lohr, or Ironstone.
Clearly, for these producers, the business model does not require a distribution contract with a large supermarket chain. Jura is a niche product, something to seek out when you want to find yourself somewhere different in the wine world. If that preserves an island of diversity in the world ocean of wine, they should be widely applauded. And appreciated, when you head to the wine store looking for something completely different.
---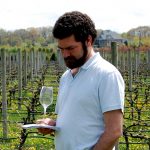 Rémy Charest is a Quebec City based journalist, writer, and translator. He has been writing about wine and food for over 12 years in various magazines and newspapers. He writes two wine blogs (The Wine Case, in English, and À chacun sa bouteille, in French) and, as if he didn't have enough things to do, he recently started a food blog called The Food Case.