The Greeks may have been the architects of democracy, but they seem to have taken more time to build reputable wine. The wine history on the island of Crete stretches 3,500 years, but it has only been since 2003 that Crete has achieved a modicum of success.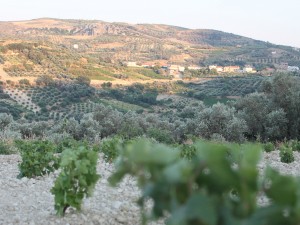 To comprehend this void, you need to understand their recent history. Crete has long been known for forgettable bulk wine, even with their indigenous varieties. Phylloxera devastated most of the old vineyards in the early 1970s, but nothing viable was planted to showcase the island. In 1998, the state wanted to "promote" their indigenous grape varieties and forced the extensive planting of almost exclusively Vilana, one of Crete's native white grapes, but also its least promising. Not surprisingly Vilana became over-planted and over-produced, continuing the perception of mass-produced Crete wines. The law was finally overturned and new plantings of grapes based on scientific vineyard mapping, and a renewed dedication by a crop of younger winemakers has now resurrected Crete's wine industry.
Vidiano has emerged as Crete's flagship white wine. "Vidiano is full of apples, yellow fruits, rich but balanced aromas, velvet body, round with a twist of oily texture, with a refreshing acidity," says Nicolas Miliarakis of Minos-Miliarakis Winery, located in the Peza region of Crete's capital, Heraklion. But there are other native whites including Dafni, and Plyto, and you'll also find Chardonnay, and Sauvignon Blanc.
Reds, however, are not the strong suit in Crete, however there is some promise with a few of them. In Heraklion Kotsifali is an indigenous grape but it needs a blending partner to round out the rough edges, preferably Syrah but Merlot, and Cabernet succeed as well. "Kotsifali has elements of spicy prunes, leather, cinnamon, small red fruits," says Nicolas Miliarakis. "It doesn't have a deep red color but it does have a long after taste, matching very well with tomato and onion sauces, goat and lamb, ingredients that characterize Cretan cuisine," he says.
Heraklion
Located outside of the port city of Heraklion, Domaine Paterianakis is at the forefront of wine tourism with a winery open to the public and a bed and breakfast on site. Their facility looks down to low rolling hills and out to the Cretan Sea. They were the first to farm organically in the area. Their rosé made with Kotsifali and Syrah is one of the best on the island.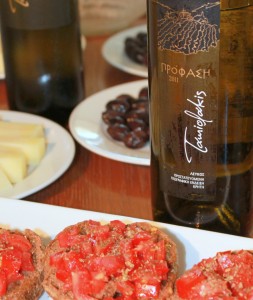 The calcium rich soils of Tamiolakis Winery makes their flagship Ekti Ekdosi (meaning 'Sixth Edition'), an extracted blend of Kotsifali, Cabernet Sauvignon, and Merlot, showcase the potential of what reds can do. "This wine is a blend of our Cretan past and French history," says owner Maria Tamiolakis. I tasted the 2008 and 2009 iterations, both different and impressive, showing that Cretan blended wines have structure, finesse and are comprehensive with layered fruit.
Minos-Miliarakis Winery also makes a terrific Kotsifali, but adds Mandilari for color and tannic structure, and Mourvèdre. Douloufakis Winery planted their grapes in 1996 on American rootstock and owner Nicos Douloufakis makes Liatiko, another native variety usually reserved for sweet wines as it has a propensity to oxidize quickly, but his dry red version is perfect with Greek lamb, showing notes of black cherry, pepper, lavender, and resin.
Zacharias Diamantakis and his namesake winery have impressive views of a patchwork quilt of vineyards and olive trees as far as the eye can see. Their 2011 Vidiano showcases this grape perfectly with clean, bright acidity, body and depth, perfect with seafood which is ubiquitous in Crete. "I love Vidiano, it is our future," says the Decanter-award winning Diamantakis.
Chania
Moving west, there are less than 10 wineries outside of Chania and this region differs from Heraklion typically with less wind but more heat, allowing Crete to showcase international varieties like Chardonnay, Grenache, and Tempranillo.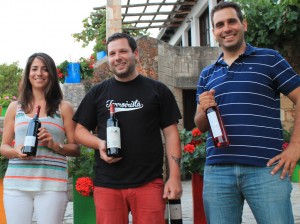 Manousakis Winery offers Rhône-styled wines, Syrah, Roussanne and Grenache which fall under the Nostos label, available in the United States. At Dourakis Winery there is a clear acidity on their white wines, potent little numbers that cry out for food but which are effective in their simplicity. Karavitakis Winery represents exactly what Crete seems to be working so hard for: wines that are compelling, using international varieties, but not shying away from the native grapes which make Crete so unique.
Clearly visitors to Crete will not be familiar with many of the native grapes, therefore well-known varieties like Merlot offer an easy introduction to traditional Cretan reds, and Karavitakis bridges this gap well. Their Syrah for example is a dusty tannic wine, oaked aged with elements of blackberry and leather, similar to their fine Cabernet Sauvignon with its blueberry, blackberry and cocoa notes.
The bourgeoning Cretan wine industry is also tourist-friendly, and you'll find wines here you simply cannot find anywhere else. A visit to this island will provide an opportunity to sample what very well might become world-class wines in the making.
[author] [author_image timthumb='on']http://palatepress.com/wp-content/uploads/2013/06/michael_cervin.jpg[/author_image] [author_info]Michael Cervin is a wine writer, and author of California Wine Country. He contributes to Decanter, Fine Wine & Liquor (China), Wine Enthusiast, Wine & Spirits, Sommelier Journal, The Tasting Panel, Food & Beverage World, IntoWine, and many other publications. He has served as a judge at various professional competitions including the Best of Vinho Verde Awards in Portugal, the Taste of Rum Festival in Puerto Rico, the California State Fair Wine Competition, the Central Coast Wine Competition, and the Berkeley Springs International Water Tasting. He is also the restaurant critic and contributing travel writer for the Santa Barbara News-Press.[/author_info] [/author]