OK, so the snails were not the best I've ever consumed; those savoured in South Africa a few months prior were vastly better. Perhaps though it was the choice of wine–a Pinot Gris; its rich smokiness didn't really work with those meaty little fellows drenched in a butter garlic sauce. A crisper wine, as opposed to opulence, would have suited the dish better. Thinking here of a Cremant de Alsace which would mirror the blinding good rosé sparkler I had in South Africa.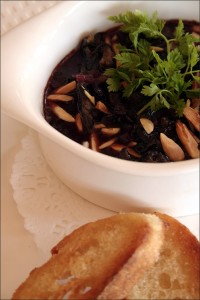 The "accepted" wine match with snails, when in Alsace, is a dry Sylvaner, the "lesser" of the permitted varieties grown in Alsace but not one ignored by the gastronomy brigade. And no doubt other opinions could be applied to this particular dish. That, in essence, is the delicious truth of  wine and food in Alsace.
Wherever you go in the region–an upper-priced restaurant, a more humble tavern or just sampling various vintages with a winemaker–it is the gastronomic angle that keeps reappearing. The wines are designed with food in mind.
So whether it is the fresh dill scattered over a fillet of Dorand served with Paul Zinck's delicious Riesling Prestige (at Au Vieux Porche restaurant, right next door to the winery in Eguisheim) or Bott Geyl's Pinot Noir Cuvée Apolline poured with a succulent pink-in-the-middle roast lamb and beetroot in bread (the sweetness of the beetroot brought out a delicious sweet-earthy dimension in the wine), every bottle sampled on a recent visit was offered as being particularly good when matched with food.
They don't make it easy though. As detailed on Spittoon, matching wines lacking any details of their level of sweetness  can be more than tricky.
Would a dryish Gewürztraminer, say Trimbach's Cuvée des Seigneurs de Ribeaupierre, really go well with a Quetsch Plum Tart? (This, incidentally, has 10g residual sugar).  Or would the same producer's Vendanges Tardive Gewürz (with 80g sugar) be a significantly improved match? Experimentation is the key.
With Alsace's seven major varietals it is relatively simple to follow some basic rules; you just need a little experimentation with the wine to check its sweetness (when known) and–perhaps more important–its perceived sweetness (a combination of acidity and minerality that imparts the impression of being drier than the wine's actual residual sugar implies).
The rather neglected Sylvaner is made for shellfish, oysters and so on. But all consider it for fondues and salads.
The most versatile variety–Pinot Blanc–matches with a huge array of foods from fish to poultry taking in sushi, dim sum, tabouleh and terrines and asparagus in its stride. It is also rather good with egg-based dishes such as the classic Alsace Onion Tart.
Riesling, perhaps the region's most famous variety, is one to pick for fish in a cream or Riesling sauce, and exotic dishes picking up the flavours of citrus, lemon and grapefruit.
The opulence of Pinot Gris, often with a degree of sweetness, is a classic with foie gras, a match I adore. Game birds and foods like liver and kidneys are also sublime. Dishes based on mushrooms, lamb tagines, tandoori chicken and so on are also sublime. I adore PG with roast chicken served with a creamy mushroom sauce.
Gewürztraminer, when in its full aromatic glory, scores with strongly flavoured cheeses. You must try it matched with Munster at least once in your life but blue cheeses in general are also good. When not too sweet, fruit desserts are good. Some literature I received while in Alsace also declares Gewürz a "revelation!" with "the trio of ingredients so dear to Mediterranean: traditional tomato, anchovy and olive oil." Foie gras is also a superb match.
The two grades of wines with sweetness indicators (Vendanges Tardives and Selections de Grains Nobles, the latter with a little botrytis influence) I must admit to enjoying on their own, letting their complexity play on the palate alone, totally unsullied by food. You may think differently though and match them with something unusual. That snail dish perhaps; each to his own I guess.
* * *
The website for the Conseil Interprofessionnel Des Vins d'Alsace (Alsace Wines to you and me) has recipes available for Onion Tart and Quetsch Plum Tart, among others. The site also provides information on matching food with the region's wines.
–Andrew Barrow  is the author of Spittoon, one of the top wine sites on the internet. A member of the prestigious UK based Circle of Wine Writers and WSET Diploma holder it would appear that total immersion in the online world of wine (with a sideline in food)  is just a step away.