Faedo is a lovely village in Trentino, a typical little mountain village characterized by two churces and an ancient, mighty castle, Castel Monreale. This village is on the slopes above the Val d'Adige Valley and its climate is one of the most favorable in the area for grape cultivation. Here you will find one of the most well-known Italian wine producers in this area, a true original named Mario Pojer.
Mario's adventures in the wine world began very early. He was only a child when his father, a winemaker who worked in the Veneto, died of poisoning from chemicals used in enology at that time. Mario's mother returned to live near her parents in Trentino, and it was there that Mario began to work in wineries during his school holidays.  He became a true "cellar rat" at the age of 12, cleaning tanks and helping out in the winery, which he found he really enjoyed. At that point he decided he would become a winemaker, like his father—although his mother and grandmother would have preferred him to be a surveyor.
During his studies at Istituto San Michele all'Adige, one of Italy's top enological schools, Mario met Fiorentino Sandri, whose father had a small farm and a few acres of vineyard. The two became great friends, and together decided to found a new winery, the Pojer & Sandri Winery. Their first vintage was in 1975. From the beginning Mario and Fiorentino were not content to make just good wines: they wanted to make the best wines they were capable of producing.
One day Mario became convinced that it was necessary to wash the grapes before pressing them, in order to remove any residue from treatments they'd had in the vineyard, and to remove pollution from the air, which settles on everything. "In a must of unwashed grapes you'll find residues of botryticides, copper, and pesticide treatments,"  explaines Mario.  "And yeasts can easily become stressed, creating unpleasant by-products. Sometimes, fermentation cannot start. In contrast, when the grapes are washed, the yeasts are put to work immediately, and fermentation procedes well. In  this way, the wines become better, healthier."
Mario's challenge was to figure out how to wash the grapes, and with what. He realized he could not use just any common detergent. After years of testing, trials, and failures, Mario finally found the best cleansing agent for his grapes: citric acid, a completely natural substance. To use it on the grapes, he invented a special machine, a kind of washing machine, a "Jacuzzi bath tub for grapes", as he calls it, which he also patented.
How does it work? The hand-harvested grapes are placed in baskets, then are  put into this "pool", where a liquid solution made from water and citric acid bubbles, just as in a whirlpool. The bubbles massage the grapes and allow them to slough off both chemicals used in the vineyard, and all pollutants from the atmosphere—but leaving the natural yeasts on the grapes.
The next step is similar to, well, a carwash! The grapes are transported by conveyor, for an additional washing and further elimination of chemicals, again with a solution of water and citric acid. They then pass beneath the jets of water which remove of the citric acid solution. The journey continues on vibrating belts that dry the grapes with warm air. The grapes are now ready to be made into wine.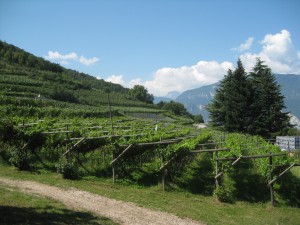 Time has proved Mario Pojer right: today the wines from Pojer & Sandri Winery are awarded medals in many significant wine competitions, and are appreciated throughout the world. Is it enough to continue to work quietly and enjoy the success? No! Mario is an energetic character. After his "machine for washing the grapes," he created several more inventions, for solving other problems in the winemaking and vinifaction processes.
"I love to work in my cellar, and always try to improve certain manual procedures," he says. "Every year, on average, I work on one new project. The latest project involves putting whole grapes in a press, without their carrying in any oxygen. It was a piece I was missing.  For many years I tried to understand how to achieve this result. And finally, this year I did it: thanks to a new machine I was able to place the grapes in the press without any additional oxygen. And with impressive results. The wines are spectacular."
The professional adventures of Mario Pojer and Fiorentino Sandri do not end with wine; they also produce spirits and vinegar. So there are many additonal areas of research I would like to talk with them about, in the future. For instance, their work on interspecific grapes or crosses resistant to downy and powdery mildew…but that's another story!
Tasting notes
2009 Vigneti Dolomiti IGT Bianco "Filii"
This is an extraordinary white wine from Riesling and its offspring ("filii", in Latin): Müller Thurgau, Kerner, and Incrocio Manzoni. The alcohol is very low—only 9.5%—the color is pale yellow, and the flavors fruity, lush, and tropical. In the mounth it is fresh, fruity again (peach), with a finish that is long and very pleasant.
2003 Vigneti delle Dolomiti Rosso IGT "Besler Ross"
From a blend of Pinot Noir, Zweigelt, Franconia, Negrara Trentina, Groppello Val di Non, a red wine with a ruby red color and purple nuances. The nose is quite spicy and peppery, but also fruity, with berry notes: raspberry, blackberry, blueberry. The taste is fresh, flavorful, round and soft, like a good Pinot Noir or a great Syrah.
---
Elisabetta Tosi is a freelance wine journalist and wine blogger. She lives in Valpolicella, where the famous red wines Amarone, Ripasso, and Recioto are produced. Professionally, she serves as a web-consultant for wineries, and in her free time  writes books about Italian wines. She is also a contributor to Vino Pigro.