Assyrtiko from the Greek island of Santorini is a world treasure, with one of the epic stories in wine. Catastrophic volcanic eruptions, centuries-old vines, sabotage by resentful neighbors, the threat of big corporations: all this story needs is Brad Pitt and Angelina Jolie. And you know what? They have a house on the island.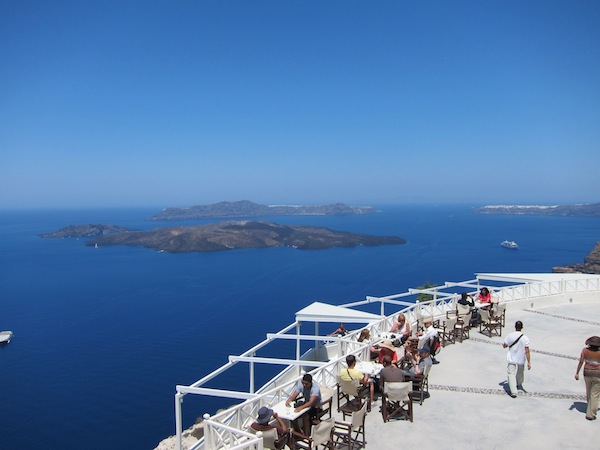 But the Assyrtiko grape plays supporting actor to no one and nothing. You can blend it with other grapes, ferment it in wood, even sink it 20 meters below the ocean as one winery is trying, and it still leaves your lips wondering where the salt came from.
No wonder it's tough: by the time this minerally, high-acid grape reaches your glass, it has been through a lot.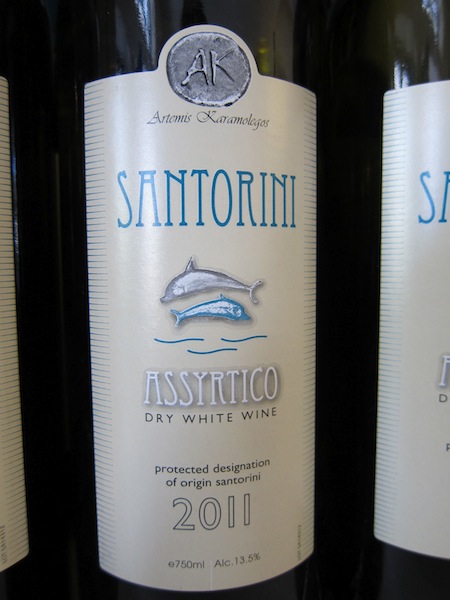 We don't know whether Assyrtiko was on Santorini when the island was evacuated for about 300 years after a volcanic eruption 3,600 years ago wiped out everything. The Minoan people had enough warning that there were no human skeletons and few valuable artifacts found. Imagine watching a giant volcano huffing and puffing above your home for long enough for you to gather your luggage.
The island was covered in ash, heavy granite and lightweight pumice that remain today, with plenty of new rocks spewed out from major eruptions; the last one in 1956 caused villages and hillside vineyards to be abandoned.
The Minoan catastrophe left Santorini completely lifeless. Pumice helped bring back vegetation; it absorbs moisture from the morning fog. This is still how the vines get water from the air on an extremely dry island.
The Phoenicians, major winemakers, moved into the empty island in about 1200 BC. The Greeks didn't found their first city on Santorini until about 900 BC. Was Assyrtiko already there? Did it spring reborn from the ashes, or did the Phoenician sea-traders bring it? Alas, there was no Palate Press back then, so we don't know. What we do know is that grapes have been continuously cultivated since 1200 BC, through the same unique method, and Assyrtiko has been king on the island as far back as records go.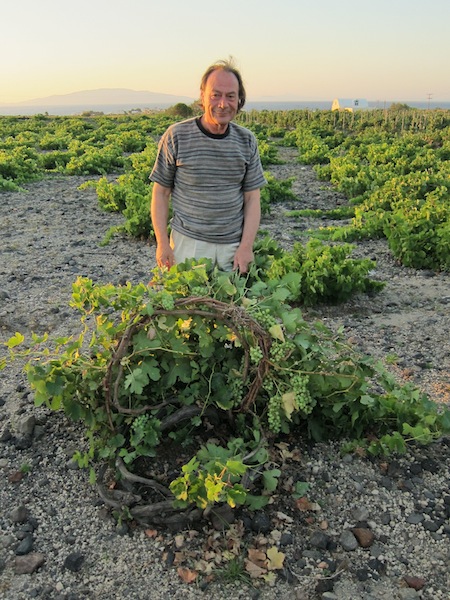 About that unique method. Vines on Santorini grow close to the ground in a wreath shape, called an "ampelies" (basket). The grapes are protected from the bright sun and sea salt-laden wind by leaves and the vines themselves.
The vines grow for a century or so until the yield drops too low for farmers to make a profit. At that point they cut the vines off at the ground level. The roots soon regenerate a new vine. The sandy soil means Santorini has no threat from phylloxera, so the roots have never been replanted. Nobody knows how long they've been there; not since the Minoans maybe, but after that, it's anyone's guess.
Assyrtiko is not the only unique native variety on Santorini; in fact there are 35. But it makes up nearly 70% of plantings, with its frequent blending partners, aromatic Aidani and relatively worthless Athiri, making up another 8%. Wineries are still trying to figure out how to make good red wines from several unique red varieties, but they haven't cracked the code yet. Everything is grown in the basket system, most of it in field blends: a fascinating system that goes unnoticed by Santorini's summer rush of visitors.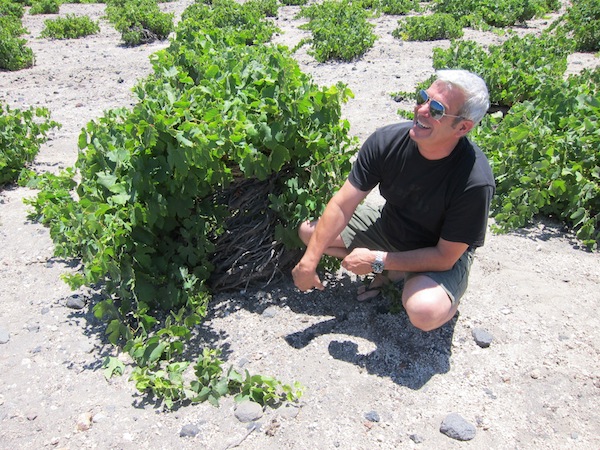 Santorini is drop-dead beautiful, with a striking caldera shape that's half underwater and white-and-blue houses and hotels built into seaside cliffs. Some people come here to get married; hordes of others take an hour-long bus tour from a cruise ship. Gaia winery owner Yiannis Paraskevopoulos told me people have asked him where the grapes are on Santorini because the vineyards aren't something you'd recognize; from a distance, those patchy plants on the ground could be anything.
"Everybody speaks of minerality," Paraskevopoulos says, holding an iron-laced rock in a black sand vineyard about 50 meters from the sea. "I don't know if everyone knows what minerality is."
In Assyrtiko, it is the taste of sand, granite, pumice, but all of that pales before the salt. Some Assyrtikos, especially the excellent ones from Domaine Sigalas, are so salty that they actually made me thirsty. Think of how good a shake of salt tastes on fish or chicken or really any food and imagine how well that wine will go with dinner.
An irony I learned by looking up my hotel on Trip Advisor is that nobody visits Santorini for the wines; out of 45 reviews, there was no mention. This is a shame because Santorini is among the easiest places I have ever been for getting a complete feel for the wines in a short time. While there are 1200 growers—out of just 6000 permanent residents—there are only 10 wineries, and in four days I visited with all 10.
Fortunately, there are no bad wineries on Santorini. This is good because the winery that will soon come to represent the island's wines to Americans is, perhaps unavoidably, the weakest of the 10.
Santo Wines is a co-op which is obligated to buy grapes from all of its many members. Its wines aren't bad; they're just meh. The winery's biggest asset is the most beautiful tasting area I have ever seen, a two-deck open-air cafe overlooking the dramatic oceanic caldera. Everyone from the frequent bus tours gets their picture taken there; I did too.
Naturally, Santo's wines are the Santorini wines that Constellation Brands is in negotiations to distribute. If anything can take the excitement out of Assyrtiko, that's it. Better to look for Domaine Sigalas, Argyros Estate, Boutari, Gavalas, Artemis Karamolegos, Koutsoyiannopoulos or Hatzidakis—all of which are available in the US.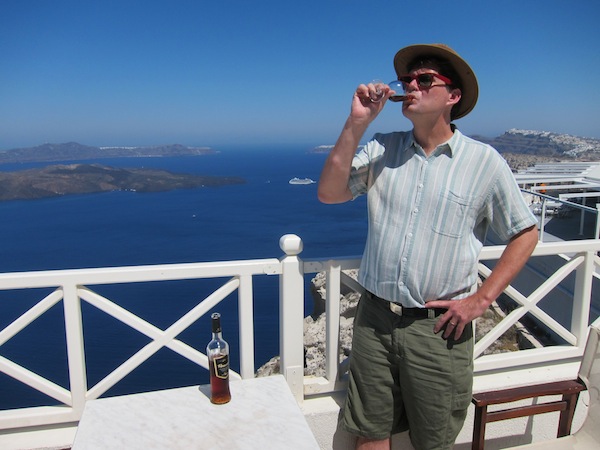 I also have to confess that I'm writing this story at an inconvenient time, when many of the 2010 Assyrtikos are still in the US market. An exceptionally hot summer led to a bad vintage in Santorini, and the softer wines pale before the intense 2011s. Some wineries didn't release 2010 versions of their single variety wines. They're notably lower in acid, which might make them popular with some people, but if you don't like acid you shouldn't be drinking Santorini wines in the first place. Assyrtikos frequently come in at pHs around 2.9, lower than just about any other wine.
If that makes you think Santorini Assyrtiko will age forever, you're not alone, but we just don't know. Though locals have been making wine for millenia, the modern style only began when Boutari, a major Greek wine company, built a winery in 1989.
Previously, grapes were brought in during a harvest festival in the end of September. The wines reached 17% alcohol and tended to be oxidized. Boutari's chief enologist insisted on harvesting a month earlier.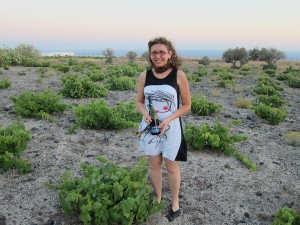 "He created an uproar," Boutari enologist Ioanna Vamvakouri said. "Locals turned the power off at the winery. They burst open tanks. Nobody wanted to change. They didn't want to harvest in August when it was still so hot."
Boutari paid more for harvesting earlier, a strange proposition that's backwards to the rest of the world, but it worked. It only took a few vintages for everyone to see that the fresh, high-acid, 13-14% whites that resulted were far better. By the mid-'90s everyone had converted.
If you live in New York, you may have heard all of this before.
"Santorini whites are the new hot white," says wine industry analyst Barbara Insel. "It's the wine of the moment in restaurants. Somebody told me a story of going to a well-known Greek restaurant in New York and there were no Santorini wines on the menu. They asked why and the restaurant said, 'If we had Santorini wine on the menu we wouldn't sell anything else'."
And no wonder. As Gaia's Paraskevopoulos, who studied at University of Bordeaux, said, "You've seen the world's vineyards. Have you seen a vineyard that had more to say?"
Editor's note: This story previously stated that Constellation Brands were distributing Santo wines, though this partnership is still being negotiated. The story has been corrected to reflect this update.
[author] [author_image timthumb='on']http://palatepress.com/wp-content/uploads/2010/03/blake2.jpg[/author_image] [author_info]Wine writer W. Blake Gray is Chairman of the Electoral College of the Vintners Hall of Fame. Previously wine writer/editor for the San Francisco Chronicle, he has contributed articles on wine and sake to the Los Angeles Times, Food & Wine, Wine & Spirits, Wine Review Online, and a variety of other publications. He travels frequently to wine regions and enjoys coming home to San Francisco.[/author_info] [/author]