One thing is certain about Natalie MacLean: she can sure spin a yarn. Unquenchable, the latest book by this popular Canadian author with a keen sense of self-promotion and a remarkable level of energy, is full of entertaining stories.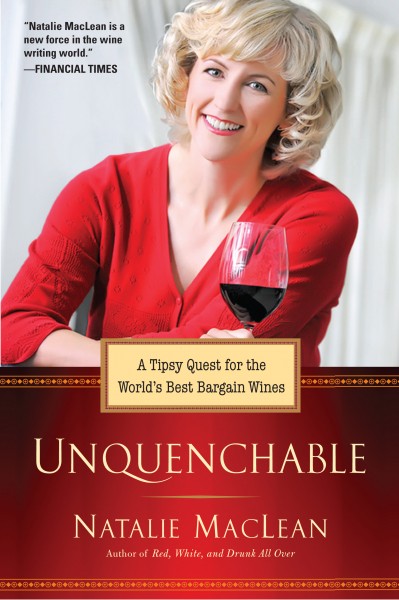 For example, there is a hilarious, semi-terrifying car ride with German wine producer Ernst Loosen, as he recounts the history of his country's Riesling production while barely avoiding high-speed accidents—at least, that's how it seems from the author's point of view. There is a surprising story about falconry at Niagara's Featherstone winery, as well as a meeting with the amicable Provence-loving hedonist Peter Mayle. And a number of the wine world's renowned figures are on board, like Charles Beck, Wolf Blass, Nicolas Catena, Peter Gago, and Rupert Symington, to name but a few of the people MacLean is very quickly on a first-name basis with.
The book goes through several international (and one Canadian) wine region, looking to identify what makes them tick and, apparently, to find good deals for her readers, as the subtitle of Unquenchable is "A tipsy quest for the world's best bargain wines." It all seems like a fun and worthy quest.
Along the way, the "accredited sommelier," as she calls herself, dispenses immense enthusiasm about the wines she tastes and the places she visits, taking a helicopter ride over the Niagara Peninsula with Martin Malivoire, of the Niagara winery of the same name, or falling for the spectacular vistas of Mount Etna or Provence, all the while cracking jokes and puns with great abandon. Natalie MacLean certainly can't be faulted for being boring. She tends to go all out. As she says herself, "I have a hard time with moderation in anything."
Matters for debate
Unfortunately, that seems to include a tendency for sweeping statements that can make your jaw drop, at times. While she must be complimented for making certain technical matters pretty easy to read, some of the statements would require more than a bit of tweaking to be called exact. For instance, in her opening chapter "A Nose for a Bargain," where she states her intention to hunt the world for "great cheap wines," she notes that "wine from regions such as Tuscany, Bordeaux, and Napa Valley have become too expensive for most of us." You could say that top wines from those regions are too expensive, but saying that the region as a whole is too expensive is quite an overstatement. At the LCBO, the wine monopoly from MacLean's home province of Ontario, you can find over 100 wines from Tuscany under $20 and as many Bordeaux in that price range as well.
In another example, MacLean states without reserve that "Malbec … doesn't do well when grafted with other vines," something that an Argentinian might argue because of their use of ungrafted vines, but that a lot of people in the Loire and in Cahors might take objection to—not to mention that Argentina's heavily interventionist and technical winemaking style makes it difficult to verify that. Her statement that "Argentine Malbec is a much friendlier, cuddlier creature than the inky monsters of Cahors" is also a matter that could be debated at length.
There are also some debatable statements about the comparative length of the Niagara and Burgundy wine growing season and about Port vintages (saying "seek out the well-rated vintages close to a star vintage" to find value fudges the notion of vintage declaration quite completely). Devil's in the details, they say …
Seeking value
The other main difficulty of the book is its ability to stay with its announced program of seeking value wines. For a bargain hunter, MacLean spends an awful lot of time drinking winemakers' top of the line, expensive bottlings. Henschke Mount Edelstone Shiraz, Catena Alta Malbec or Quinta do Vesuvio Port are not exactly bargain bottles. In that sense, the choice of some producers visited in the various regions could seem a little distant from the stated purpose of the book.
Mind you, that she gets to enjoy such bottles is not a problem per se—lucky her, really. The problem is when bottles like those are defined as "best-value wines," in the lists of good value she gives at the end of each chapter. In the Provence chapter, Château Simone and Domaine de Trévallon are listed as "top-value producers"—at $60 and more, they are both expensive and relatively rare wines.
Another example: the Clos Jordanne Claystone Terrace Chardonnay and Pinot Noir are included in the list for Ontario: at $40, they are not exactly value wines, in most people's definition—the Village Reserve bottlings from the same producer, at $30, are at the top end of that definition, at the very best. Choosing Pinot as a value wine is already a somewhat contradictory choice, and justifying it by saying that "Niagara Pinots are a bargain compared to those in Burgundy, which easily top $50 a bottle as a starting price" is a little strange. Chablis is easily found in the low $20s, as are a lot of basic Burgundies and minor appellations. Where does one shop to assume $50 is a starting price for French Pinot?
So while Unquenchable is highly entertaining and does present a lot of good content, there are questions as to its "fitness for purpose," to use a term that Jamie Goode used to define quality in wine—in other words, do you deliver what you promise and aim to do. In that respect, there are certainly more focused books about "best bargain wines," out there. But then again, what was the name of her previous book? Oh yes: Red, White and Drunk All Over. That her new book seems a little dispersed may not be such a big surprise.
---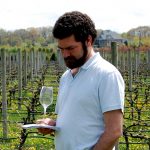 Rémy Charest is a Quebec City based journalist, writer, and translator. He has been writing about wine and food for over 12 years in various magazines and newspapers. He writes two wine blogs (The Wine Case, in English, and À chacun sa bouteille, in French) and, as if he didn't have enough things to do, he also started a food blog in English, The Food Case, and one in French, À chacun sa fourchette.