"It is not an easy task to unring a bell, nor to remove from the mind an impression once firmly imprinted there…." – Chief Justice Thomas McBridge, Oregon Supreme Court, 1912
I recently took issue with Remy Charest's twitter quip that, "A fair amount of 14% alcohol California Pinot is part Syrah." (Ed. Note- this part of a conversation about Rex Pickett's comments, found in Straight Discussion with Rex Pickett.)  This led to some civil back-and-forth between Remy and me, and ultimately his very kind invitation to write something about the topic here for Palate Press.
The notion of blending Syrah (or other Rhône-style varietals) into Pinot Noir is not a new idea, nor did it originate in California. Karen McNeil, in her book The Wine Bible, asserts that "Before World War I much of the Chateauneuf-du-Pape harvest was sold in bulk to Burgundy, to be used as vin de medicine—a quick fix of alcohol to boost Burgundy's strength. Decades later the practice was still commonplace." I can't help but wonder if these stories were also a case of a bell unable to be unrung, and that the rumors of this practice exceeded the actual occurrence.
The current theory, that a fair amount of California's Pinots are blended with Syrah originates with those who find little similarity between Pinot in the Golden State and the wines of Burgundy. They assert that the Pinots of California are "too big," "too ripe," "too alcoholic," "and too concentrated" to be 100% Pinot Noir.
Now, I am not so naïve as to believe that Syrah (or other dark red wine) is never added to Pinot Noir in California. In fact, I know that it has been done (legally, by the way, as a wine needs only to contain 75% of a variety to be labeled as such in California). Castle Rock Winery has mentioned a Syrah addition in their tasting notes, Chalone did the same with Petite Sirah, Red Tree's winemaker did so in an interview with Jim Laube, and Au Bon Climat has even listed the addition of Mondeuse on one of their Pinot Noir labels.
But I also know this. I have many friends that produce smaller quantities of higher quality Pinot Noir—the types of wines that we all discuss, as opposed to the more commercially available wines—and I am close enough to them to honestly discuss vineyard and winemaking techniques and I know that none of them add Syrah to their Pinots. Does that mean that I am asking you to take my word for it? Well, yes, I am. And perhaps that is no more valuable than the others who say, "Yes, they do." The simple fact of the matter is that all any of us can ever do is trust the word of one side or the other … but let me add this:
There are many things that can occur leading one to produce bigger and heavier Pinot Noirs. For example, in many of our vineyards we regularly experience 120 days or more between grape set and harvest. The old rule of thumb was that 100 days elapsed between these occurrences. These additional 20 days provide greater phenolic and color  development leading to darker Pinot Noirs. The widespread use of enzymes also plays a role. Enzymes such as "Color Pro" and "Color X" break down the grapes skins allowing for greater extraction of the color that is already contained in the grape skins. Finally, California has generally eschewed the use of stems in fermentation. Wines that are produced using whole cluster ferments are generally lighter in color (à la Dujac) while those made from completely destemmed grapes tend to retain greater color intensity.
As a producer of Pinot Noir under the Siduri label and Syrah under the Novy label we have taken this topic very seriously. So much so that we have experimented, in our lab, blending a small amount of Syrah into our Pinot Noir, just to see what everyone else is accusing us of doing. And our experience is that if we were to ever want to make such a blend, it would have to be with damn uninteresting Syrah. Syrah that has character, that has pepper and earth and meat quickly overwhelms any Pinot Noir and doesn't work as a blending component.
There is a bigger question at play here. One of the greatest beauties of Burgundy is the wine's ability to express the smallest differences in terroir. The wines from one section of vines are distinctly different than those from another, even if that section is just across a dirt road. Yet, ironically, many who celebrate these differences fail to embrace the same differences when they manifest themselves in the expressions of Pinot Noir in California. In this case they choose to emphasize typicity over terroir and because they don't find the wines typical of Pinot Noir's Burgundian expression they choose to accept the rumor that much California Pinot Noir must have an addition of Syrah. In doing this, what is lost, in my opinion, is the even greater than imagined ability for Pinot Noir to express the uniqueness of site. This greatness of Pinot Noir is truly a bell that should be rung and a rumor worth spreading.
---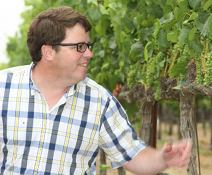 Adam Lee is co-owner and co-winemaker (with his wife Dianna) of Siduri Wines and also of Novy Family Wines. Located in northern California, Siduri produces Pinot Noir using fruit sourced from sites stretching from Oregon's Willamette Valley to the Santa Rita Hills in Santa Barbara County. Novy explores grape varieties other than pinot noir, including syrah, grenache, zinfandel, and numerous others. In most cases Siduri and Novy purchase grapes by the acre rather than by the ton, thus allowing Adam and Dianna to visit the sites frequently and make decision involving leaf-pulling, shoot thinning, crop load, and harvest timing. Amazingly enough, making wine from all of these sites actually provides a respite from the joyous insanity of raising their three children, ages 11, 7, and 4.