Last time I was in Sicily, there was great excitement in the local wine community about the creation of the island's first DOCG, its first highly denominated wine classification (Denominazione di Origine Controllata e Garantita). Amongst the rest of us, there was a bit of puzzlement. The new DOCG would define a traditional, blended wine from the southwest corner of this triangular island, a fairly obscure wine from an international perspective: Cerasuolo di Vittoria.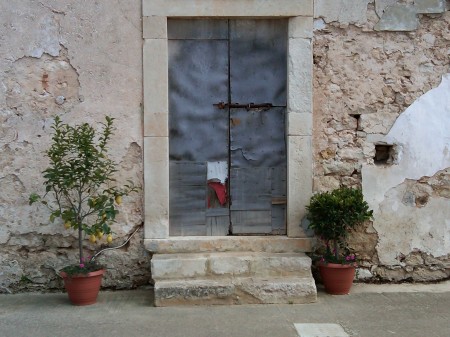 Further, this is a wine made from grapes most of the world's wine-drinkers had never heard of. And it's a young wine, generally consumed within a few years of harvest. In other words, not a wine destined for international repute like, say, Barolo or Amarone. But now that I think about it, Chianti was a light red wine twenty years ago, and look what it's become. Since its 1996 creation—following a more serious commitment to vineyard and vinification quality—DOCG Chianti Classico has experienced steeply rising prices and consequently become a more weighty wine, in many senses of the word. Perhaps this would be the destiny of Cerasuolo di Vittoria?
When I returned to Sicily this March (2011) for the 8th annual Sicilia en Primeur event I was eager to see what had been happening. DOCG Cerasuolo di Vittoria was approved in 2005, and it is still the only DOCG in Sicily—though there are 22 DOCs (Denominazione di Origine Controllata) on the Sicilian islands. This year, the en Primeur event was headquartered at the new Donnafugata Golf Resort (no relation to the Donnafugata winery) in the Cerasuolo di Vittoria region, which includes sections of the provinces of Ragusa, Catania and Caltanissetta.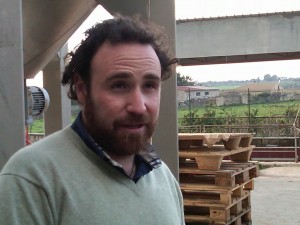 Cerasuolo di Vittoria is a blend of approximately equal amounts of two native Sicilian red grapes: the dark, earthy nero d'avola, and the lighter frappato. According to DOCG requirements, there can be 50 percent to 70 percent nero d'avola in the blend; the rest must be frappato.
Both grapes are grown in the red soil common to the south of Sicily, mainly on gently sloping hillsides, and not too far from the coast yet not greatly influenced by the sea. This far inland, there can be large diurnal temperature swings, which do contribute the aromatics in the wine, among other factors.
In addition to vineyard requirements, the wine needs to be aged for only nine months before release—though the "Classico" must be aged for 18 months. It seems many producers are opting for the longer ageing, these days.
Currently, two dozen producers are listed on the website of the Cerasuolo di Vittoria Consorzio (Association), but the amount of this wine produced is still small. Despite the fact that nero d'avola is the most widely grown red grape in Sicily, its blending partner, frappato, is the second least widely grown of all grapes there. And to put this in further perspective, the province of Ragusa, which has the lion's share of the growing area for Cerasuolo di Vittoria, is one of the smallest grape-growing regions, its vineyards comprising only 1.3 percent of Sicily's grape-growing area.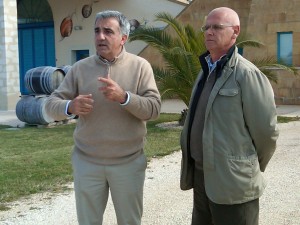 At this year's Sicilia en primeur event, as expected, producers presented bottle samples of their 2010 wines. But there was a wonderful bonus in a separate room downstairs. There, many of the winemakers also offered current and recent vintages of their wines. Each participating winery had its own table where it was also possible to sit down, taste and talk with the producers for a bit. Also, the day before, several visits had been set up so I had been able to see the vineyards and taste at the wineries of some of the nearby producers.
What is the wine itself like? The pronunciation of Cerasuolo (cheh-rah-SWOLE-oh) makes it easy remember the wine has cherry-like characteristics in its color, aroma, and flavors. In fact, cherry is the dominant fruit in this wine, while leather and earthiness are also apparent. The wine can range from light to medium-bodied, with moderate tannins. Most of those I tasted had these characteristics in common, though I found the wines varied as much from producer to producer as they did from vintage to vintage.
From winery Valle Dell'Acate, for example, the 2008 Cerasuolo di Vittoria had a touch of leather and anise, and was restrained to the point of being closed. The same vintage from Terre di Giurfo had more pronounced leather and plum in the flavors, yet left an impression of over all lightness.
Feudo di Santa Tresa's 2008 had hearty leathery flavors overlaying the fruit, and very good acidity too. Tasted both at the winery and at the en primeur event, the 2010 barrel sample was notable for its minerality.
The COS winery (often considered controversial for its use of amphorae in wine storage) produced a very umami wine in 2008, while its 2007 felt very light, well balanced, with good tannins. COS' 2009 was extremely young, very cherry, and seemed not yet complete as a wine. (COS also believes in slow wine; at the winery I saw walls proudly adorned with pictures of snails for this reason.) En primeur, the 2010 was extremely light, with moderate tannins and signature cherry, too.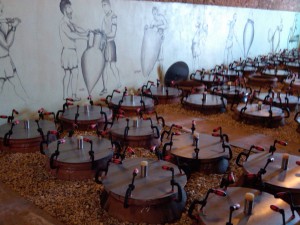 At Avide, the 2008 was very earthy in aroma and flavor, though the flavors were not big, and the wine also seemed to be still developing.
Planeta's 2009 was more international in style, with cherry and spice in the nose, excellent body and sweet fruit buoyed by moderate tannins.
Maggiovini's 2007 was dominated by leather in aroma and finish, with a nice, big flavor and a hint of menthol apparent at the end.
Cherry, and the earthiness of leather, in a young wine: those were the defining characteristics of DOCG Cerasuolo di Vittoria for me. If you'd like to try it, there is some available in the US, with more on the way as demand picks up. Prices are moderate, mostly in the $18-$25 range.
FUTURE NOTES: What's next in Sicily?
According to those who follow Sicily, the next big thing is the wines of the Etna region—as in the volcano, Mount Etna. The red wines I tasted from this area were all over the place, so inconsistent in vinification technique and finished product that it felt like I'd entered a rogue wine district. I had the impression that pretty much, winemakers do whatever they want on Etna, now.
On the other hand, though there are fewer white wines produced in this region, all the Etna whites I had were wonderful. They were well made, nicely balanced and with plenty of great minerality. Something to look forward too, as more are produced and exported.
---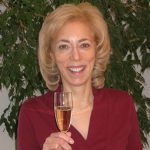 Becky Sue Epstein is Palate Press's International Editor. An experienced writer, editor, broadcaster, and consultant in the fields of wine, spirits, food, and travel, her work appears in many national publications including Art & Antiques, Luxury Golf & Travel, Food + Wine, and Wine Spectator. She began her career as a restaurant reviewer for the Los Angeles Times while working in film and television.