Except for the absence of tie-dye, the second annual Natural Wine Week in San Francisco could have been an event right out of 1967.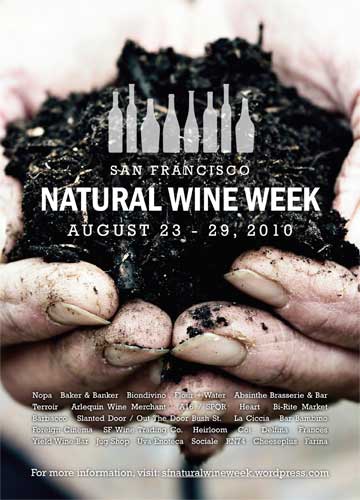 It was as well-intentioned and disorganized as a Be-In because nobody was really in charge. It's a collective effort, with retail stores and restaurants planning their own wine tasting events—some of which didn't really fit. There was no central schedule; instead of a website, event holders were supposed to put listings on a blog, which ended up as a haphazard message board.
And though folks in suits would mock it if they noticed it, it just might change the world.
Natural Wine Week brought together some zealots who want to overthrow the wine establishment with other folks just seeking a good time. I had to leave every tasting I attended, not because the wines weren't interesting—they were—but because I felt crowded out by the crush of young consumers coming to see what this "natural wine" movement is all about.
What they saw was everything from Russian River Valley Sauvignon Blanc sold in a reusable metal water bottle to $70 Sonoma Coast Pinot Noir. There were wines that are obviously for true believers, like intentionally oxidized whites and no-sulfite-added reds, and other wines that were indistinguishable from, how can I put it, unnatural wines.
The two leaders of the weeklong Wine-Be-In were Ian Becker, wine buyer for Arlequin Wine Merchant, and Wolfgang Weber, former senior editor at Wine & Spirits, now a sales associate for Revel Wine. But neither had any control over their creation.
"Trying to herd 30 restaurants is really hard," said Becker, relaxing outside a packed tasting at the tiny 18 Reasons, a food and art membership club. "Our budget for this is zero dollars. And we all have jobs. These are the busiest restaurants and stores in town."
Becker did this last year with fewer events and a sharper focus. He and Weber believe the key to "natural wine" is that winemakers allow indigenous yeasts, those that occur naturally on the grapes or in the winery, to ferment the grapes no matter how long it takes, rather than adding commercial yeast to hasten the process.
"If your yeast is healthy enough to finish fermentation, it means you're doing the right things in the vineyard," Weber said. "You're keeping the vines healthy."
But unlike "organic" and "biodynamic," which have official definitions—and growing markets—there is no universally accepted definition of "natural" wine. That makes it one of the easiest terms to co-opt, because at some level, even the most manipulated supermarket wine could be called a "natural product."
"I don't think The Wine Group is going to start labeling its products as 'natural wine'," Weber said. "That would not be good marketing. 'Natural wine' won't make any sense to a consumer. In my opinion 'natural wine' isn't a good term, but I don't have a better term."
Several people grumbled to me about other event holders including wines they don't consider natural, but nobody wanted to be quoted. So it's still natural wine's 1967, with irreconcilable rifts in the collective still a year or more away.
In tasting, I tried to discern differences between natural wines and unnatural. Here are some rough guidelines of what to expect from the naturals:
Many have a slightly cloudy appearance because they're unfiltered
White wines tend not to have fruit-driven aromas
Many red wines have lively, pretty aromas, often with floral and pepper notes
Red wines have more red-fruit notes than black-fruit
Many have a particularly long finish (my favorite natural-wine observation)
Most tend to be lower in alcohol than similar commercial wines
Trac Le, wine buyer for Bi-Rite Market, told me that by hit-and-run tasting I miss out on the greatest attribute of natural wines: longevity after opening.
"These wines taste better and better the second and third day," Le said.
Because Le and others didn't just let every natural wine producer join their party, I also missed the expected downside of natural wines—brettanomyces.
Kenny Likitprakong, owner/winemaker of Hobo, Banyan and Folk Machine wines, says that he spent two months in France earlier this year and attended a lot of natural wine tastings. He believes there are essentially two types of natural wine vintners.
"Natural wine comes down to the terroir," said Likitprakong, who makes a fabulous Rockpile Zinfandel with just 13.8% alcohol. "People who have good land make good wine. For some people who don't have good land, the 'natural wine' label is an excuse for making bad wine."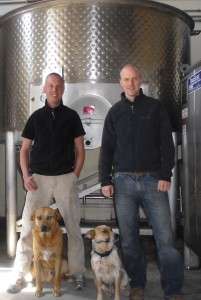 Some of the wines I tasted were a revelation. Arnot-Roberts Clary Ranch Sonoma Coast Syrah 2008 ($40) is one of the most interesting Syrahs in California: spicy, floral and complex, with red plum and pretty raspberry notes that mingle with tar, ash, and stone. It's just 11.5% alcohol because the vineyard, mostly planted to Pinot Noir, is in a site so cool that the grapes barely get ripe enough to pick.
"We pick it in early November, but it's only 21 brix," said co-owner Nathan Lee Roberts. "We're trying to ripen the stuff, but it just doesn't accumulate sugar."
The Natural Process Alliance Russian River Valley Sauvignon Blanc 2009 ($15) caught my eye with its reusable metal container, but I also loved the very cloudy wine—dense, intense character of apple, yellow peach, and jasmine, with a round mouthfeel. It feels like drinking a neighbor's excellent homemade wine, and that's not too far from the reality; the NPA bottles to order, calling Becker every Thursday to see how many bottles he wants that week.
"We tell people, this wine is to open up and drink now," Becker said.
The Sauvignon Blanc will only last a week or so in the metal bottle. The shelf life and market reach of the natural wine movement is still to be determined, but "back to nature" is a concept that would seem to have undying appeal, even if only to a niche audience.
"What we're trying to do here is get consumers to ask, 'What do you consider a natural wine'?" Weber said. "The whole idea is to encourage a dialogue between winemakers and sommeliers and their customers and guests as to what makes a natural wine."
Our only message is we want you to think? It is 1967! Groovy.
---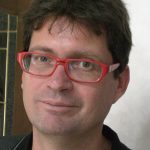 Wine writer W. Blake Gray is Chairman of the Electoral College of the Vintners Hall of Fame. Previously wine writer/editor for the San Francisco Chronicle, he has contributed articles on wine and sake to the Los Angeles Times, Food & Wine, Wine & Spirits, Wine Review Online, and a variety of other publications. He travels frequently to wine regions and enjoys coming home to San Francisco.
Related articles