Entering the lobby of the august Hotel Monteleone in the French Quarter—conference headquarters—I found myself sampling drinks even before I checked in. Dashing to a seat in my first seminar, I heard the promising rattle of ice behind me, and sure enough, there were several cocktails to be served during the hour.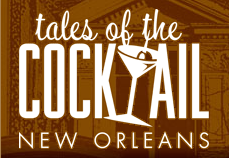 The first time I went to New Orleans, I went to eat and drink. The second time, it was all about drink, at Tales of the Cocktail, a conference about the culture of the cocktail. A lot of people looked at me skeptically when I mentioned this trip. But it's true: the 8th annual Tales of the Cocktail conference took place in July, and, finally, I was there. It's open to anyone interested in cocktails, not only professionals. And yes, it really was fun.
It seems every seminar was hosted by spirits, liqueurs, and other cocktail components. Hence, the Golden Rule: three sips, then PUT IT DOWN. I followed this rule throughout the conference and I'm convinced it saved my life. You know that other rule about not mixing your alcohol? Impossible here. But I could always count to three. Three sips, then firmly jettison the drink.
Seminars abounded, with one day for professionals and others filled with multiple tracks including technique, history, and a hands-on session, as well as a myriad of special events and product showcases. At one seminar I learned how bartenders can better present themselves during interviews. At another I re-visited the criteria for professional spirits judging at competitions. I went to a film shoot for Grey Goose's The Iconoclast series on the Sundance Channel—a mixologist segment called "Beyond the Bar." I watched finalists in the Amarula Cream Experimental Throw Down: the top five mixologists, culled from 300 entrants around the country. This would be the place for me to continue mentioning more names of spirits and liqueurs, but if I get into that I'll never stop. Just imagine every spirit, mixer, flavoring, liqueur, fruit, spice, and other cocktail component in the world—it was there, and I sampled it.
From parties in mansions and museums to serious seminars about taste, history and bartending skills, Tales founder Ann Tuenerman and her team put together a great program of learning and entertainment, enhanced by a stellar lineup of worldwide mixologists.
The first night, the Welcome Reception began at the Contemporary Arts Center with bars sprinkled throughout, and celebrated bartenders working feverishly to supply the crowd. Then buses conveyed us to the historic Elms Mansion courtesy of William Grant & Sons. Food, drink, and music proliferated the interior as well as throughout the lavish gardens.
You get the idea there was a lot of imbibing. But how did we get all these drinks? From world-class bartenders and mixologists working at supersonic speed. Even if their basic drink recipes had been prepared in advance there was always the ice, serving glasses, garnishes and other finishes to be added to each drink. The more I watched them in action, the more impressed I was. Especially at a reception at the Louisiana State Museum in Jackson Square. There, each mixologist was assigned a decade in history. They had to research the time period and produce an authentic drink from that time, or a drink inspired by the times. They also had to tell the story of the drink as they made and poured it for several hundred people over the course of a few hours.  For example, Jackson Cannon of Boston's Eastern Standard created the Honey Fitz, a nod to the iconic Kennedy clan; JFK's grandfather "Honey" Fitzgerald was mayor of Boston during the first decade of the 20th century.
In fact, many of the drinks were stories themselves, evolving in the mouth: beginning with the vivid aroma of a garnish, then a wave of something sweet (or not-so-sweet) hitting the tongue, then it morphed into the opposite taste, finishing with a hint of yet another subtle flavor in the mouth. It was really hard to put down drinks like those. And there were so many of them.
But then it was time to go out and find dinner and sober up to watch Pernod's midnight bartenders' petanque match. The block next to the hotel was covered in sand, bars and café tables were set up at one end, and the bartenders were off and throwing, just about on the stroke of midnight. (Somehow, I wandered off and missed seeing who won because I had this crazy idea I needed to get some sleep before hitting the Kahlua coffee bar, which opened for breakfast the next morning.)
Before I arrived at Tales of the Cocktail, I had created a spreadsheet schedule of all the things I was supposed to do. Looking at it now, about half of the stuff doesn't seem to have happened—but twice as many events, seminars, and meetings got penciled in. This time, I made it through three of the five days of the conference. Next year, who knows?
Featured Cocktails

Cary Grant
Brian Miller, Death & Co., New York City

Ingredients:
2 ounces Tanqueray No. TEN
3/4 ounce Cocchi Americano
1/2 ounce Dolin Dry Vermouth
1 teaspoon Green Chartreuse
Garnish: Grapefruit Twist

Preparation:
1.     Add all ingredients to a Boston shaker.
2.     Stir and strain into an A/P coupe.
3.     Garnish with grapefruit twist.

Queens Road
Lynnette Marrero and Jim Kearns, Rye House, New York City

This cocktail is from the 1941 Don the Beachcomber menu.

Ingredients:
1 1/2 ounces Zacapa Rum 23
1/2 ounce Fresh Orange Juice
3/4 ounce Fresh Lime Juice
1/2 ounce Honey Syrup
1/2 ounce Ginger Syrup
2 dashes Angostura Bitters
Garnish: Candied Ginger

Preparation:
1.     Add all ingredients to a Boston shaker filled with ice.
2.     Shake and strain into a cocktail glass and garnish with candied ginger.

Honey Fitz
Jackson Cannon, Eastern Standard, Boston

Ingredients:

1 1/2 ounces Zacapa Rum 23
3/4 ounce Honey Syrup
3/4 ounce Fresh Squeezed Grapefruit Juice
2 dashes Peychaud's Bitters

Preparation:
1.    Add all ingredients to a Boston shaker filled with ice.
2.    Shake vigorously until well chilled then strain into a chilled glass.
You might also like
---