Every so often, someone digs up an ancient clay amphora with grape residue and we all hold our breaths, waiting for scientists to try to re-create the wine stored inside 8,000 years ago. Occasionally it even works, and we're thrilled we could be tasting the same wine that Biblical-era peoples sipped with their meals.
Moving ahead in time, about 20 years ago Italian winemaker Mastroberardino rebuilt a vineyard in the ruins of Pompeii. Now we can experience what the Pompeiians were drinking as their magnificent city crumbled under Mount Vesuvius' explosion in the year 79 AD.
We can go further ahead – and further north in Italy, to the Veneto region. Here at the Venissa vineyard, the historic dorona grape was recently called back from the brink of extinction; we can now savor a wine from the time of the great Venetian Doges, made with grapes grown on a tiny island in Venice since the 12th century.
Recently, I was thrilled to learn I'd be able to sample additional Italian wines that have been revived after hundreds of years. This was at a seminar put on by the Italian Trade Commission and Vinitaly International Academy, during VINO 2017, the annual Italian wine conference in New York. Brought over specifically for this seminar by Ian D'Agata, Scientific Director of Vinitaly International Academy and one of the world's foremost experts on Italian wine, several of these bottles had never been publicly tasted before.
A calmly intense man, D'Agata seems to spend a fair amount of time wandering around Italy, scrutinizing vineyards and seeking out nearly extinct grapevines. He then encourages local winemakers to revive these grapes and vinify them, giving historic wines a new chance at life.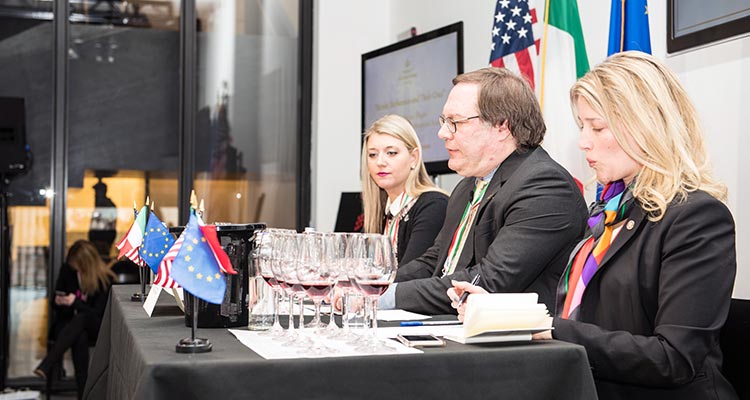 Roussin de Morgex
The first wine, from producer Cave Mont Blanc, hailed from Italy's highest vineyards, surrounded by the Alps, in the Vallée d'Aoste region. D'Agata advised us to go there next summer because us it's a very relaxing place, with plenty of fly-fishing and "friendly animals." In addition, there will be a few bottles of this new-old wine — 2014 Roussin de Mourgex Spumante Brut — for sale by then.
About 10 years ago, D'Agata spied some plantings of the light red grape called roussin de morgex in this part of Vallée d'Aoste. No wine had been made from this grape for about 300 years. He then inspired the people of Cave Mont Blanc, motivating some 80 members of the cooperative to "scour their vineyards" for roussin de morgex vines.
Realizing this grape would produce an acidic, light red, they decided to turn it into sparkling wine. With a bit of floral on the nose, it presented as earthy, more like a suggestion of beer than wine on the palate, not unpleasantly. D'Agata reminded us "it's a work in progress." (A big fan of sparkling wine, I am now wondering what it will be like after a few more months in the bottle. Will I be able to make my way to the Vallée d'Aoste next summer, to see for myself?)
Prié Blanc
D'Agata brought another wine from Cave Mont Blanc, the 2009 Prié Blanc "Cuvée du Prince." Prié Blanc is Vallée d'Aoste's indigenous white grape, and probably a parent of the above roussin de morgex. This wine was a bit aromatic, slightly fizzy on its own, and had an earthy component in the flavor. Though rare, a little of Prié Blanc can be found in the US right now.
Recantina
Moving down to the Veneto region, D'Agata shared a red wine that is now "making a timid comeback": Recantina. Though no producers of this wine existed five years ago, today there are only three and that number is growing. The 2015 Serafini e Vidotto Montello e Colli Asolani DOC Recantina, D'Agata's pick, showed bright, strong candy florals in the aroma, which he also called a "spicy balsamic nose." A lighter bodied red, it was savory on palate but with a sweet finish and "tarry finishing tannins." Again, this was the first tasting of this wine outside of Italy.
Oseleta
Also from the Veneto was Azienda Agricola Zyme's 2008 Rosso Veronese IGP Oseleta. A rare grape, oseleta was rediscovered in the 1980s and replanted by Masi Agricola. It has mainly been used in small amounts as a blending grape for Amarone della Valpolicella.
About 12 or 13 years ago, Masi chief Sandro Boscaini tried a varietal oseleta made by a nearby cousin. The only reason this wine even got made was due to hail damage in most of the cousin's other vineyards, and he needed to make wine with something; he was a winemaker, after all. So, this small amount of oseleta from an undamaged vineyard got its chance.
Oseleta wine had been common in the 16th and 17th centuries – but not since – and Boscaini was intrigued, D'Agata related. In the 1980s, there was only one oseleta wine made, but today the number has increased to six or seven producers. Unfortunately, it's a hard grape to grow and to make wine with. The bunches are overly compact, creating problems in the local humid weather. The berries are small and skins thick, resulting in a low yield of juice.
But the wine! Its full aroma had me picturing an inkwell just filled, in a brand new, wooden desk: sawdust and dark, dark fruit. The wine's color was an opaque red-purple. On the palate, it was big with mature cherries & blackberries, opening into leather touches along with eucalyptus and smoke. It had a good amount of tannins, well integrated. And I was startled to realize the wine was now nearly 10 years old.
And that's where we have to stop. D'Agata told us he has another three projects reviving grapes on the island of Ischia: another time, perhaps? He was fairly sanguine about each of these wines, admitting, "It may be that in ten years it will disappear again, but at least we've had a chance to evaluate this wine."