The Rhone Rangers visited southern California for a trade and public tasting this past Sunday, August 8 at Pier 59 Studios, Santa Monica. Over 400 guests attended, with about half consisting of trade and media attendees.
Typically used for fashion photography, Pier 59 studios provided a modern, sleek setting for the tasting. Catered tapas were provided by Schaffer's Genuine Catering of Venice. Though the trade segment required registration, the general tasting event tickets sold for just under $40. "We try to keep ticket prices low, to prevent a barrier to learning about these wines," said Cheryl Quist, Rhone Rangers Executive Director.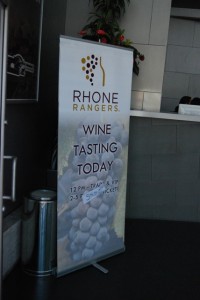 Thirty-seven wineries were present, and though that number is down from last year, the event sold out.
During the trade tasting, the room buzzed with networking and gossip. For an attendee with a plan such as myself, it seemed best to walk the room – then pick the top wineries on my must-hit list. Anglim Winery of Paso Robles is always a favorite, and the tasting line-up did not disappoint. Winemaker Steve Anglim has a talented hand with Rhone varietals; surprisingly, my pick of his offerings – the 2009 Grenache Blanc – retails for a mere $24.
"The wines that were poured this weekend are well-priced and offer a tremendous quality," said Quist, and I couldn't agree more. Combing the price lists, I was shocked that few wines tipped over the $30 mark. One of the Central Coast's most spirited winemakers, Larry Schaffer of Tercero Wines, boasts some of my favorite interpretations of Syrah and Rhone-style blends at knock-out prices. I always find myself going back to his Larner Vineyard Syrah, from a site that Robert Parker claims would "merit grand cru status in France."
After Eric Asimov's article about the fate of Syrah in his New York Times column, many winemakers, sales representatives and enthusiasts alike wondered – where does American Syrah go from here?
The trade at Pier 59 had a lot to say about that.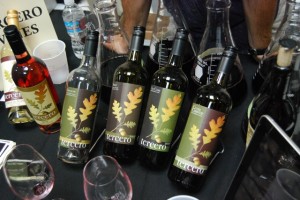 "In a world of recognizable Cabernet Sauvignon and Merlot, Syrah ends up being a consumer's third choice," says Steffanie Anglim. Still a tough sell for wholesalers and restaurants, Syrah tends to sell well in the tasting room, a common observation among wineries. As a former wine bartender, this fact makes sense to me.
Tasting rooms offer a unique learning environment, coupled with the ability to taste the wine before purchasing, something many wine stores lack overall. Additionally, knowledgeable tasting room staffers are able to introduce an otherwise little-known varietal to new enthusiasts, or interest veteran enthusiasts in a new style of the wine.
The overall quality of the Syrah I tasted at the event was really impressive. An array of styles from the number of climates represented made for a unique comparative tasting, but – it also tends to be Syrah's biggest problem.
"The variance of styles of Syrah found in California tends to confuse customers," says Steffanie Aglim. During the public tasting segment, I overheard many winemakers and representatives spending time discussing the different AVAs with consumers. While trade folk take knowing these differences for granted, the general public is still a little intimidated in the wine aisle.
Clearly, education plays an important role in moving Syrah from store shelf to dinner table. In tight economic times, I feel sales personnel rely on the easy sell – fast cash flow, in the form of Napa Cabernet Sauvignon and Chardonnay. Less convincing to a customer with a guarded wallet is a bottle of Syrah – despite a noted increase in the quality to value ratio.
On the other hand, many domestic Rhone-style wines, like Mourvedre and Grenache, are selling very well, but far less is made of these wines. At the after party, hosted by Pourtal Wine Bar in Santa Monica, tasting attendees were given the opportunity to revisit their favorites of the day, and for some it was a wine they had not been familiar with before the event.
"One attendee proclaimed to me that she was amazed at the quality and surprised that she'd not heard of so many of the wines poured at our tasting," said Quist.
The Rhone Rangers is a non-profit organization built on a passion for the Rhone and domestic Rhone-style wines. Consisting primarily of small, family-owned wineries, the organization's goal is to educate the public while supporting members' efforts to make excellent wine. The Rangers also seek to educate future winemakers: just last year, they raised $25,000 in scholarship money for viticulture and enology students. "The Rhone Rangers is a great organization," Quist said. "Our goal is to ensure that the next generation of maverick winemakers can get the training they need to carry on making great American Rhone wines."
You might also like:
---
Erin McGrath Davis devotes most of her time to exploring Los Angeles and its fantastic wine, food and spirits scene.  Erin's website and blog Vintwined is a record of her adventures, thoughts and travels within the wine industry. She works in the online department for a top Los Angeles wine and spirits shop.