Under the influence of international wine marketing, many of this region's native grapes were endangered. Once, this area was all part of the Austro-Hungarian Empire. Now it's three countries: Italy, Croatia and Slovenia.
"Adriatico" is the name of this new line of three white wines. Each wine is made from a different native vinifera grape, in regions (now countries) which border each other on the northern Adriatic Sea: malvasia from the Istrian peninsula in Croatia, ribolla from Slovenia, and friulano (of course) from the Friuli region of Italy.
"Our style is to make wines that speak about where they come from," says wine producer Joe Bastianich. He is part of the New York- and Friuli, Italy-based empire of chef Lidia Bastianich (his mother) that includes both restaurants and wines. "The idea was these wines are the story of my family—this terroir." He explained that after the Austro-Hungarian Empire it became Yugoslavia and Italy, then parts of Yugoslavia became modern Slovenia and Croatia. "These wines in a real way tell the story of this borderland and how expressive these varietals are."
"We kind of oversaw the winemaking," he told me over the phone in early November. "In Friuli, these are our wines and our vineyards." Elsewhere, he "worked very collaboratively" with other winemakers in order to achieve his goal "to communicate this area from a historical and viticultural perspective."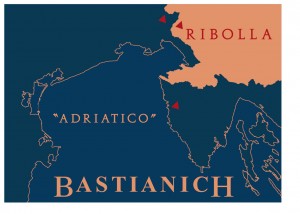 Coincidentally, earlier that week I'd had lunch with one of the winemakers, Croatian Ivica Matošević—who also happens to be a one-man crusade for the malvasia grape. He joined forces with two other well-known Istrian winemakers, Gianfranco Kozlović and Moreno Degrassi to make the Adriatico Malvasia. Matošević said that last February, they each brought samples of their own finished Malvasia wines to his winery. With a mandate to use equal amounts of wines from each producer, they eventually came to a decision on their blend. The wines were aged in another winery's cellar, and bottled in the third winery: equal time for all.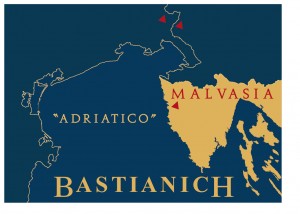 Bastianich says the wines were to be "pure, no oak, very expressive of the varietal and equally of the terroir," and I think he and his teams of winemakers have achieved this goal in the 2009 vintage. Bastianich seems pleased with the blends, and stated he has no plans to change anything—while conceding that the 2010 vintage was problematic in many areas; perhaps the quantities of the wines will be affected next year.
Bastianich 2009 Malvasia Adriatico
True to type, pleasantly pungent aromas, mildly floral: rose and jasmine. Still had a bit of fizz when first opened.  Contains tropical fruit as well as minerality, with a good amount of acidity. Seems light but holds up to many foods including salmon salad, cherry tomatoes and fresh goat cheese.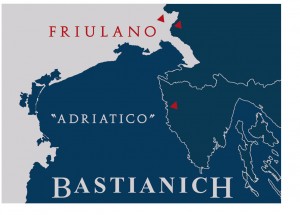 Bastianich 2009 Friulano Adriatico
Sweetly fruited, peach blossom aromas and flavors. A slightly nutty finish, opening to sherry-like taste in the glass. Could work with Asian foods as well as dishes from the hearty, peasant-based native Fruili cuisine.
Bastianich 2009 Ribolla Adriatico
Very typical aromas and flavors, heavy in the sense of earthy typicity, almost oxidized flavors, with green fruits most apparent. Pairs well with medium to hearty foods.
Note: two days after I opened these wines I re-tasted them and their honeyed qualities were emphasized; interestingly, they seemed much sweeter than they had originally.
---