I was surfing aimlessly through Facebook, just like any other day, when a particular image caught my eye… for, well, obvious reasons, once you see it below. It appeared to be called "porcaccia," which, although I was unfamiliar with the word (and Facebook was unable to translate correctly), must have, I figured, something to do with pork.
Even more amazingly, Facebook's translation service — and I swear this is true, even though I can no longer replicate it — translated the word "porcaccia" to "crud" in English. What appeared to be fried pork, called crud! CRUD! I didn't just want to try this; I needed to try it. ASAP.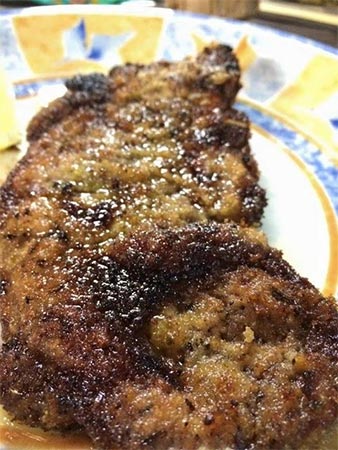 I immediately reached out to my friend — a Montefalco resident — who was tagged in the photo (the reason it appeared in my feed) for more details. She informed me it was a steak of the pork neck (la bistecca di collo), breaded with herbs and spices then pan fried.
I proceeded to make it at home — with pork cutlets, not the neck — and it was predictably delicious, especially aside a glass of sagrantino. But I still needed to try the real thing.
Luckily for me, less than a year later I found myself back in Montefalco, perched over a plate of "crud" from L'Achemista, a restaurant on the town square with claims to the dish's origin.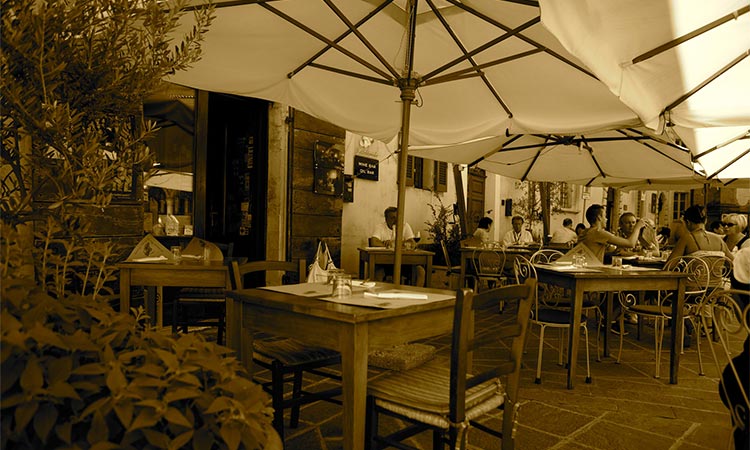 "He was born many years ago," recounts Cristina Magnini of the family-owned restaurant. ("He" is clearly another byproduct of translation, but I like the phrasing.) It was during the Agosto Montefalche, the big summertime festival in town, at the "Taverna San Fortunato," an open-air restaurant where volunteers serve up free, simple fare. "Salami, strangozzi, dumplings and of course meat: barbecued sausages, ribs, steaks… all pork!" Magnini adds.
"But the pork steaks can be dry and tasteless," she continues. "So my mother Patrizia — who volunteered at the Taverna, because her passion for the kitchen apparently has no limits — came up with the idea to create a delicious and flavorful breading for the pork steaks, then roast them on the grill."
So popular was this idea that porcaccia is now the dish most associated with the annual event, though it can also be found year-round at L'Achemista, the inventor's restaurant. "It has become a dish so appreciated and popular," concludes Magnini, "that many have tried to copy it, sometimes with similar names, such as porcona." (Ah, that Facebook post makes more sense now.)
Magnini was also kind enough to share the technique, which is simple but will take some practice to master the balance of seasonings.
Ingredients:
a quality pork steak (neck is best) per person
breadcrumbs (not too fine)
fresh herbs: thyme, parsley, oregano
garlic
olive oil
salt and pepper
Technique:
Rub the meat with your fingers and season with salt.
Mix bread crumbs with finely chopped herbs & garlic, salt, pepper and oil.
When you have reached the right taste and texture, bread steaks all over, pressing crumbs with force if needed (ed note: ha!)
The best way to cook is over a nice hot grill (I've used a hot cast-iron pan as well, finishing in the oven for thicker cuts).

Golden, crispy but soft at heart is the right way!
Serve with roasted potatoes, mixed salad and a bottle of Montefalco Rosso or Sagrantino di Montefalco.
Enjoy your meal!