Contributing editor Joe Pollack shares some thoughts about his experience opening a cherished bottle for this year's Open That Bottle Night.
---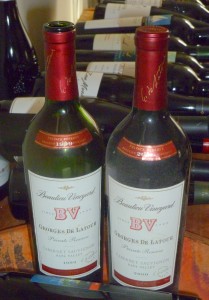 One of the great things about opening a bottle of not-so-good wine is that there's always the opportunity to open another bottle.
And so it was when the 1999 BV Georges de la Tour Private Reserve Cabernet Sauvignon turned out to be a clunker. It was raisiny, without much flavor, and what flavor there was, was unpleasant. A week later, ready to try again and hoping for the best, I carefully pulled the cork on the same wine from 2000, its younger brother by a year. I decanted it, let it take a brief pre-prandial nap. I poured it.
Ahhh …
It was everything the '99 was not. The aroma burst from the glass, deep, velvety, plummy. It practically filled the room. The deep, dark red color glistened as I swirled the wine in the glass. The taste was rich, perfectly balanced, with tobacco and shoe-leather notes. The finish was long and deep, simply a splendid wine, mature and ready to drink, with more years for it if I'd been lucky enough to have some more.
Thinking about it, the 1999 was badly corked, but that happens. Thankfully, I had the 2000 to keep my memories of that great BV wine alive.
---
Joe Pollack has been writing and talking about sports, wine, food, entertainment and other happy subjects for more than 50 years for newspapers, radio and TV stations, magazines, newsletters, blogs and other means of disseminating words and opinions. He has children and grandchildren scattered throughout the world and a wife, Ann Lemons, who is a good writer and an even better cook. He writes at St Louis Eats.