Quite often the story of wine in Italy seems like a fairy tale, but today I want to tell you an educational story called "Saving a Grape from Oblivion and Launching a New Trendy Wine."
The setting is the wine region of Friuli, where, some years ago, there was a young, successful entrepreneur called Paolo Rapuzzi. He was 39 years old, his business of licensing a famous Italian IT brand was going fine — yet he was unhappy. Thus, one day he and his wife decided to change their lives radically and become farmers.
They also decided to cultivate only native grapes from Friuli and they started with one that was nearly extinct: schioppettino (pronounced skee-opp-peht-TEE-noh). It had been an important grape until around the time of the First World War. After that it was abandoned, because of the phylloxera epidemic and the subsequent introduction of new, foreign grapes which were more rewarding and productive. Grapes like Tocai (now named Friulano) and Merlot. Furthermore, during the adoption of new European and Italian laws about denominations and allowable grape varieties, the schioppettino grape had somehow not been included in official listings.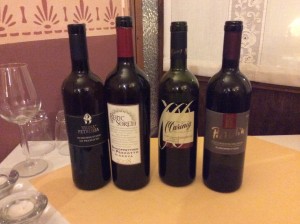 Rapuzzi knew this, but he also was willing to deal with protests and monetary fines in order to save that grape from oblivion. Luck was with him: in 1975, the Nonino family (renowned distillers) was seeking to distill marcs (grappas) from indigenous Friulian grapes. They discovered that the most representative Friulian grapes – like schioppettino, ribolla, tazzelenghe and pignolo – had almost disappeared, because none of them had been included in the list of authorized varieties. Thus, on 29th of November of that same year they launched an award, the "Risit d'Âur," (Golden Vine)for the winegrower who maintained the best vineyard (however small) with one or more of these "outlaw" grapes. Needless to say, Paolo Rapuzzi and his wife Dina won the first edition of this award.
Now, the issue had been elevated. Moreover, Rapuzzi was not alone; other winegrowers also wanted their native schioppettino grape to make a comeback. Even the local government had the same desire: in 1977, the Prepotto local council held an extraordinary meeting to discuss the protection of schioppettino, and decided to demand that it, at least, be included in the list of authorized grape varieties. This effectively took place in 1981, and finally in 1987 its denomination of origin was attained.
Nowadays, Schioppettino di Prepotto is not only the third sub-zone in the Colli Orientali del Friuli DOC, but also the only one reserved for a single grape. Althoughthe grape is also found in Slovenia (where it's called pocaza), for ages it has grown mainly in Friuli's Judrio valley. Here the climatic features are unique: the dry and relatively cool wind that blows along the Prepotto and Albana valleys provides excellent protection against fungal diseases; and during the grape ripening stage it generates thermal movements that are ideal in defining the particular bouquet of Schioppettino wine.
Over past few years, the winegrowers of this area have worked very hard to elevate the quality of their viticulture. In 2003 a capillary investigation was performed in all the vineyards in Prepotto and neighboring areas to seek schioppettino strains that were at least 80 years old, in order to safeguard the biodiversity still present in the territory. Twelve bio-types were identified and reproduced, and in 2005 they were planted in a catalogue-vineyard hosted at the Grillo winery; this will enable future assessments of production potential.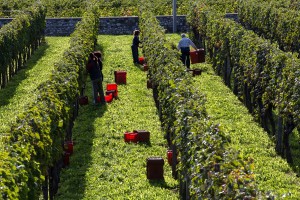 Currently, the Schioppettino di Prepotto area is comprised of only 30 hectares, and production is around 80,000 bottles a year. The wine is quite distinctive, with a bouquet of blackberries, sour cherries and pepper; it is full bodied, with balsamic notes as well. When the wine is young the tannins can be quite rough on the palate, but aging it turns it into a very complex wine.
Recently, with a group of international colleagues, I had the opportunity to judge a wine competition of the best examples of Schioppettino. While the Italian journalists looked politely interested, the foreign wine critics were honestly impressed.
"Isn't that interesting, the difference of opinions about it?" commented Forbes columnist and Palate Press contributor Cathy Huyghe. "Maybe we Americans have a thing for what's 'new' — at least what's new to us. But with Schioppettino, I was interested because it's something different and unusual; plus it's got enough similarities to other wines we do know, so it isn't completely foreign or unknowable. In terms of the wines themselves, they reminded me of Pinot Noir or Syrah from the northern Rhône. I liked the lower alcohol and higher acidity (making it a great choice, of course, with food). On the nose, my notes reference violets and red berries while on the palate, I found pepper and an appealing earthiness."
Schioppettino is a wine for many – but not for everybody, as the Italian wine journalist Andrea Gabbrielli told me: "Schioppettino is a wine for patient people. You have to wait for 5-10 years of aging in bottle, depending on the vintage, to have complexity and elegance in a wine like this. It's a wine that needs to evolve in order to express itself in the best way."
Schioppettino di Prepotto is a wine that deserves to be tasted.  It is also in the US market, so why not give it a try? In this summer season, it could be your wine of choice for a barbecue…