It's a game of balance, sensibility, creativity, emotion. It can help you to recall a cherished experience. Or allow you to speak a new language. What am I talking about? Music. And wine, too. Maybe the only two things in the world that share so many features, and are treasured in many cultures. I have often have wondered how it would be to live in both of these worlds at the same time. Some years ago I met a wine producer who also is a musician: Luca Formentini, owner of Podere Selva Capuzza which is located between Milan and Verona in northern Italy. If I had to describe Luca, I would say that he is a sort of "Zen" guy — a calm but determined person, very straightforward and essential, a bit like his Lugana wine "Selva." In this dialogue, Luca explains his personal approach to his most important worlds: music and wine.
Luca, let's begin at the beginning: what is Selva Capuzza? A restaurant, a country hotel, a winery?
"Selva Capuzza is a place very close to Sirmione, the famously beautiful town on Lake Garda. But mainly Selva Capuzza is where my family and I can express our philosophy through three different areas of interest; wine, hospitality and cooking. It's a place where we produce wines exclusively with local grapes, even the less renowned ones or those most difficult to sell. And where we promote tirelessly the regional identity formed by our history, local culture and know-how. We also do this by celebrating the native ingredients and the gastronomic expression of our locality."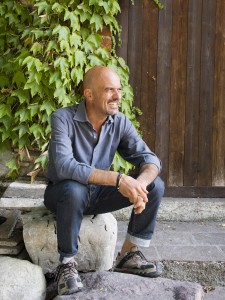 I know that you were a musician before you became a wine producer. What link do you see between those two worlds? Do you feel that you are more of a musician or a wine producer?
"I'm going to be honest: for many years there was no link at all between my two worlds. In fact, there was a profound distance. Being a musician has enabled me to live intensely my deepest relationship with myself and my emotions, with the people, the time, the things all around me. Unfortunately, wine had never enabled me in the same way — until a short time ago, when finally began to understand that I did not have to be a "different" Luca to explain my wine. I simply had to identify myself entirely with the wine produced by my winery. Thus, although the music is still the field where I am better able to express myself, more and more I see a convergence between these two worlds."
What is your music? What instrument do you play?
"The music I'm interested in cannot be defined in a specific genre. I listen everything, letting its magic and its emotions move something inside of me. My music tries to do the same: inducing emotions, evoking magic, both with traditional instruments like the guitar, and homemade instruments like the tavola sonora I built."
You also are the president of Lugana Consortium, and Lugana is a thriving Italian wine. Despite that, we know that currently Lugana is threatened by the proposed track of a new line for a High Speed Train. How is this matter going?
"We are still fighting against it, and on April 22nd we presented a new appeal to the official authority. Our fear is that big business is influencing the decision of the Environment Ministry to continue with High Speed Train planning despite the fragility of our Lugana environment. According to the latest official statistics, our Lake Garda is a prime Italian tourist destination both for its landscape and environment. That's why we firmly believe that if the HST has to run here, it can do this only by adopting the most advanced technology to preserve the entire environment, because this is our most important asset."
Back to you, if you had to mention a personal accomplishment, what would you say?
"I'd talk about the confidence I have maintained in Lugana wine: a style of white wine that is simple yet elegant. It has always been clean and balanced and attractive, even when the most successful wines in the world were red, powerful and concentrated."
In addition to turbiana, the native grape of Lugana, is there another grape you are particularly fond of?
"Sure. It's a grape that has been a bit underestimated, very fragile in the vineyard and in the cellar. Due to this it has not been so beloved by wine producers; nevertheless, it's able to express itself with rare elegance. It has been our "question mark" for many years, a grape that we couldn't call tocai anymore [due to European Union regulations]. Now it's called by its old local name: tuchì, the grape of our small San Martino della Battaglia denomination. Our wine "Campo del Soglio – S.Martino della Battaglia DOC" has kept alive this denomination for years, despite the fact that nobody knew what it was. But now consumers have fallen in love with unknown and local grapes like our tuchì, and have begun to take an interest these kinds of small denominations."
What countries are your wines exported to?
"In Europe, they are mainly in Germany, Netherlands, UK, Belgium, Switzerland, Denmark, Greece, Poland, Czech Republic and Austria. Overseas we are in the US and Japan."
Let's end with a personal reminiscence of your childhood: do you have any favorite comfort food, or dish?
"There is a food that I haven't tasted anywhere since my childhood: polenta made by my grandmother on the fireplace, with the scent of smoke and a texture of rough creaminess. It was my favorite dish, and I'll remember it forever."