One bright Sunday morning this Spring I put on my walking boots and entered the first enormous hall of the the world's largest wine trade show: ProWein 2016, in Dusseldorf, Germany.
Having decided that this is my year of doing things differently, this winter I was delighted to be a first-time invitee to ProWein. This three-day event for the wine trade (not consumers or media) has been held every March for the past 20 years. It's a venture where packing comfortable shoes is a must: the new head of ProWein, Marius Berlemann, told me he walks 19 miles a day during the event. He does look very fit – though I suspect it's his experience in Asia that contributed most to his new appointment as ProWein's Global Head for Wine & Spirits. Berlemann lived in China for a year recently, and was instrumental in creating ProWein China in Shanghai and the new-this-year ProWein Asia in Singapore.
Luckily, on that first morning in Dusseldorf, my group of international journalists was taken on a brisk orientation walk around the dozen or so gigantic exhibition halls. And I had a plan of my own, too: to investigate wine trends. Without this plan I would have quickly been overwhelmed by the insane number of exhibitors. There were individual wineries, distribution companies, winery alliances, wine regions, and wine countries that set up booths of all different sizes and shapes. And every one of them, from the smallest winery on up, had wines to taste. And spirits: ten percent of the exhibitors this year were distilled spirits.
In my observation, trends ranged from small to large. Literally. One day I clicked tons of pics of miniature bottles of wines and spirits, designed for…what? Travel? Intimate dinners? Eye-catching displays?
At the same time I spotted a plethora of large-format bottles – magnums, jeroboams, etc. – some designed for the happy party-goer and some intended for the serious collector.  And this even applies to rosé wines now, too; I was surprised to see some magnums amongst the more traditionally sized half-bottles for dinner-for-two.
Sparkling wines and rosé wines are also trending – and often enough the two trends meet in a bottle of rosé sparkling wine, often French. In general, I saw that France is producing more styles of light red wine, in addition to the soft, dry, light pink rosé wines from Provence.
At the Planète Bordeaux booth they were roping people in to help them figure out which wine went best with hand-carved slices from the full leg of Jambon de Bayonne they had brought with them: was it the light-red clairet or the rosé?  In the end we decided that the clairet pairing was better, but probably the Bayonne was not a dry enough style of ham to be an ideal to complement to these wines – prosciutto would have been better. (I offered to sneak some I'd seen at an Italian wine booth but the French were too proud to take me up on this.)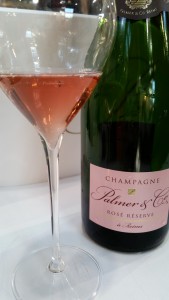 Rosé wine continues to be a worldwide trend and after the fair I went on a short trip around some nearby German wineries where I discovered that the latest thing in the Ahr River Valley — and further south along the Rhine – is the rosé and blanc de noir wines made from pinot noir. In fact the Ahr is becoming famous for its pinot noir wines these days – and I tasted my share of very good (non-sparkling) pinot noir wines as well.
In each hall, ProWein has set up several special areas where seminars and tastings are presented. There I had many more memorable experiences including:
Hanging out at the Champagne Lounge whenever I had a moment. One afternoon I was invited to participate in a private tasting of champagnes from the Club Tresors de Champagne
Confirming there is more and more sparkling wine coming from all over Germany; production has shot up in the last ten years, reflecting spiking market demand for bubbles.
Squeezing into a tasting seminar where I learned that South Africa's sparkling wines are increasing production at 32%/year now. Their top quality sparklers are labeled "Cap Classique."
Sampling at guided tastings of lovely Hungarian dry white Furmint wines – a favorite of mine for the past few years.
Finding a space at the table to participate in a tasting and terroir discussion about New Zealand wines.
Buzzing by gigantic German-based international wine and spirits journal Meininger's very popular FIZZ lounge with cocktails every day – but I could never get near enough to the bar to order.
Exploring one of the most fun pavilions, "Same But Different" to learn about anything from craft beers to gourmet dried fruits and nuts (great accompaniments for drinking). At "Same But Different" I also got to taste and chat with Sandro Saade, one of the owners of the Syrian winery Domaine de Bargylus and the Lebanese Chateau Marsyas.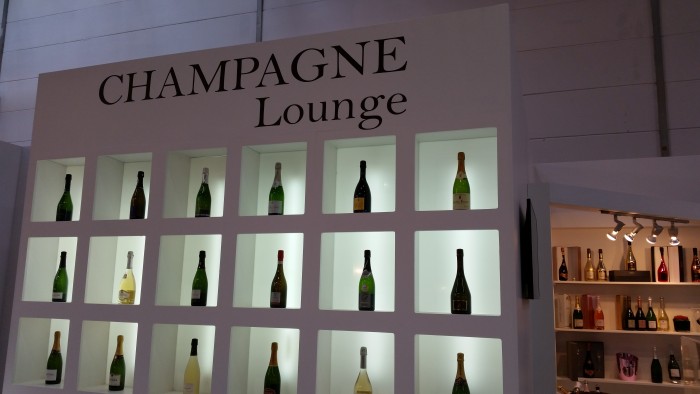 ProWein has also expanded outside of the trade show hours, with tastings and special restaurant offerings in the evenings. This program of events is called "ProWein Goes City" and includes dozens of events in a wide range of prices. One night it was a German VDP wine reception with hearty hors d'oeuvres, held in a spectacularly avant garde room at a museum. On another evening, my cousin Katja (who lives nearby) and I went to a very reasonably priced five-course wine-pairing dinner featuring Nik Weis St. Urbans-Hof Rieslings, with the winery owners on hand to talk about each course. The food was very good and very modern. The chef's preparations were especially notable because the dinner was held in a tiny restaurant, Gourmet-Bistro Zurheide, which is located inside a very large, upscale supermarket on the outskirts of Dusseldorf.
But why send a wine writer to a trade show, where the primary purpose is for wine producers to make deals for distribution and export? To increase public awareness, of course.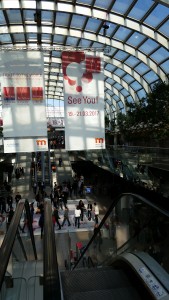 As you recall, this 20-year-old show is now the largest international wine show in the world. Though it has a hefty component of German-based wineries (about 50%), the 6,200 total exhibitors came from 59 countries worldwide. There were also 420 exhibitors from 30 countries in the spirits section of the fair. In terms of show attendees, I was one of the 52,000 visitors from 123 nations.
ProWein continues to tweak its show hours, days and offerings. An idea was floated to expand the show to four days. But everyone I talked with vetoed it not just because they don't want to take more time away from home, but because they're exhausted after three days of non-stop offering, presenting, tasting, dealing and just plain talking shop. And Director Berlemann told me he is happy the way things are going because the exhibit floor sells out as much as eight months in advance.
Personally, I can't think of anything I would do to improve the experience. Except to remember to take my Fitbit next time – I could have rocked that week in my fitness log!