Becky Sue Epstein is back in Bordeaux, for the annual en primeur tastings. She continues her live coverage from France here.
---
It has begun. The criss-crossing of Bordeaux by hundreds of journalists and thousands of buyers, swirling, sniffing, sipping and spitting hundreds of samples of the new wines, the vintage 2010 wines from the great châteaux of Bordeaux, the Unions des Grands Crus (UGC).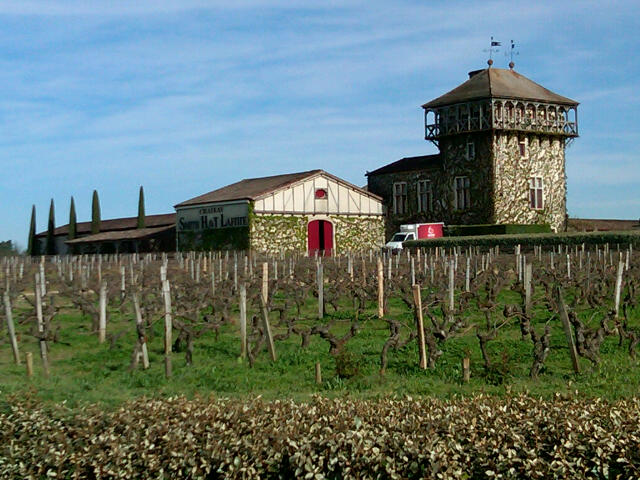 Monday morning, those of us with our own transportation wolfed down our croissants and yogurt and headed out to private appointments. Most of us are billeted (or château'd) in the Sauternes and Barsac district south of Bordeaux, a gentle place of small villages and large vineyards, built around the critical juncture of two rivers—the reason for the autumn mists that make the area's sweet wines so great.
I descended from my base at 18th Century Château Lafaurie-Peyraguey in the Sauternes hills, and crossed the river (and highway) to another hamlet, to visit the famed Château Climens. There, proprietor Bérenice Lurton greeted us with her coat on in the wine cellar. She and her cellar master had chosen a dozen of their 32 blending samples to show us. Taken from the first picking, the first sample "might have been a little too rich," she explained, so on the second trie (the French word for these selective pickings) they brought in "more golden grapes" for flavor and alcohol balance. Other tries yielded contributions to various aspects of the wine's body and palate, over a picking time of about a month, from late September to late October. Château Climens is so far from their final blend they prefer people come to the cellars and taste the evolving elements—and their fame allows them to insist on this method.
They're not alone in this. Château d'Yquem are holding their own separate—and grand—tasting later this week.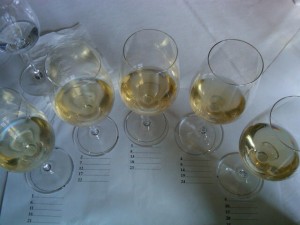 Time to settle
One thing I hadn't realized was how quickly the aromas change in these samples; according to the owner, they evolve daily. As Bérenice told me: "When we create the blend we don't pay attention to the aromas, it's the structure"—even though, of course, "it is a pleasure to have these aromas."
Later that day, Alexandre Lur-Saluces concurred that the wines need time. You may recall that he spent most of his life at his family's great Sauternes property, Château d'Yquem, until it was taken over by a conglomerate a few years ago. He now supervises wine-making at his own château, the no less famous Fargues. There, he still believes Sauternes should not really be consumed before they are at least 10 years old; he brought the rich 2001 to dinner and more than proved his point.
For the afternoon, we were back at Château Lafaurie-Peraguey for the official Sauternes and Barsac UGC tasting. For me, tasting blind, there were some surprises when I looked at the names afterward. (Über-knowledgeable author and long-time sweet wine expert Stephen Brook told me he got them all!) Anyhow, I was glad to see some of my favorite châteaux in the mix, like my host Château Lafaurie-Peyraguy, as well as Château de Fargues, Château Nairac and Château Coutet. Château La Tour Blanche was a standout, as were Château Rabaud-Promis, Château Suau and Château Romer. Château Rieussec and Suduiraut were very smooth. And Doisy-Daëne and Doisy-Védrines had nice, long finishes.
Overall, after tasting and talking to some of the producers, it seems this is an excellent vintage, more smooth and satisfying than "powerful." A vintage that will be drinkable in a few years, but has the structural elements to last for decades.
Sweet starters
In the afternoon I fit in a short tasting at SweetBordeaux, a young organization promoting the sweet wines made by other châteaux in this area, some of which are very good. We can look forward to hearing more from this group, as they reach out to a younger audience that, they hope, is eager to move from sweet cocktails into wine. SweetBordeaux's program promotes sweet wines instead of cocktails, with tapas-style foods before a meal: great tastes, less alcohol, more fun.
Dinner and a controversy
Later, we all went to the annual opening UGC dinner, with the proprietors of the Union des Grans Crus chateaux, along with 108 international journalists. This year, it was held at Smith Haut Lafitte, where the owners were celebrating their 20th anniversary at the château. so there was bit more fanfare: aperitifs placed strategically in a decorated barrel cellar, musicians to lead the way to dinner, and at the end, a cake spouting fireworks.
At the dinner, a controversial issue raised its head: among the few (self)-important   journalists who had come to Bordeaux a bit earlier to taste the wines,  apparently one, James Suckling, had decided to try to scoop everyone by publishing his "scores" on a subscription-only website (which I haven't seen). French critic Michel Bettane had just written a public letter of protest about this.  So, instead of ignoring this in a stock welcome speech, UGC head Sylvie Cazes took the bull by the horns, admonishing journalists and château owners to take their own control over the situation.  In other words, the chateau owners could choose not to allow anyone to taste early, if they wanted to.  I'm not sure what the journalists could do about self-regulation.
Sylvie is the sister of Jean-Michel Cazes, the owner of Château Lynch-Bages (among other worldwide properties). Jean-Michel is a self-made man who some years ago created an eono-tourism destination at Bages, for which he was first vilified and is now respected. Since Jean-Michel semi-retired and stepped out of the limelight a few years ago, Sylvie has blossomed, taking on many new added responsibilities, and even more chateaux management this year; I look forward to seeing where she leads not only the UGC but her châteaux over the coming years.
---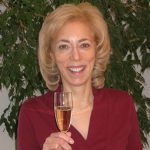 Becky Sue Epstein is Palate Press's International Editor. An experienced writer, editor, broadcaster, and consultant in the fields of wine, spirits, food, and travel, her work appears in many national publications including Art & Antiques, Luxury Golf & Travel, Food + Wine, and Wine Spectator. She began her career as a restaurant reviewer for the Los Angeles Times while working in film and television.