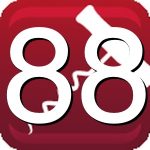 Cabernet, Syrah, and Petite Verdot. Oh my! The Cabernet is most aromatic, with blackcurrant wafting up from the glass first, followed by black pepper and black plum. Syrah takes equal billing with Cabernet on the palate. Blackberries match blackcurrant, pepper underlies everything. It sweetens a bit on the mid-palate, adding just a bit of black cherry. Big tannins take a firm grip on the mouth and don't let go for a long time. They could easily support a New York Strip. Recommended.
WHO: Anemoi Wines
WHAT: Red  Blend (Cabernet Sauvignon 44%, Syrah 44%, Petite Verdot 2%)
DESIGNATION: Apeliotes
WHERE: Colorado, Grand Valley
WHEN: 2012
HOW MUCH: $40
Canyon Wind Cellars offers Palate Press readers a 10% discount on the wines from all three of its labels, 47-10, Canyon Wind, and Anemoi. Shop Canyon Wind and use promo code "PalatePress" to get the discount.