In my day job I am a consultant.  I obviously have heard all of the jokes and disdain that may accompany this title, but if there is one thing that we consultants know how to do, it is to offer some advice on problems about which we probably have very little to add, experientially speaking.  We can also always whip up a 'white paper' to solve a loosely defined problem, often out of thin air.  So while it may be unsolicited, I have no trouble offering a solution to the conundrum currently facing California Syrah.
Anyone taking the time to read this article is likely aware that this bold Rhône grape has been suffering a bit of an identity crisis in California as of late.  It was widely planted in hopes of becoming California's next superstar, yet recent vintages have struggled with lackluster, difficult sales, and an incoherent, unfocused reputation.  Critical success, outstanding and innovative winemaking, and a growing interest in the broader Rhône varietals have done little to help the dark-skinned grape become what many in the mid 1990s hoped.  So let me do what I do: solve a big problem in 800 words.
A White Paper on California Syrah
Defining the Problem: While it is hard to define the problems that face California Syrah, it is obvious that there are issues.  It may be an image problem, it may be a style problem, it may even be an education problem as indicated by Bedrock winemaker Morgan Twain-Peterson at this year's Hospice du Rhône.  Any combination of these hurdles are rather difficult to address.  But let's face it, the only problem that needs to be solved in order to make these ambiguous blemishes fade, is the sales problem.  With nearly 20,000 acres of syrah planted in California, if the grape does not start selling, it will not remain viable.  Wine sales occur generally in three locations: retail stores, restaurants, and tasting rooms.  Improvements in each of these outlets will necessarily elevate the grape back to its deserved status.
Retail Store Confusion: While shopping for wine in retail stores consumers generally rely on recommendations of the shop's employees, critical shelf talkers, and their familiarity with a given style.  It is in the retail setting that the huge diversity in California Syrah styles and taste profiles introduce enough confusion to often eliminate it as a purchasing option.  Many California Syrahs are produced in a big, fat, ripe style full of blackberry and spice, and bold flavors that can overwhelm the distinction that a cooler climate syrah provides.  Others are grown on colder sites and highlight the black pepper, raspberry, and savory components more reminiscent of the grape's Northern Rhône heritage.  It is very difficult for most consumers to know what to expect when picking up a bottle, hence the problem.  To solve this there must be a concerted effort for regions to consolidate on their specific style of Syrah.  Napa Valley Cabernet, Santa Rita Hills Pinot Noir, Sonoma Coast Chardonnay all allow for winemakers to employ their own influence but offer some generalities that make the consumer comfortable in their purchase.  Syrah must do the same, and while this distinction may take some time, it is the responsibility of the producers.  Shop owners, critics, even wholesalers need to be able to speak to the generalizations of a Santa Barbara, Paso Robles, or Howell Mountain Syrah in a way that translates to a relatively consistent experience for the consumer.
Restaurant Wine List Avoidance: In restaurants, consumers lean on either the recommendation of the sommelier/server, or towards their knowledge of the ubiquitous food pairings (think pinot with salmon, zinfandel with smoky barbecue, and cabernet with steaks).  This tendency currently does not bode well for California Syrah, as it lacks a go-to, well known food pairing.  And yet there exists a natural fit, a quintessential food found on American menus from the local diner to the high end restaurants.  It is a food that can be found for $4 or $50, with restaurants devoted entirely to its perfection, and millions of versions being cooked up in backyards across the land on a very regular basis.  The choice is, of course, the hamburger.  Syrah in all of its vastly different expressions can stand up to the meatiness of ground chuck, the umami and spicy flavors of favorite hamburger toppings, and the rich addition of the requisite slice of cheese.  This pairing works, and yet it will take a concerted effort to bring this natural fit into the everyday knowledge of the average consumer.  The hamburger is already accepted and loved, and syrah should hitch itself to this wagon.
Tasting Room Obscurity: Finally wine is purchased and exposed through wineries themselves, most often through the tasting room.  While there are many producers who focus on Syrah (check out Tensley, Qupe, or Lagier Meredith) it is frequently a wine that is added to a portfolio and gets lost in the crowd.  Many Napa and Sonoma producers do Syrah in addition to their Cabernets, Zinfandels, or Pinot Noirs.  The Sierra Foothills and Paso Robles use Syrah liberally, but generally within their entire Rhone based portfolio.  This allows the identity of Syrah to get lost in the crowd.  As it is usually not the most expensive wine in a lineup, human nature allows many consumers to pass by the grape on their way to the tasting room darling.  In addition, because Syrah is produced so widely throughout the state of California, it lacks a regional champion to which it can clearly associate.  Syrah fails to stand out because of its position within both the California wine world, and within many of the lineups in which it is showcased.  In thinking of all the major wine events and advocacy groups throughout California, none focus solely on the grape.  While Rhône Rangers is certainly a champion, its limelight is shared between an overwhelming 21 other grapes.  If Syrah is to become a best seller, it needs to be regularly heralded as a worthy variety by those on the ground.  Put it at the end of the lineup, feature it at winemaker dinners or club member events, highlight how amazing it is that the highest quality wine in the tasting room is half the price of the Cabernet.  These efforts are not going to hurt the established reputation of Pinot Noir, they will only serve to elevate Syrah.
Conclusion: Fixing Syrah will take some legwork, but it will require work that should be a pleasure for those who make, sell, or love the grape.  Simply increase regional distinction and educate the frontline salespersons on these traits, tie Syrah to specific food pairings and take advantage of the lack of a go-to wine for hamburgers, and make Syrah one of the stars of the winery that produces it, not the bottle to purchase if funds are tight.  This will work: after all I'm a consultant.
---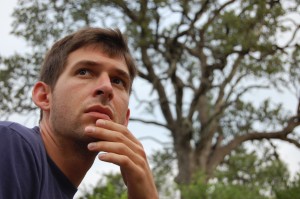 Scott Wadlow writes
The Vino File: A Wine Blog
out of his home in Pasadena, CA and the many hotels of San Francisco, CA where he spends his weeks.  A software consultant in his real life, talking about, thinking about, writing about, and tasting wines has become an increasingly large part of his life over the last several years, and remains his favorite hobby.  In fact his friends say it has gone too far and is rather embarrassing when he sidetracks the sommelier to discuss why more tables around are not ordering the Crus Beaujolais.  And don't even get him started on the merits of Riesling.