I stood 1,200 miles away from home, in a dimly lit ballroom, at a historic hotel in Walla Walla, WA, clutching two bottles of the inaugural vintage of our family's homemade wine, which until quite recently rested safely in neutral 60-gallon French-oak barrels in my garage. I was about to pour the very first public taste of this wine, for a celebrity Master Sommelier … in front of a crowd.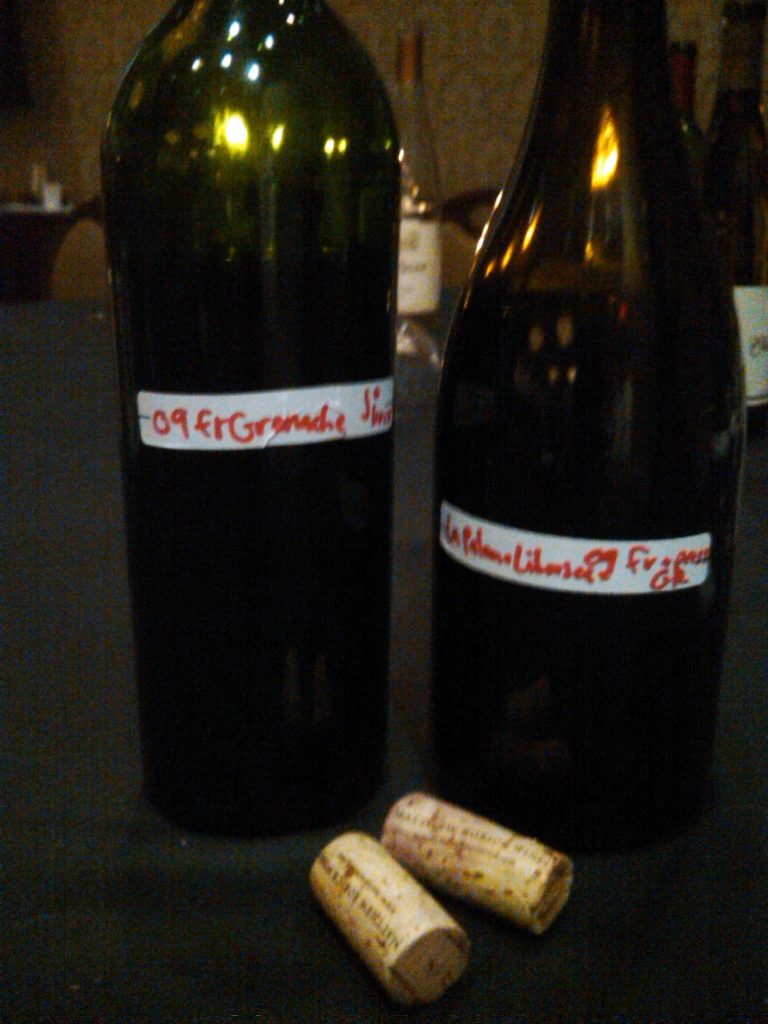 •••
It all started with a single sentence. "Let's make wine," my husband, Jody, said. "Let's do it here, in the garage." It was Thanksgiving Day, 2008. We sat around the coffee table in that state of blissful equilibrium that comes from the combination of just enough delicious food and wine. As a fall ocean breeze whisked through the windows, we enjoyed the company of those with whom you dare to speak of a dream aloud.
For seven years leading up to this point we had become more and more fascinated by wine, and as we developed and deepened our palates and knowledge, we felt an increasing pull to experience wine from the source—from the very beginning. So we decided to volunteer during harvest at one of our favorite Central Coast wineries.
It was during the 2008 harvest when we got our hands (and every other square inch of our bodies) dirty at the winery for the first time, helping with everything including sorting and processing wine grapes, daily punchdowns (mixing the fermenting must and juice), checking chemistry during fermentation, and pressing and barreling the wine. It was hard, physical, messy, exhilarating work. We were hooked.
"You could do it, you know," one of our friends said. "Buy the fruit, bring it down, rent some equipment, get a few barrels … what would you make?"
"Grenache," Jody and I said, simultaneously, and I knew that come Thanksgiving next, many things in our lives would be different.
•••
I arrived in Walla Walla with my hopes and my oversized suitcase, which, along with clothes and shoes, carried the two precious bottles. One had been pulled from our barrel of 100 percent free-run Grenache; the other from our barrel holding a blend of free-run and press wine. As I explained the details to people I met, and watched interest begin to build, it quickly became clear this wine's storyline was taking on a life of its own.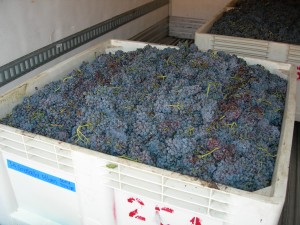 Whether you're already immersed in the world of wine, or just looking to expand your knowledge a bit, you're going to eventually come across wine luminary and all-around dynamo Andrea Robinson. She's one of 16 female Master Sommeliers in the world; she's authored three books on wine, food, and the pairing of the two; she's hosted shows on Food Network and Fine Living (now the Cooking Channel); and much more. Jody and I regularly enjoyed watching her shows, and I was pleased when I learned she would speak at the Wine Bloggers' Conference.
Andrea and I first met at the tiny Walla Walla airport, while waiting for the hotel shuttle. We happened to squeeze in next to each other in the packed Suburban that transported us to the 82-year-old Marcus Whitman Hotel, which hosted the conference. We got to talking about the garage-winemaking project during the short, bumpy ride, and she said she'd love to try the wines.
I had no idea she'd be the very first one to do so.
•••
Before leaping into our winemaking project, Jody and I had some challenges to tackle. The house was the first hurdle. The garage was drafty and termite-ridden. It wouldn't do, so we had to move.  We found a new place with a suitable garage, and relocated during an August heat wave, just before our two children went back to school.
Amid unpacking, and full-time jobs, and the kids, we set about creating our home winery. We needed an air-conditioning unit, to keep the cellar-to-be cool. Jody spent weekends installing insulation in the panels of the garage door, and in the ceiling. What about chlorine in the water, I wondered, and TCA contamination? We researched, and acquired a special filter, for the hose we'd use to swell the barrels.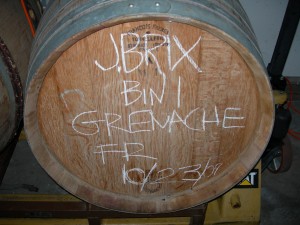 Oh yes, the barrels. Our Central-Coast winemaker friend, at whose winery we first caught the bug, gave us barrels.  Another winemaker friend gave us barrel racks. We visited vineyards and sourced our fruit. We purchased fermentation bins. Jody had a metal shop weld up a punchdown tool. Harvest grew closer. Then we all came down with the flu in mid-September and were bedridden for a week, praying the fruit wouldn't be ready, not just yet. Just in case, there was a rented refrigerated truck on standby to drive the 400 round-trip miles to and from the vineyard, and a borrowed crusher-destemmer, and last-minute barrel repairs.
All this, and extremely suspicious new neighbors.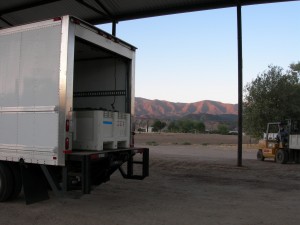 Then the day arrived in October 2009 when we processed one ton of beautiful Santa Barbara Highlands Vineyard Grenache, and a half-ton of Syrah, in the driveway; and fermented it in our garage (waking at 4:30 each morning, for many days, to tend to punchdowns and chemistry checks); and spent an entire night with a clog-prone pump and a tiny press getting the finished wine into three barrels. And then, there was wine, our wine, put to bed in its three barrels; left to develop, age, and mature. We thought it was coming along very nicely, but really, what did we know?
Eight months later, it was that wine I held in the ballroom. I hoped people would enjoy the wines; that the love and intense devotion with which we approached this dream, this thing we had to do, had somehow made an intangible difference in the heart of the flavor, the texture, the life force of the wine.
•••
The moment came on surreally, as these moments do. It was the first night of the conference, and the 300 attendees—a mix of bloggers and wine-industry folks—were gathered in the ballroom for dinner. I'd dashed up to my room to get the two bottles, with the plan of pouring for a number of new friends with whom I was seated, plus anyone else who wanted a taste. As I returned toward the ballroom, I passed by Andrea, who was headed in the other direction.
"I have the barrel samples," I said. "Feel free to stop by sometime tonight when you get a chance."
"Let's go!" Andrea said, turning around. "I'll grab a glass!"
(And so, it began.)
Looking back on it, I marvel at the steadiness of my hands, of my breath. I reached into my bag for the corkscrew, and hoped the makeshift-corking process we used (briefly boiling pre-used top-quality corks, to soften them enough for Jody to force them in the bottles with his thumb) hadn't rendered them difficult to remove. They glided out gently, without a hitch.
I took the glass from the extended hand of the Master Sommelier, and poured her a taste of the free-run Grenache born of a dream. I handed it back, and looked at her as she stood in front of me and swirled the wine, bringing the glass to her face, breathing deeply, taking a sip.
Everyone at the table was watching. I understood the expression Andrea's face would wear, and the words she would speak before this audience, meant a public, critical, expert judgment on this creation that, honestly, held a piece of my soul. I felt the sheer joy, the absolute terror; yes, the essence of vulnerability, that what was to happen could not be stopped; and the outcome, whatever it was, would no doubt change me.
She liked it.
Practically raved about the aromatics, the lush texture, the fruit and the spices. The sample from the second barrel, the blend of free-run and press Grenache that's been my not-so-secret favorite all along, received equally stellar accolades. Andrea identified cocoa, cinnamon and clove notes, and even recommended serving a Moroccan dish with our first bottle, once it's all grown up and truly ready for release.
We have been fortunate, throughout this project that began with an utterance spoken on a day of giving thanks, to meet people whom I now can't imagine not knowing, and to have experiences I couldn't have dreamed up if I tried.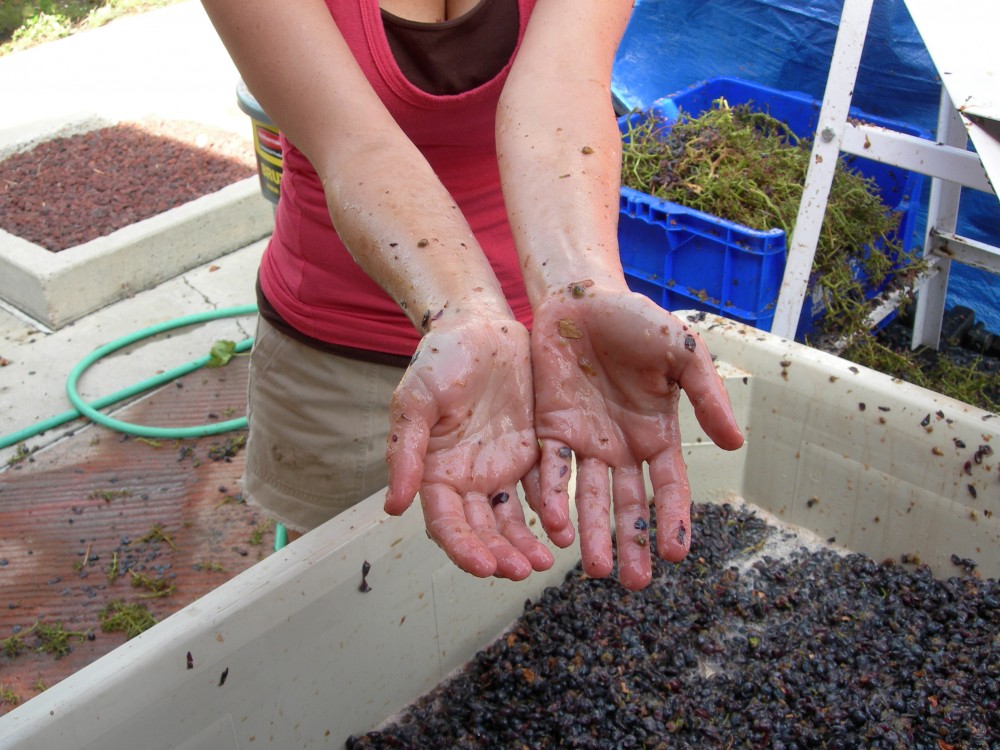 This is the chance you take when you create something: you give it a life that it must live. You cannot predict, nor completely control, what will happen to it. Yet you must trust it.
"Trust the wine," a friend told me as my pre-tasting jitters mounted. I carried those words, along with the bottles, to the ballroom.
There are unexpected moments, in this life, of sudden realization that one is no longer in charge of what is about to happen; completely unguarded; and exquisitely vulnerable. The resulting sensation—equal parts sheer joy and absolute terror—is an electrifying reminder of what it means to be alive.
(And so, it continues.)
---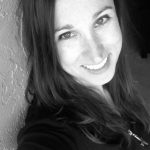 Emily Towe lives in San Diego and writes the Garagistes-in-Training blog, where she discusses her family's garage-winemaking project and (double) double-blind food-and-wine pairing dinners. This harvest, Emily and her husband, Jody, plan to try their hand at making Riesling. Follow her on Twitter at @emilyldt.