I recently polled a few friends to get their quick take on Austrian reds. Replies ranged from "Yum!" to "Huh?"—but heavily weighted toward the latter.
True, Austria's better known for crisp whites like Grüner Veltliner, but red grapes are grown everywhere, too, and make up a third of vineyard plantings. Zweigelt dominates, while varieties like blaufränkisch, St. Laurent, blauburgunder (pinot noir), cabernet sauvignon, merlot, and others round out the mix.
Over the last few months, I've been sampling Austrian red wines at prices ranging from $12 to about $30. While stylistically varied, the wines have proven refreshing, food-friendly, and reasonably priced. Some were downright delicious.
So if you're in the "Huh?" camp, too, here are five good reasons to try Austrian reds now.
1. They're high quality.
During the middle part of the 20th century, Austria was primarily known for bulk wine exports. Vintners hardly concerned themselves with coaxing a grape's best expression.
It took a scandal to turn that around. In 1985, a few producers were convicted of adding diethylene glycol, an ingredient in antifreeze, to their wines to boost perceived body and sweetness. The bottom fell out of Austria's wine market nearly overnight, and the industry was obliged to revamp its image and enforce standards for quality wines, from Qualitätswein through the Pradikätswein (late harvest) levels.
In 2001, Austria further codified reverence for regional character through the creation of seven small DACs (Districtus Austria Controllatus) that associate grapes with their traditional growing zones.
Now, customers can be assured that any bottle with a capsule bearing the Austrian wine seal—a white stripe on a red field, after the country's flag—will be of highest quality.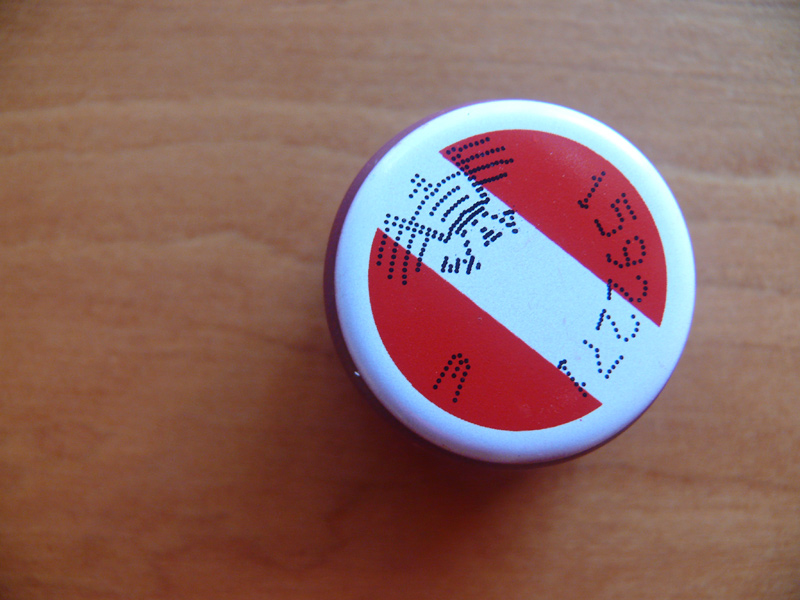 2. They're tasty—especially for those who love cool-climate wines.
Austria's primary vineyard regions lie at roughly the same latitude as Burgundy, France. While the soils are different, and the area receives more significant continental and Adriatic influences, the wines are stylistically akin: lean, aromatic, cool-climate.
Austria's northern reaches produce leaner, more finely cut red wines, while Burgenland and the area around lake Neusiedlersee, which has a tempering effect on the mesoclimate, produce wines that can feel more generous.
Generally speaking, though, these reds are characterized by bright berry flavors, peppery aromatics, piquant green herbs, moderate tannins, and racy acidity. Fans of plush, jammy reds might have a hard time with them at first. But hang in there: open one early, give it some air, and pour it with a meal.
3. They're thoughtfully made.
On the whole, these are wines made with restraint. Grapes are picked ripe but not over-ripe, yielding a finished wine of around 12.5% to 13.5% alcohol. (Chaptalization, the process of adding sugar to grape must to boost alcohol, is permitted for Qualitätswein but forbidden at all Prädikatswein levels.) Reds tend to be aged in neutral oak or stainless steel, which lets the flavors of the fruit and vineyard show clearly.
I did run into a few notable exceptions to this "restraint" rule, though—wines that were deeply extracted with the signature toasty caramel notes of newer oak aging. St. Laurent seems to be a candidate for this treatment: the grape tends to make more powerful wines, so theoretically can handle it. But while I found the chocolaty, deep smokiness somewhat pleasant initially, it was tiring after several sips, and didn't integrate well with food. I much prefer the lighter styles.
Like many well-made wines, I've found Austrian red wines like a bit of air, so recommend decanting for an hour before serving. Many seem even more integrated on Day Two, and can last open for many days.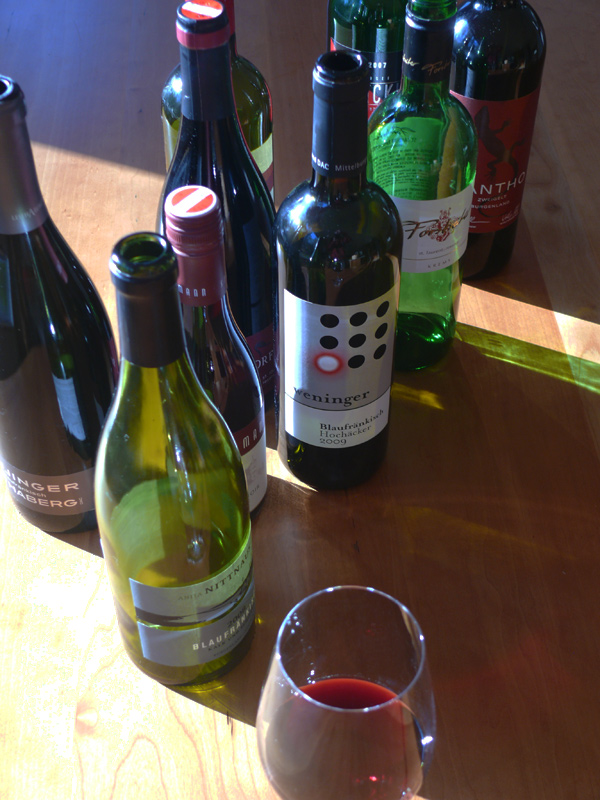 4. They're food-friendly.
Traditional Austrian cuisine centers on pork, fowl, game, beef, mushrooms, cured meats, and cheeses. Red wine styles were designed to pair well with these earthy, slightly richer foods: the acidity cuts the richness, and the balanced, more savory style complements—rather than competes against—food's primary flavors.
The wines' freshness, though, makes them adaptable to many styles of cuisine. In particular, they're a great match for vegan and vegetarian fare, as their herbal top notes tie into a range of vegetable ingredients and seasonings, and their light to medium body deftly balances the food's weight. On the other hand, they're amazing with pork sausages.
I think the key, though, is that these wines aren't just food-friendly, they actually need food to show well, as their acidity and lean savoryness can make them somewhat challenging as aperitif wines. If serving them, say, during cocktail hour, provide an array of aged cheeses and a little dry-cured salami to let the wines bloom.
5. They're novel.
Why reach for the familiar when you could try something new? Cold-weather cuisine loves cool climate reds, so fall's a great time to enjoy the spicy, savory, food-friendly reds of Austria. Here are a few to look for:
Blaufränkisch
Called lemberger in Germany, the grape has been grown in Austria for twelve centuries. It's characterized by spicy dark berry flavors, pronounced acidity, and assertive tannins.
Weninger Blaufränkisch Hochäcker 2009 (media sample) — $24
Deep ruby red with sweet jammy black cherry, plum and black raspberry notes. Lean, but with plummy fruit and pronounced acidity, plus dusty tannins. Still brilliant on Days 2 and 3. Soft, refreshing, food-friendly; just terrific.
Hans & Anita Nittnaus Blaufränkisch "Kalk und Schiefer" Burgenland 2008 (media sample) — $20
Deep garnet with aromas of fresh red raspberries, black raspberries, and violets, it offers flavors of bright red raspberry fruit, red licorice, and red plum. With air the nose and palate deepen, adding smoky black cherry and black plum fruits.
St. Laurent
A dark-skinned, aromatic relative of pinot noir, the grape originated in Austria's Niederösterreich. The wines can be dense and powerful; fans of warm-climate or denser reds might start here.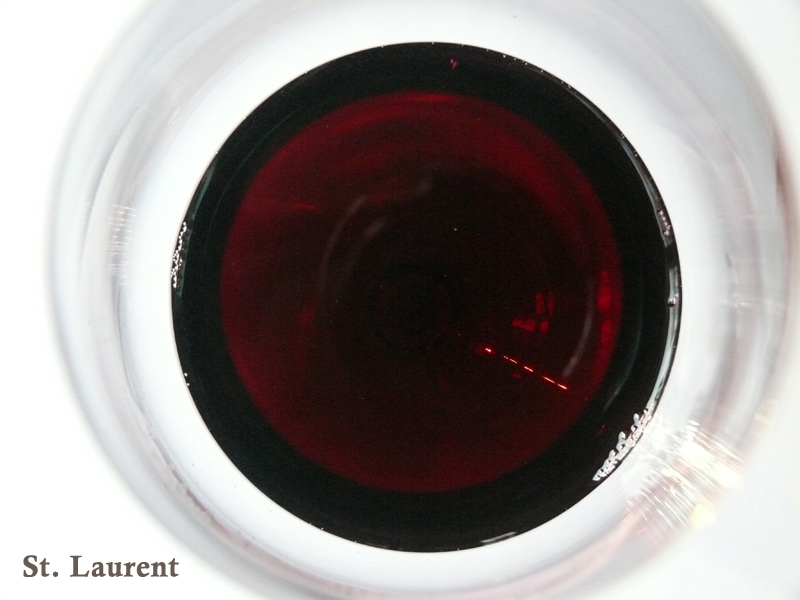 Forstreiter St. Laurent Reserve Niederösterreich 2007 (media sample) — $24
Clear garnet red with funky, earthy red fruit aromas tinged with smoky mocha. Black plum fruits with a chocolaty mid-palate finish with a whiff of smoke. Pair with grilled pork or beef.
Steindorfer St. Laurent Reserve Burgenland 2009 (media sample) — $28
Inky purplish with aromas of blueberries, blue fruits, and caramel smoke. Really big and lush on the palate with more blueberry fruits and smoke plus modest acidity. I found this wine far too plush, but those more used to riper, heavily oaked styles may find it a good introduction to the category.
Zweigelt
A cross between St. Laurent and blaufränkisch, the wines are light-bodied with peppery, bright berry fruits.
Netzl Zweigelt Rubin Carnuntum 2010 (media sample) — $25
Cherry red with elegant aromatics, a whiff of vanilla, supple red fruits, and dusty earth. Beautifully textured tannins play against earthy fruits and ripe cherry acidity.
Fritsch Zweigelt "Red Soil" Wagram 2009 (media sample) — $18
Pale garnet with hints of mint and herbs, it has aromas of plummy black fruits with earthy base notes. Spicy with hints of black pepper, the palate yields more plummy fruits and a long and supple finish.
Blauburgunder (Pinot Noir)
Lithe, lean, and savory Pinot Noir, often at extremely reasonable prices.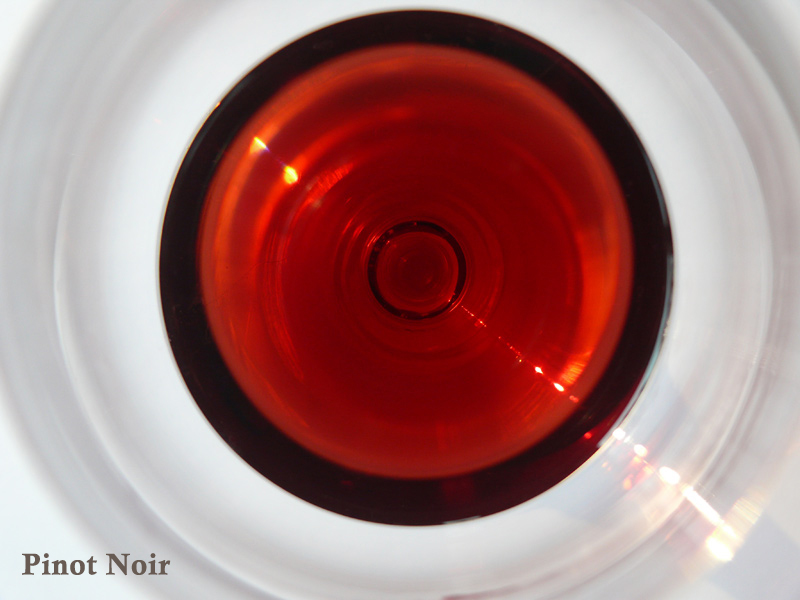 Stadlmann Pinot Noir "Classic" 2009 (media sample) — $18
Translucent brickish red, the wine has great Pinot typicity, with aromas of rare meat and singed herbs. Lean and light-bodied with steely minerality that I associate with red Burgundy, but with an herbal top-note I associate with Austria. Lovely.
Red Blends
Blends of autochthonous (indigenous) grapes like St. Laurent and blaufränkisch, bred crossings like zweigelt, and international varieties like merlot and cabernet sauvignon can produce wines with broad appeal.
Hillinger "Hill Side" 2008 (winery tasting) — $28
The wine is a blend of syrah, zweigelt, and merlot that spent 22 months in neutral oak. Peppery aromatics with a hint of sweetgrass yield to soft blackberry fruits. The finish is somewhat leathery. This wine was absolutely terrific with salty cheese.
Anton Bauer "Wagram Cuvée 13" 2007 (winery tasting) — $20
A blend of blaufränkisch, zweigelt, cabernet sauvignon, and merlot, the wine offers pepper, spice, and brilliant berry flavors, but it's restrained and settled overall. Delicious and a great value.
[author] [author_image timthumb='on']http://palatepress.com/wp-content/uploads/2012/02/MHMaker.jpg[/author_image] [author_info]Meg Houston Maker, MA, CSW, is a writer curious about nature, culture, food, wine, and place. Find her creative writing at Megmaker.com and essays on food and wine at Maker's Table. Follow her on Twitter @megmaker.[/author_info] [/author]