The months toward the end of winter and beginning of spring are Amarone della Valpolicella time. In this period, in fact, two important events are hosted in Verona, Italy — two different series of tastings of this renowned Italian red wine. "Amarone in Villa" ("Amarone in the Manor") is organized by a prestigious restaurant, Villa De Winckels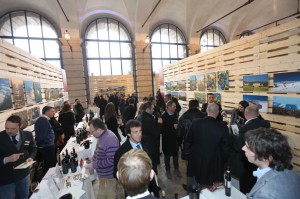 And the traditional "Amarone Preview" which is organized by the Consorzio Tutela Vini Valpolicella, was held this year in the historic Palazzo della Gran Guardia, also in Verona. I attended both, where I tasted many samples of Amarone della Valpolicella.
These events are worth attending for three reasons. First, an event like the Amarone Preview – this year focused on 2008 vintage — provides updated information on production and markets for the wine. Currently, 12.8 million of bottles of Amarone della Valpolicella are produced, at a value that exceeds 200 million Euros; 80% of Amarone wines are exported to Northern Europe, North America, Germany, the UK Russia, and East Asian countries.
The second reason is that this a preview of the latest vintage release before its marketing campaign, allowing attendees to discover new producers and new wines on their own. But above all, it's a chance to really understand the evolution of the style of this wine.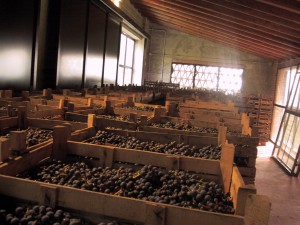 Despite the fact the production technique is the same everywhere – Amarone della Valpolicella is a red wine made from a blend of dried, indigenous Italian grapes – each winery is proud of the personality of its Amarone, the character that their agronomic and winemaking choices bestow on the wine. For example, a winery may decide to release their wine only after many years of aging, or it may choose to use more corvinone in the blend (currently, the major grapes used in Amarone della Valpolicella are corvina, rondinella and corvinone). Or a winery may decide to still use the molinara grape, which has almost disappeared.  Or to age wine only in new French barriques, etc… With this array of choices , it's easy to find Amarone wines in many different styles.
This richness and diversity of styles, along with a very appealing taste, have created a product that is appreciated throughout the world. But how do you choose the Amarone della Valpolicella that is right for you? Well, I've been thinking about various human characteristics, and I've paired them with different styles of Amarone.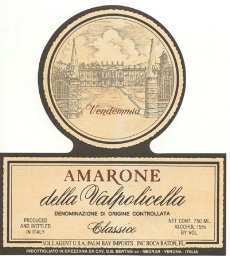 Thus, if you're a traditionalist, a history buff or a vintage car aficionado,  if you love Europe and its great capitals, if you admire art and Italian fashion, the wine for you is a big Amarone della Valpolicella aged in oak, well seasoned, with aromas of cherries and the flavor of dried fruit, plum, and coffee. A beautiful wine that works at the end of a dinner, or during a conversation with friends, your choice would be the 2004 Bertani Amarone della Valpolicella Classico.
If you're a globetrotter and a trendy, dynamic person, always moving, curious about all the news, if you love drink famous wines at lunch and dinner, if you like to be surrounded by beautiful things and fashion, you have to try an Amarone with a bit more international and modern taste. A wine with a floral nose (violets), fresh in the mouth yet balanced with fruity, cherry flavors. Concentrated yet not over-extracted. Like the 2007 Allegrini Amarone della Valpolicella Classico.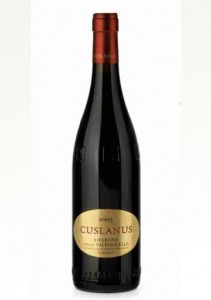 If you're a romantic, if you love Italian food and your hobby is photography, if you sometimes read philosophy books while listening music, if you love to go sailing or play golf, the Amarone della Valpolicella right for you is 2007 Albino Armani Amarone della Valpolicella Classico "Cuslanus."  A wine with very elegant aromas, balanced in texture, with a taste of red berries in alcohol, spicy in the finish, long and persistent.
If you're a sportsman and lover of nature, if you like camping holidays, if you prefer cycling, dressing casually and running on the beach or in natural parks, if you love dogs, cats, horses, canaries and goldfish, the Amarone for you is organic, like the 2004 Monte Dall'Ora Amarone della Valpolicella Classico "La Stropa." On the nose, it displays perfumes of ripe fruits (blackberries, plums) and in the mouth it's balsamic and spicy, well balanced and persistent.
Finally, if you're an intellectual, even a little bit of a snob who loves clothes, rare wines and foods, who goes to the most exclusive sports clubs in the city, and gives wonderful birthday presents to the people you love, the Amarone della Valpolicella for you is one of the most precious and famous in the world: the 2002 Dal Forno Amarone della Valpolicella "Vigneto Monte Lodoletta." Made with a unique blend of corvina, oseleta and creatina grapes, it has an intense aroma of licorice and chocolate that blends with fruity notes of ripe plums and cherries, and a wrap-around style, soft, with velvet tannins.
Don't recognize yourself in any of these profiles? No worries: it's just a game! Just go out and buy any good Amarone della Valpolicella, call your friends, cook a steak and enjoy the evening. Life is short.
---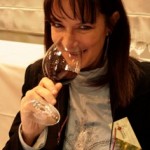 Elisabetta Tosi is a freelance wine journalist and wine blogger. She lives in Valpolicella, where the famous red wines Amarone, Ripasso, and Recioto are produced. Professionally, she serves as a web-consultant for wineries, and in her free time writes books about Italian wines. She is also a contributor to Vino Pigro.