The divide in California wine seems simple: the coasts are cool, the interior is not. But then there's El Dorado.
El Dorado doesn't neatly fit into any category. It's much cooler than most of California's interior because it's so far above sea level. In fact, the Fair Play subappellation, which ranges from 600 to 915 meters (2,000-3,000 feet) up, claims the highest average elevation in the state. But El Dorado is also much sunnier than the coast because the fog doesn't make it that far east.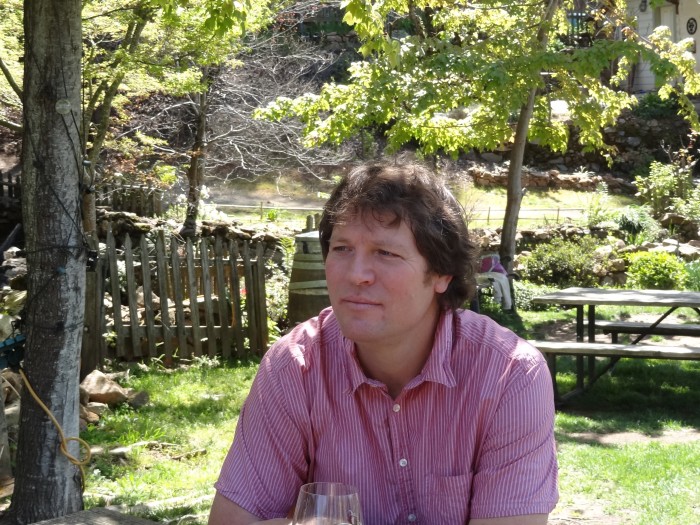 "We're a mountainous region and we have tons of little pockets where we can grow cool-climate grapes," says Justin Boeger. "We fight this perception that 'You should be making Zin and Barbera and that's it.' My dad still makes a Pinot Noir that we grow at 3,200 feet [975 meters]." El Dorado reminds me of Washington's Yakima Valley because its reputation is held back not by grape quality, but by the absence of tourism. There are no fancy restaurants or fine hotels; most visitors come on day trips from Sacramento or Lake Tahoe. In one way it's a great place for visiting wineries, because most don't charge tasting fees. But the 70 wineries are spread out along winding roads; it's not an easy day of tasting if you're driving.
It's also like Yakima Valley in that it's truly farm country, and not just for wine. El Dorado was the Bartlett pear capitol of the world until the 1950s, when a disease pretty much wiped them all out. Apples, cherries, peaches, nectarines and Christmas trees, along with wine grapes, are the main crops now.
Grayson Hartley, winemaker at David Girard Vineyards, said moving to El Dorado was a culture shock. He worked in Napa and also at a winery in Connecticut before taking the job at David Girard. I had his Coda Rouge, a Syrah-Mourvèdre-Grénache-Counoise blend, the night before writing this, and it was outstanding: savory, great texture, spicy; plenty of fruit, but I wouldn't call it fruit-driven. A great dinner wine, ironic considering there's almost nowhere to eat out where it's made. "We had to get used to not going out to dinner," Hartley said. "It was hard to get our friends to visit. Once they did, they'd say, 'Wow, it's really quiet here.' "
El Dorado is a subsection of the enormous Sierra Foothills AVA, which is mostly known for very ripe red wines, especially Zinfandel. And there are some very ripe wines in El Dorado, because lots of people like that out of California, but that's not what the region does best. I had a 2012 Madroña Zinfandel that reminded me of why I used to drink more Zinfandel: it was light, pretty and brambly, with fruit more like strawberry than the blackberry most other Zin makers are shooting for. We're not talking about an underripe wine; the alcohol was 14.5%. But it was lovely, and perhaps the highest representation of what a vineyard can do with cool weather yet lots of light.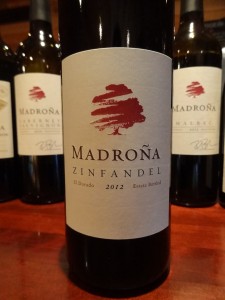 Have you even heard of Madroña? No? It should be the leader of the local wine industry, making 15,000 cases a year from own-rooted estate vines, with terrific throwback Cabernets that taste like Cabernet, a fine dry Riesling and an excellent Petit Verdot. Twenty years ago Madroña wines were widely distributed across the U.S. But now, to get them you pretty much have to go to Sacramento. Most of the world's wine industry is trying harder to get its wines into the U.S. market, but Madroña is typical of El Dorado wineries, with owner/winemaker Paul Bush content to stay at home.
"I was traveling so much to sell a pallet here, a pallet there," Bush said. "I don't have to compete in the world market." Bush had taken over at winemaker because he didn't like the wines made by winemakers he hired. "We embrace the fact that we have structure," he said. "So we have tannins in the reds and acids in the whites. And whatever you do, don't pick overripe."
Madroña was one of the two pioneers of the modern wine industry in El Dorado; the other is Boeger. El Dorado had a thriving wine industry in the late 1800s, but it died with Prohibition, and by 1966 there were only 11 acres of vines left. In 1972, in locations more than 25 miles apart, Greg Boeger and Madroña's Richard Bush separately decided to plant grapevines. Unlike Bush, Boeger is more of a fan of riper wines, and his son Justin Boeger, who runs the winery now, says their soils are more conducive to New World style wines, even though he's more of an Old World drinker. Boeger charges less than $20 for its wines, even single-vineyard, single-variety wines. You don't see that much anymore in California.
"I've had other wineries come to us and say, 'Can you raise your prices?' " Greg Boeger says. "My philosophy is I like sharing wine with people. I'd rather just make more wine."
It's easy to get complacent selling to tasting room visitors, but because El Dorado doesn't get as much traffic as Livermore Valley, not to mention Napa, El Dorado has some ambitious wineries. Cedarville Vineyard sells most of its wines to its mailing list, which it needs to build up, so owner Jonathan Lachs has been pushing the El Dorado Winery Association to do a broader, more coordinated job of telling its story.
Perhaps the most ambitious winery is Skinner. Mike Skinner's great-great-great-grandfather James struck gold in the gold rush and built a winery and distillery; probate records on it go back to 1861. But James Skinner died in a winery accident, and the winery closed before Prohibition. If GPS had been widespread a decade earlier, that would be the end of the story. Mike made his money in the insurance business and didn't even know about the family legacy until his son, driving home from Lake Tahoe in 2006, discovered a town called "Skinner" on an old map.
Now, just nine years later, the Skinners are all-in, having bought land and built the most modern winery in the region. They own two vineyards and, in addition to Rhône grapes they already have, are planting the seven varieties listed in probate records in the 1860s: carignan, grénache, mission, petit bouschet, trousseau, trousseau gris, and zinfandel.
They also hired winemaker Chris Pittenger, who worked at Williams Selyem and Marcassin. Pittenger got to design the winery from scratch. His Syrah, Mourvèdre and white Rhône blend are excellent. "This region needs investment, and you are starting to see it," Pittenger says. "People are getting priced out of Paso Robles and Sonoma. It doesn't take that many people to start a movement."
But you might have to be near Sacramento to see it.