There's a rather feisty attitude among many wine drinkers, buyers, sellers and writers who inhabit "the other 47." With panel topics like, "We Don't Need No Stinkin' Vinifera," wine fans who don't live in California, Washington or Oregon gathered in St. Louis recently for the third annual Drink Local Wine celebration.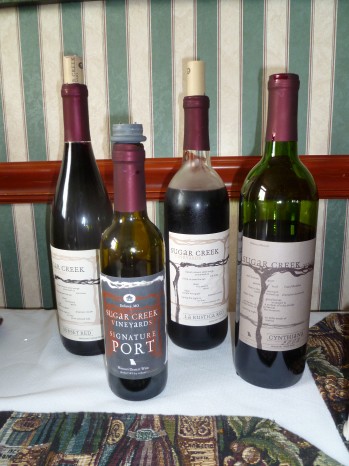 Founded by Dallas wine blogger Jeff Siegel and Washington Post wine columnist Dave McIntyre, this sometimes-recalcitrant, staunchly independent group had its first meeting two years ago in Dallas. We convened in Virginia last year, and in St. Louis a few weeks ago, where we sat through some interesting panels, visited Missouri wineries and actually spent time in AVA No. 1, awarded to Augusta, Mo. in 1980. Napa, by the way, is No. 2.
Missouri has been big in grape and wine production since the 1830s. German immigrants were told by real-estate salesmen that the Missouri River would remind them of the Rhine and they flocked to Augusta, New Haven, Hermann, and other river towns. They had brought grapes from Europe, and native American varieties like norton and concord provided cross-breeding opportunities. At the end of the 19th century, Italian immigrants began arriving to pick cotton in Arkansas and for stonemason and brickwork in St. Louis, and different styles of wine were produced. The state was in the top three among wine-producers. Prohibition, the Great Depression, and World War II practically destroyed the industry, though a little sacramental wine was made during the 1920s and 30s.
The 50s and 60s brought a rebirth, with Mount Pleasant, Stone Hill, St. James, and a handful of others yanking the industry into 20th-century standards of science, sanitation, and technique. Seat-of-the-overalls winemakers were replaced by university-trained enologists. Today, the state has nearly 100 wineries, most taking advantage of tourists, who buy by the old adage, "It always tastes better at the winery."
Missouri experts like Tony Kooyumjian, owner and winemaker at Augusta and Montelle wineries; Doug Frost, Kansas City-based wine writer; and Glenn Bardgett, wine buyer for Annie Gunn's restaurant in St. Louis, were among panelists who are proponents of non-vinifera grapes. Hybrids like seyval, vidal,chambourcin, traminette, chardonel, vignoles, and others make excellent wines. Norton (also known as cynthiana and virginia seedling), an indigenous American grape, is the base for superb dry reds made by many Missouri wineries. Norton and chambourcin are also used to make excellent port-style wines.
About twenty Missouri wineries poured samples for the "Twitter Taste-Off," when conference attendees tasted and twittered, and voted for their favorites, with winners among media types and for real people. Adam Puchta Winery, near Hermann, won with its reds in both classes—Norton for the media and Norton Port-style for the real folks. Chaumette Winery, near Ste. Genevieve, saw its Chardonel win in both divisions. Thousands of tweets were visible on large screens in the tasting room during the event.
The winery tour, led by Ann Lemons Pollack and this writer, drew an eager thirty-six, lower than expected, apparently because some who had reserved space either over-sampled or over-twittered the previous evening.
Winery owners Ken and Becky Miller at Sugar Creek, in Defiance, and Kooyumjian at Montelle and Chuck Dressel at Mount Pleasant, both in Augusta, personally welcomed us instead of delegating Sunday time to an assistant. Winemaker Chris Lorch at Sugar Creek showed off some delicious fruit wines (especially peach) in addition to a very good Cynthiana (Norton) and a pleasing Chardonel.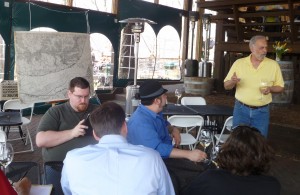 Kooyumjian showed us a historic document at Montelle, the original map that Augusta wineries used when they petitioned the BATF (as it was then called) for AVA recognition. Montelle, a 1960s project of Clayton Byers, a pioneer in the Missouri revival, was bought by Kooyumjian, a retired TWA pilot who also owns and makes wine at the Augusta Winery, a few miles away. Montelle, in the hills above Augusta, has glorious vistas.
Mount Pleasant, owned by various Dressel family members for generations, goes back to the 19th century and overlooks the Missouri River valley. It was a prime mover in the Missouri revival, led by Lucian Dressel, who currently is making wine in Illinois.
The Drink Local Wine movement is admirable; although there is no way most of the other 47 states ever will compete on a national basis. Distribution problems, weather, and production levels will always provide the West Coast with an advantage. But some wines from Missouri and other lesser-known states are distributed in other regions, even other countries. If the DLW people have their wish, it is only that wine-lovers who travel will sample the wines from places they visit rather than settling for "a Chardonnay" or "a red," or something else that turns out to be a second-rate jug wine.
Sampling a wine from Arizona, or from New Jersey, may not be an eye-opening experience, but then again, it may provide the opportunity to taste a different grape, vinified in a different manner, by a winemaker who some day may be a household name.
The Drink Local Wine 2012 event will be held in Colorado.
---
Joe Pollack has been writing and talking about sports, wine, food, entertainment and other happy subjects for more than 50 years for newspapers, radio and TV stations, magazines, newsletters, blogs and other means of disseminating words and opinions. He has children and grandchildren scattered throughout the world and a wife, Ann Lemons, who is a good writer and an even better cook. He writes at St Louis Eats.