I grew up in Maryland enjoying the bounty of the region, particularly crabs, oysters, and when I was little, good pitching and defense. 
I didn't become a wine drinker until I moved away. When I visit, crabs are always on the agenda, but I never bothered to even taste a Maryland wine until last month
Dave McIntyre, wine writer for The Washington Post, offered to set up a Maryland wine tasting in his home. He called around for new releases, added some older bottles from his cellar, invited a winemaking couple and the area's pre-eminent vineyard manager, and cooked a ham (and about 15 loaves of bread, his hobby). Even more generously, he hasn't yet written about this tasting in his own home, allowing me to do so first. 
But then, Dave already had experience with and an opinion about Maryland wine. I have pride in being a native of "The City That Reads" (Baltimore's actual slogan in the 1980s), or "Bulletmore", as in the credits for The Wire. (Yeah, I know there's drugs, murders and corruption. Did your hometown inspire such a great show? Huh? You're from Winterfell? Really?) 
Now I live in San Francisco, and get to drink the best wines of California all the time. So how does the best of Maryland wine measure up?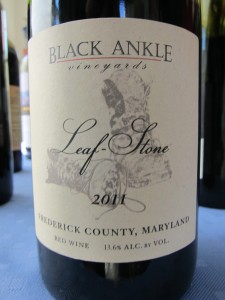 All you need is one great wine to prove that great wine can be made there. And I tasted that wine, Black Ankle "Leaf-Stone" Frederick County 2011 ($52). It's a Northern Rhone-style Syrah with a leafy, earthy, meaty aroma, like walking in the woods after a rain while carrying a leg of lamb. There's restrained Rhône-style dark fruit with some saltiness on the finish. I would have liked to take this bottle back to my hotel, but we polished it off pretty quickly during lunch.
I expected Black Ankle's wines to stand out in the group of 31 that we tasted, given the fact that everybody, including Dave, who follows Maryland wine considers them the hottest new thing. And I had a great conversation with the winemakers, which I'll get into below. But it's more important to point out that Black Ankle is not alone in making excellent wine in Maryland.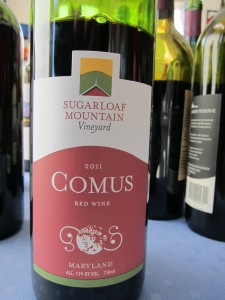 Sugarloaf Mountain Vineyard "Comus" Maryland 2011 ($26) is a terrific Bordeaux blend that reminds me of what neighboring Virginia does best: red-fruit driven, with good tannic structure and restraint. It's just 13 percent alcohol and tastes much more French than West Coast American. At that price, it's a steal, though you'd have to go to the winery at the foot of Sugarloaf Mountain to buy it. I grew up in the state and I've never been.
I also liked Sugarloaf Mountain Vineyard "Evoe!" ($39), both the 2010 and 2011, Bordeaux blends which were very different in grape variety mix. The 2010, from a warm vintage, was rich for the region, yet with a saline note adding interest to the dark fruit. The 2011, with 62% Merlot, was super-smooth and balanced, with just 13.4% alcohol.
White wines were more challenging. A lot of wineries make Chardonnay in Maryland but don't seem to have the climate for it. Maybe Chardonnay can handle the occasional torrential rain, but it doesn't benefit from hot, humid summer nights.
The standout white was Old Westminster Winery Maryland Greenstone 2013, a blend of Chardonnay, Sauvignon Blanc and Albariño. There's fresh green mango up front wth some saltiness and an interesting mouthfeel that thickens on the finish. This was the first bottle we drained at lunch, and I wish I had another.
For those keeping score, all of these I rated over 90 points, with 94 for the 2011 Leaf-Stone and 93 for the 2011 Comus. You can hate on the 100-point scale all you want, but I'll bet the vintners will be glad I included this paragraph.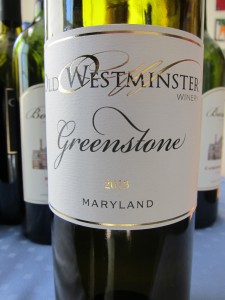 That said, Ed Boyce and Sarah O'Herron of Black Ankle don't need scores to sell their wine. Their reputation as the first modern fine winery in Maryland is enough. They turn down calls from Baltimore and Washington restaurants begging for bottles, and they actually had to shut their tasting room for three months because they were out of wine.
"We have friends in California who are so jealous," Boyce says. "They might make great wine, but they have to spend half their time hawking it."
The breakthrough these two made was unintentional, but also relevant to Virginia and the rest of the East Coast. They got their advice from France, not from California, where the only thing in common is the language. 
"None of the advice from California applies here," Boyce says. "It's too wet here and it doesn't rain there. Our problem isn't water deficit. In California, if you get a drop of water, you need to use it. The (California) industry was built by people who had learned to maximize water use. That led to different hillsides, different soils, different rootstocks. We want really inefficient rootstocks for water use. We want gravelly soil where the water drains."
The couple, who met while burning themselves out as business consultants, spent a year looking for a site before buying a farm in 2000 near Frederick, about 50 miles west of Baltimore, that grew corn, soybeans, oats and alfalfa. They knew the best wines from Virginia tend to be blends of all five Bordeaux red grapes, so they planted all that. But they planted a lot of things: viognier, grüner veltliner, albariño.

"We always loved the wines of the Rhône Valley, so we planted some syrah as an experiment," O'Herron says. "Now it's our biggest planting."
They tried to go biodynamic, but in 2005 they were dissuaded by a double whammy of black rot and Japanese beetles. By the time they sold their first bottle, in 2008, they were just about broke, but they had generated considerable local buzz by winning the Governor's Cup before having released anything. Such was the state of Maryland wine.
"There was a big dark cloud of gloom hanging over the industry," O'Herron says. "There still is. We'd go to meetings and there was a sense that we have it so hard. Beyond that, the prevailing 'wisdom' was that you struggled to get grapes ripe," Boyce says. "Vines were super vigorous. You had to plant them far apart. Cabernet Franc is supposed to taste green. People talk dry and drink sweet."
I burst in to say, "That last one's true."
"I disagree with you," Boyce says. "I think people come in to tasting rooms and don't like the wine. But they buy a mercy bottle. And the cheapest wine is a sweet wine."
Ed and Sarah are making 3,500 cases a year right now but they have new plantings coming online soon that should double their production. And they have done all this while raising four young kids, the first born as the vineyards were being planted. So nobody can say anymore that making great wine in Maryland is too hard.
Some of you may know that there's a wine critic ever so slightly more famous than me or Dave who also lives in Maryland. The Wine Advocate hasn't reviewed a Maryland wine since January 2000, and has never gone above 89 points. Things have changed, and it's about time. Dave, you may need to cook another ham.