Historically, Sicilian culture was fascinating but routinely bloody. Thankfully, today the only red you'll find flowing freely is the wine. This Italian island offers great wines, a richly diverse cuisine, and accommodations steeped in history.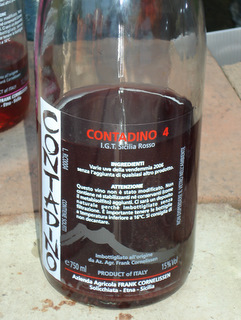 The true Sicilian experience begins with wine. The island's wine industry has changed dramatically in recent years. Many producers are moving away from the ubiquitous international varieties planted in the last twenty-five years. What's replacing them is a healthy respect for the soils and the regional typicity of indigenous Sicilian grape varieties that so wonderfully demonstrate the soul of Italian wine. White varieties like grillo, inzolia, cataratto bianco, and carricante are increasing in popularity. As for red grapes, nero d'Avola, frapatto, nerello mascalese, nerello cappucio and perricone are responsible for some of the most exciting bottlings currently on the international market.
As with many other burgeoning older, established wine regions, a breath of creative thinking from a younger generation, combined with better vineyard management and cleaner cellar practices, has resulted in a rise in both choice and quality, especially for export.
A prime example on the extreme side is the estate of Azienda Agricola Cornelissen. Frank Cornelissen, a Belgian and former wine merchant, manages an estate near Solicchiata on the northeastern flank of Mount Etna. Cornelissen's wines are wild, intense, and daring, but not everyone's cup of tea. A strict non-interventionalist, he believes that nature must take precedence in the winemaking process. His website states, "Our farming philosophy is based on our acceptance of the fact that man will never be able to understand nature's full complexity and interactions. We therefore choose to concentrate on observing and learning the movements of Mother Earth in her various energetic and cosmic passages and prefer to follow her indications as to what to do, instead of deciding ourselves."
Mount Etna is also home to two other producers noted for their international success. Vinicola Benanti,  a former Gambero Rosso Winery of the Year winner, has vineyard stakes across eastern and southern Sicily, but their Etna wines are the most prized. Tenuta delle Terre Nere, established by Italian importer Marc de Grazia, possesses some of the highest vineyards in Italy and Europe and is well distributed in the United States. These wines provide a great introduction to the grace and potential of nerello-based Etna wines.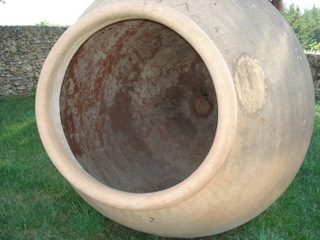 Moving west through the interior near the towns of Acate, Vittoria, and the ancient twin cities of Ragusa and Ibla, is COS. Much has been written about COS and their re-introduction of amphorae into the winemaking process. Owner Giusto Occhipinti's daughter Arianna also makes fine selections under her own label, plus olive oil from Etna. COS has a fabulous agritourismo where you can put your feet up for the evening, too.
Tasca d'Almerita, whose main estate, Teunta Regaleali, is located in the Scalfani countryside south of Palermo, is perhaps the most esteemed Sicilian producer. The Rosso del Conte bottling from 40-year-old nero d'Avola vines is a benchmark for Sicilian wines. Sitting high atop the highest vineyards at 750 meters, the lush and dramatic landscape of the estate unfolds like rolling waves. Anna Tasca Lanza, the matriarch, is one of the foremost ambassadors of Sicilian cuisine, and her daughter Fabrizia runs a cooking school there that her mother established many years ago.
With their cellar located in Marsala on the west coast and with a country estate and vineyards in the Terre di Giumara inland about 15 kilometers, somewhat newer producer Caruso and Minini takes viticultural advantage of hot days, tempering ocean breezes, and cool nights. A touch on the modern side with their nero d'Avola, they get amazing results especially with local red variety perricone, produced in extremely small quantities, and grillo, the traditional white grape of Marsala.
•••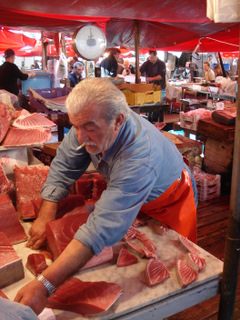 The cuisine of Sicily is unmatched for its dedication to pristine ingredients and is a perfect complement for the wines of the island.
In the 12th century B.C., the Phoenicians used the mountaintop town of Erice as a beacon to guide them into the Mediterranean from the west. Greeks, Romans, Byzantium, Islamic Arabs, Normans, German Swabians, Angevin French, Aragonese, Spanish, and the Bourbon French followed the Phoenicians. Finally a fully united Italy took reign in the mid-nineteenth century. This cultural soup has resulted in incredible culinary diversity across the island's various regions.
The markets in the coastal cities of Palermo and Catania are unique and arguably among the best in Italy. In Palermo there are markets in the cities of Ballaro, Borgo Vecchio, Vucciria, and the extremely popular Capo. In Catania to the east, the Piazza Carlo Alberto market is excellent, but the big fish—literally—is the Pescheria, a fish market near the cathedral and the fountain, Fontana dell'Amenano.
Seafood is the focus of the markets, generally, and the local preparation is simple: fire a grill, add fish, plate it, then drizzle with olive oil, sea salt, and lemon. Locally grown lemons, praised for their versatility, are the basis for many dishes. Caponata, finnochio con sarde, and tenerume leaves boiled into soup with pasta are also coastal specialties. Inland you'll find dishes like sweet and sour rabbit. On the west coast, especially in Trapani, as a result of the Tunisian influence, couscous abounds in many forms. Gelato, cannoli, marzipan, and myriad sweets and confections satisfy the notorious (and passionate) Sicilian sweet tooth.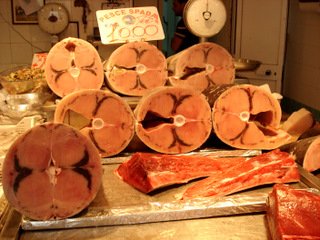 Visitors should seek out restaurants that mine the traditional vein. In Palermo, try lunch at Piccolo Napoli (Piazzetta Mulino a Vento) near the Ballaro Market, followed by wine and small plates at Enoteca Picone (Via G Marconi 36) later that evening. In Trapani, let Chef Pino ply you with couscous and local history at Cantina Siciliana. In the Baroque jewel of Noto, Café Sicilia (Corso Vittoria Emanuele) is a must-visit. Corrado Assenza is one of Sicily's most revered chefs and pastry artisans; many young Sicilian chefs consider him their Godfather.
•••
Lodging has dramatically improved in recent years, with a spate of hotels, spas, and adventure travel options opening and upgrading around all parts of the island.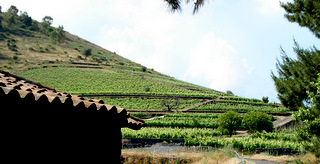 The Principe di Villafranca in Palermo is located in a quiet neighborhood just off the Via della Liberta, the main shopping avenue, and just around the corner from Enoteca Piccone, one of Palermo's best wine bars. The hotel is central to jumping-off points to the city.
Inland in Modica, the Casa Talia will allow you to take in the Baroque architecture of this beautiful city.
The Katane Palace in Catania is efficient; you can walk west from there to the Via Etnea for the best shopping and a stroll south to the Duomo. Catania is an industrial city and a touch grimy, but it's centrally located to Mount Etna and the city markets are excellent. You can even snow ski and river raft as well on Mt. Etna itself.
In Siracusa, The Caol Ishka is a boutique hotel with an excellent restaurant. The Grand Hotel is situated on the picturesque harbor of the old city of Ortigia just off Siracusa. This small harbor is where the Syracusan navy thumped the Greek navy by blockading them in—in 414 BC.
One of the truly amazing things about Sicily is that you can lunch early on couscous in the northwest city of Trapani, then get in the car and be in Pachino on the southeast tip in time for dinner. Distances are short and cultural; wine and culinary influences change rapidly along the way, as does the landscape.
As with any sojourn to foreign soil, remember to be nice and respect the culture and customs. Call ahead for winery and producer visits especially. But don't plan too extensively or be inflexible with your time. You might miss an opportunity or some chance meeting that turns out to be the highlight of your trip.
A Photographic Tour of Sicily
---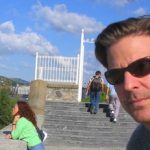 Adam A. Caperton is a culinary, wine, and travel consultant and writer. He has been affiliated with The Viking Range Corporation and The Culinary Institute of America on their Viking Life / Worlds of Flavor travel program. A former chef, he lives in Richmond, VA with his wife Stephanie who works with Alton Brown of Food Networks Good Eats and Iron Chef America.