Less than a hundred feet away from my desk a handful of young Frontenac and St. Croix vines are entering their third year here in Salt Lake City, and maybe they aren't the only ones around. A few industrious pioneers and forward-thinking visionaries are betting blood, sweat, and acres on a ridiculous proposition: to create an authentically American, native grape capable of transforming the wine world.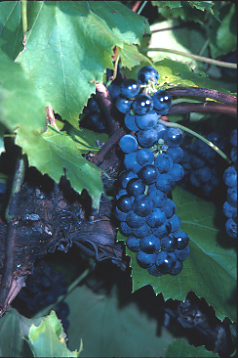 St. Croix Grapes
The global wine identity, as defined by the European Vitis vinifera, has been upset by New World players, but the rules of the game are still set by the Old World. Most wine growing regions in the U.S. have been eager to embrace an Old World identity rather than blaze a New World one. American grown Vitis vinifera can produce excellent wines that strive to emulate their European counterparts while also expressing their individual terroir: California Cabernet, Central Coast Grenache and Syrah, Oregon Pinot Noir, and New York Riesling are just some examples.
But America has an abundance of native grapes—six different species. If the United States wishes to continue to differentiate themselves on the global wine stage, more attention must be focused on developing these New World vines, and soon. A rich genetic database still waits for the most part to be unleashed.
The first man to become widely known for his work on collecting and documenting indigenous American grapes was Thomas Volney Munson. Moving to Texas in 1876 he became best known as the man that saved Europe's Vitis vinferia from phylloxera through his work developing resistant American rootstock. In 1909, four years before his death, Munson published Foundations of American Grape Culture, the book that ultimately became the foundation for American wine identity.
In more recent history, grape breeder Elmer Swenson has carried on the work Munson began, crediting him as an early inspiration. Before his own death in 2004 Swenson had succeeded in revolutionizing grape growing for the colder, short-season regions in the United States. He worked tirelessly cross-breeding Old World Vitis vinifera with mostly Vitis riparia, an indigenous American grape species well adapted to the cold, Midwestern climate. Some of his best known cultivars include St. Croix, St. Pepin, and Swenson Red. His work with the University of Minnesota has been carried on independently leading to significant results such as the 1996 release of the Frontenac cultivar, which has rapidly become the most commonly planted wine grape in Minnesota.
The work of these men has been continued by a handful of dedicated grape breeders including Bruce Reisch of Cornell University and Lon Rombough living in Oregon. From Rombough's website (bunchgrapes.com), individuals can order over 100 different varieties of grapes, most of which are either natives or hybrids. Unfortunately, many vintners and winemakers in the U.S. are dangerously ignoring the work of these breeders.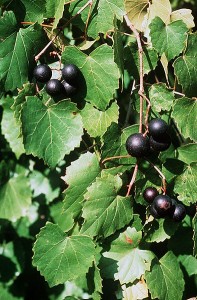 Vitis rotundifolia
Vitis vinifera is the only wine grape species to grow in Europe. Six species grow in North America: riparia, rupestris, muscadine (rotundifolia), mustangensis, labrusca, and aestivalis. While mustangensis will most likely prove worthless for wine production, each of the other five have already been used in French-American hybrids (with vinifera), as well as inter-specific hybrids, to produce hundreds of cultivars. Certainly it should be noted that each of these species presents unique difficulties for use in the wine industry, but each species offers potential as well.
At the most basic level, incorporating native grape characteristics into an American wine identity has already been universally done. Munson began this work by developing a rootstock that has spread native American Vitis DNA around the world, but these vines are all functionally Vitis vinifera grafted onto hardy and resistant rootstock. To this effect American Vitis species have been contained to the role of pack mules. They do the dirty work without sharing in the fruit of their own labor. Beyond this, many French-American hybrid varieties are beginning to gain traction in colder climates and regions such as much of the Midwest, New York, and the Rocky Mountains. But these efforts have done little to bring a true American wine identity into focus.
If the general problem has been ignoring the grapes beneath our feet, the secondary problem has been that the only attention we have given to indigenous American species has been in an effort to expand grape production into fringe regions—places too cold or hot for classic vinifera. Recently, even in colder regions, new and improved vinifera has begun competing for vineyard space that used to be suitable only for hardy hybrids. This most recent trend seems to be proof that the overall attitude even among many Vitis breeders is one of mimicking European vinifera while merely borrowing helpful survival characteristics from the American side of the family.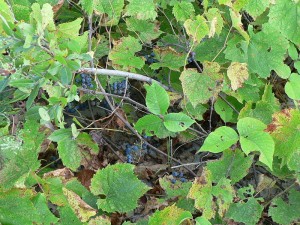 Vitis riparia
While it is happening in small amounts, far too little effort is being put into cultivating native American varieties to stand on their own. Most of this work so far has been focused in the warm, humid regions of the Southwestern United States that don't match well with Old World Vitis vinifera. Almost nothing is being done to evaluate the potential of American species in the key grape growing regions, and there will be no true manifestation or demonstration of an American wine identity until truly American grapes are given our best efforts, best lands and best minds.
The commercial problem with developing an American wine identity is that most people have never heard of a Frontenac or a Muscadine, much less know how to match one with a steak or penne pasta. This very real commercial hurdle most likely explains much of the hesitancy to delve into native species. For this reason it will probably take much more time to continue developing the micro-wine market for hybrids and natives.
The effort could be given muscle if a large wine conglomerate or powerful winemakers were to sign on and lend credibility to what has, so far, been restricted to the shadows. On the other hand, what we may need are a handful of brave and slightly naïve vintners and winemakers looking for the next Judgment of Paris, when an impossibly outmatched indigenous hybrid defeats in a blind competition a proud, but aging vinifera champion.
Grape Resources
---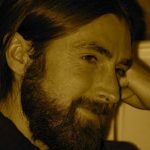 David Mark Brown is a freelance writer and author as well as a home winemaker and proud owner of his urban vineyard (of 12 vines).  You can follow David's current projects at his web site: David Mark Brown Writes. David and his family currently live in Salt Lake City and have lived in the Rocky Mountains for the last seventeen years.