My first education in wine came from my mum – a woman who loved fermented juice in a simple, unpretentious way, and who rarely if ever bought a bottle that cost more than $20. Bordeaux wines, she told me, were for the mind – the intellect even. Whereas Burgundy and Pinot Noir were for the heart.
There's a great amount of truth in this statement, but irony too. Bordeaux may present a cooler, more intellectual aspect to one's palate, but it actually doesn't require too much brain-power to figure out what's good and what's not. The wines of Bordeaux – both left and right banks – are made to a well established recipe, on a relatively large scale. By way of example, those who, like me, know they like cool climate Cabernet Sauvignon with plenty of tannin and acidity can head for the wines of St. Estephe and choose the producer according to budget. If Cos d'Estournel is affordable, fine. If not, Calon Segur or even Phelan Segur will do handsomely.
The crus of Bordeaux have extraordinary consistency across producers, and a well established regime to ascertain how much cash to part with. Armed with a pocket guide to vintage quality, or one of the many good online equivalents, relatively little acumen is needed. The same could not be said of Burgundy, a region so complex that it takes almost a lifetime to figure out. Where Bordeaux has only 7 or 8 subdivisions, Burgundy has over a hundred sub-appellations. Furthermore, the only guarantee of good wine is insider knowledge. Without knowing the brand of the winemaker's cigarettes (all French winemakers smoke), and the exact date of the vintage's veraison, one is almost certainly doomed to mediocrity.
After initial visits to the region resulted in similar puzzlement, American filmmaker Rudi Goldman and his Dutch partner Lydia Boeken collaborated on the short film "Burgundy: People with a Passion for Wine." "We couldn't understand why some of the wines were so amazing, but many were pretty terrible," Goldman told me recently. "We decided to make this film as a way of figuring out that conundrum."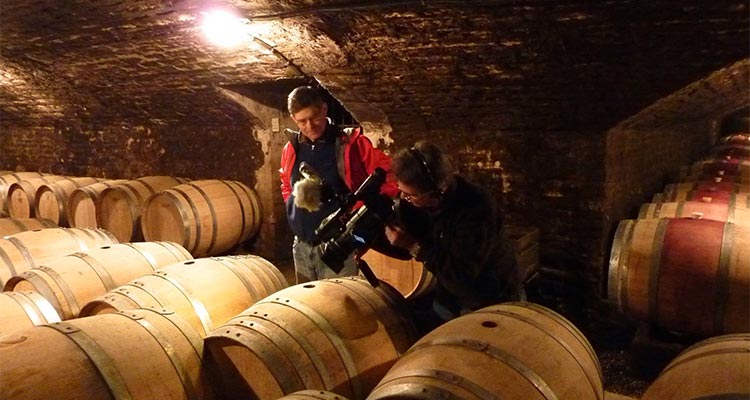 Their hour long film, now available for download, is clearly a labour of love, a celebration of their discoveries along the way. We get up close and personal interviews with a number of leading winemakers, some wonderful scenes of the partying that accompanies the annual Hospices de Beaune auction, and plenty of pans around Burgundy's world famous Grand Cru vineyard sites. The over-titling/signposting of the vineyard shots is a particularly nice touch.
Unfortunately, what we don't quite get is deep insight. Perhaps it was inevitable in such a short film, but "People with a Passion" rarely gets below the surface level of its vignerons and terroir. This points to a more structural issue – who exactly is the audience for this film? As someone at the "wine geek" end of the spectrum, I wanted more detail, but I'm not sure there's enough of a general introduction for the non-specialist either.
This lack of depth is partly down to some uninspiring interview subjects. Véronique Drouhin-Boss's every word feels carefully crafted to enchant, but not to reveal too much. American winemaker Alex Gambal is similarly wooden, and hogs far too much screen time. All we learn is that Burgundy makes great wines, crafted by the winemaker, but relying on the intricacies of the terroir. And that each vintage is different – broad brush topics that could apply anywhere. Winemaker Olivier Leflaive is by far the most engaging subject, with a much more earthy, natural style to camera.
The best moments of this film are not human, but rather elemental. A sudden and brutal hailstorm that decimates vineyards in four minutes is brilliantly and shockingly captured. The intricate process of shaping oak planks into barrels is revealed in a short but illuminating (and seldom seen) sequence.
Ultimately, we take away only this: Burgundy makes amazing wine, and attracts people from around the world who obsess about its output. But we don't dive into the detail of why this is so. It would have been wonderful to learn more about the extraordinary system of crus and climats, and how these minute parcellations of vineyards evolved over many centuries. Also largely missing from the film are the younger generation of winemakers, the tearaways who are redefining Burgundy in the 21st century. There's no mention of the challenges that Burgundy faces, such as France's Napoleonic inheritance laws which force its vineyards to become ever more fragmented, and ever more susceptible to being sold off as business assets.
Goldman and Boeken have given us a tantalising glimpse into the multi-layered world of Burgundy in "People with a Passion." There are enough moments of beauty, and yes, of passion, that one wants them to go back and make a main feature.
"Burgundy: People With A Passion For Wine" is available on iTunes, Amazon and many other platforms via the movie's website. Photos courtesy Rudi Goldman & Lydia Boeken.