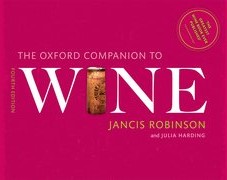 BY: Jancis Robinson, one of the top figures in wine, headquartered in the UK. She's a wine judge and writer, but not a wine snob at all. Written with long-time associate Julia Harding, and with the assistance of many other wine experts including Richard E. Smart, Valerie Lavigne and Denis Dubourdieu.
WHAT: A definitive reference on all things grape and wine, from climate to soil to vines to grapes to wine production. Regional laws, technical definition, data on essentially every wine ever made – it's all here.
FOR WHOM: people in the wine trade, or consumers who have an insatiable curiosity
WHY: Personally, I can't live without this book, and have purchased every version since it first came out. It's my go-to reference for research into current and historical grapes and wines.
PUBLISHER: Oxford University Press, 2015