In late January, Amy Corron Power and Rémy Charest both attended the Millésime Bio organic wine fair in Montpellier, France. With some 550 organic and biodynamic certified producers from all over the world, it is the largest professional event dedicated solely to organic wines. Coming to the event with very different experiences of the world of organic wine, Remy and Amy confront their respective visions of these « green » wines.
Amy
Having just returned from attending the 18th annual Millésime Bio in Montpellier, I'm happy to report there are plenty of good, organic wines being made. The problem is that most just aren't available in the United States.
Prior to the trip, when I thought of the "Languedoc" I thought of France's red-headed stepchildren. Wines that might hold promise, but were nowhere as good as those produced in other regions.
Having tasted a few in Houston at a hastily-arranged event designed to spend the last of some EU grant funds, I was not expecting much but decided to keep an open mind. At that tasting, one or two wines were okay, but nothing was spectacular. And the thought of organic wines? That was more of a marketing ploy toward the hippies and vegans – not something one took too seriously when evaluating high quality wines. So with that in mind, I boarded a plane for a gawd-awful long journey, promising myself I would try to find something good to say about the wines.
With a past life in sales, marketing and public relations, I know how to be diplomatic. If someone asks me, "Does this dress make my ass look big?" I can smile and say quite sincerely, "you know that really brings out the beautiful blue in your eyes, but the pattern is a bit too busy — why not try <em>this</em> instead." So when our first dinner of the trip sat us all with winemakers, I put on my best poker face, ready to say something complimentary – no matter how difficult the proposition might be.
I was prepared with my usual excuse: "Wines never taste as good to me when the circumstances aren't just right" — if I am tired, or have a particularly bad day. And I was dog-tired. We left our house at 7:30 a.m. for our first flight to Atlanta (even though our flight didn't leave until 10:50 a.m. – thanks to Homeland Security and the TSA, even with carry-on luggage arriving at least 2 hours early is now the norm). That was the day before. It might be 8 p.m. in the South of France, but for us it was just after lunch. Except for a couple hours of sleep on the plane, and another hour or so cat-nap in the hotel, I had been up for about 30 hours — straight. If the wines tasted bad, I could blame it on Jet Lag.
But these wines weren't bad, not bad at all. Not even pedestrian – as so many Languedoc wines for sale in Houston tend to be. In fact, the Domaine Lacroix-Vanel 2008 "Fine Amor" A.O.C. Coteaux du Languedoc – Pézenas was right up my alley. Notes of lavender, tart raspberries and dusty wet forest leaves paired well with the caramelized onion and beans in our starter green salad. Primarily grenache (60%), the added syrah, mourvèdre, carignan and cinsault melded into a surprisingly rich and complex wine, given its light red color. This was organic? Well, you don't say. And this was just a pleasant foreshadowing of delights to come.
Rémy
It's interesting to read someone coming to this organic winefest from a completely different starting point. You see, because of the path I've been following in the world of wine, these last few years, I tend to see organic and biodynamic as a plus. To me, the world of organic wines evokes, first and foremost, a more artisan approach to winegrowing and winemaking, a less interventionist approach and a tendency to bring out the sense of place of a particular vineyard or area.
In other words, I tend to start with a positive bias, when I am presented with organic and biodynamic wines. I tend to assume that if someone is to go through all the trouble of getting certified and putting in the extra hours required by an approach that forgoes systemic chemicals, this has a good chance of coming through in the wines.
Visiting Millésime Bio, I did find a lot of great organic wines, and a lot of cuvées with precise personalities and a true sense of place. Aymeric Beaufort's Domaine de l'Ocre Rouge showed a series of terrific cuvées like no other – including one of the most interesting and fresh pinot noirs I've tasted from the South of France, where the heat quickly makes them heavy and overblown. His father Jacques Beaufort's champagnes were gorgeous and complex as well, every bottling remarkably distinct from the next. Domaine Saint-Nicolas, in Vendée, out of any major appellation, showed a remarkable range of wines, from a delightful chenin blanc called Le haut des Clous and a surprising red called Le Poiré, made from 100% négrette, a variety mostly found in Southwestern France. A small estate called San Polino showed a succession of terrific brunello di montalcino, with even the 2002, from a very difficult vintage, shining through.
As for the Languedoc, I grew even more convinced that the region merits greater attention, especially in its local appellations like the Terrasses du Larzac, Pézenas, Saint-Saturnin and others. Behind the large-scale operations that brought it to international attention twenty years ago, there are a great number of nuances and local character that are worth discovering and appreciating.
However, as could be expected in shows with hundreds of producers from all over the map – literally and figuratively, there was also some rather ordinary stuff. By this, I do not mean terrible or awful-tasting. Just ordinary. The fact that it was organic showed up as a simple certification, not a guarantee of superior taste. The Arrogant Frog line from Domaines Paul Mas or basic offerings from Domaines Cazes showed up as pretty generic – fine for the price range, but nothing special compared to similarly-priced "budget" wines. (To be fair, their top wines were much more interesting and distinctive, just not the basic stuff.)
I felt the same way tasting some rather nice burgundies and pleasant corbières. Nice ones, but nothing really special. Nothing that, in any case, felt intrinsically superior to non-organic wines.
Amy
If course there were some boring wines, and one or two that were just plain awful-tasting – at least to my palate, where "sense of place" could be construed as an excuse to make bad wine. I like wines with black pepper and exotic spices, so anything banal or insipid I quickly forgot. I really enjoyed the Pure Brau wines from Chateau de Brau, especially the Fer Servadou, which had the strawberry of a pinot noir on the nose, but plenty of heavy black pepper and exotic spices on the palate. A grape grown almost entirely in the South of France, it is known to be harsh and better suited for blending – but I liked it as a 100% varietal wine.  I also found the Domaine des 2 Anes Les Fontanilles A.O.C. Corbieres, a blend of predominantly carignan (60%) with grenache noir and syrah, nicely balanced with a little spice on the palate. I also liked their L'Enclos. Even though the nose was extremely "barnyard," the blend of 50% grenache noir, 20% carignan,20 % mourvèdre, and 10 % shiraz worked very well on the palate. However, the donkeys on the label made me think more Greece than France.
What I found missing in the trip was a visit to an actual organic vineyard – to see the process in action. I'm sure if I could actually speak adequate French, I could have had some in-depth discussions with the winemakers to learn more about the processes, and that was a bit of a drawback. Even with the "English" tables at our various lunches and dinners there was only so much information that could be exchanged, especially when we Americans tend to speak in idioms that get lost in translation.  What I specifically enjoyed in visiting other wine-growing regions (both New and Old World) is the hands-on experience – even if it's just to walk in the vineyard and touch the soil.
I also found the whole set up at Millésime Bio itself a bit unnerving – with wines and wine makers not grouped by region or grape. I understand the organizers plan was "to help facilitate contacts and curiosity" but to me, it would have been more valuable to have some sense of organization – so I could use my time wisely in either tasting wines that I could get through distributors in the US, or learning more about a particular region, or grape. At the very least, with a copy of the event catalog ahead of time, I could have pre-planned my tasting routes through the maze of stands.
Louise Hurren who represents The Outsiders, a group of wineries established by non-French winemakers in Languedoc, and whose first language is English, was a godsend. She took us around to a number of stands with interesting stories. If I learned anything new, outside of wines, at the trade show, it's that I really need to beef up on my French. Being an English-language speaker at a French-language event comes with a serious disadvantage.
Remy
I agree that seeing the vineyards – especially if you can compare organic and conventional vineyards – is always tremendously useful – whether for organic or conventional, in any region. Our visit at Natoli Laboratories, with their great team of oenologists, was a pretty good second, in my mind: the oenologists had a lot of field experience and had lots to say about the soils, the microclimates and the challenges and advantages of organic viticulture. I learned interesting things about potential potassium deficiencies as being a particular challenge for organic vineyards, and how the absence of chemical fertilizers encourages higher acidity and thus greater freshness and crispness in the wines.
That being said, I agree that it was a little difficult to plan ahead for the visit to Millésime Bio. There was a PDF list of producers on the event web site, but it was incomplete and figuring out where the producers were from wasn't quite obvious. Because of the greater presence of French wines in my home market, Quebec, it was easier for me to identify a number of the producers, but there were cases were I would have liked a little easier access to information.
The event is growing remarkably fast – the number of wineries present almost doubled over the last two years, from close to 300 in 2009 to over 550 this year – so it may be that organizers are having trouble keeping pace. Then again, I'm not sure if it would be any easier to find exactly what you want in bigger events like Vinitaly or Vinexpo, where wineries are present in the thousands, rather than the hundreds.
As for the layout of the fair itself, I actually liked it, even though its random character could be a little disorienting, at first. I absolutely loved the fact that all participants had the same table with a white tablecloth: every winery, whether large or small, had to count on its wines, first and foremost, and conversations with the professionals stopping by. No balloons and gimmicks, no flashy setups, no bling. There is an inherent fairness in that, and an obligation for visitors to concentrate on the essential thing: what's in the bottle and in the glass.
Also, if the producers had been associated by region, I would never have had the chance to taste a very rare (and pleasant) tempranillo blanco – a natural mutation of tempranillo showcased by a tiny Spanish winery called Ad Libitum. It was right next door to Leyris-Mazières, a producer from the Cévennes mountains whose pleasant wines I had once tasted. Looking right, I saw the Spanish bottles and wandered that way, discovering tempranillo blanco, as well as a 100% maturana (a traditional and almost lost riojan variety) from the same winery. I was very glad, in the end, to be led off the beaten path – something that Millésime Bio did quite well.
Amy
I agree. The fact that the participants had a level playing field – that each participant had the same set up was a great idea – very democratic, in fact, and probably not something you would find in the States.  And that brings me to another point – the fact that you cannot get a lot of these wines in the States. At each dinner or lunch I talked to a winemaker or négociant and asked, "Are these available in the U.S?" and the answer was "No, we had an importer but…" I finally pinned down one person who told me it was because the importers insisted on a price per bottle of between 1 to 3 Euros per bottle.  Sure there were wines I can find here but many of them were from Spain, or Argentina, or Chile – where our folks could Big Box negotiate the price down to practically nothing per bottle. And just like in the States, that leaves the artisan winemakers out of the market – and the consumer with fewer choices.
It is amazing to me: here are all these really good organic wines–and Languedoc wines–and had I not attended Millésime Bio I probably would never have known they existed. First, because our distribution system is controlled by a small number of players. Second, because what we, in America deem "organic" is an entirely different animal than that of Europe and South America. "Organic" should be about the impact to the environment, and as one of the winemakers said to me, "the amount of sulfur dioxide used in producing the wine has no impact on the environment".
I think in America, we consider "organic" to determine how pure something is for us, the consumer, and our children—whether or not we're putting chemicals into our own bodies. Not how it impacts the world around us. It's unfortunate.
Rémy
Distribution and availability of artisan wines is always an issue, and not just for organic producers. Indeed, outside of more ebullient wine markets like New York, San Francisco, Chicago or Montreal, it may get a lot tougher to find a wide range of organic wines. Which is why events such as Millésime Bio are organized, reaching out to importers from around the world. I certainly hope that distribution improves for the terrific small estates I tasted at Millésime Bio. It's not like they are set to overtake supermarket wines, but it's always good to have more options for consumers willing to explore a bit.
And as for sulfur content, you're absolutely right that US organic legislation is off base. The fact that wines made from organic grapes, vinified naturally without additions of any sort, including sulfur, could be prevented from being called organic, because naturally occurring sulfur is higher than what is legislatively allowed, simply makes no sense. It actually seems… unnatural.

Amy Corron Power is licensed attorney with a background in marketing and public relations. A writer and photographer for Another Wine Blog, she's also covered college football and basketball for a number of sports publications including ESPN.com. A member of the Society of Wine Educators and a self-avowed political junkie, she occasionally contributes to the nationally syndicated blog, MOMocrats™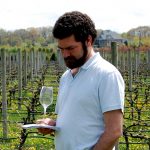 Rémy Charest is a Quebec City based journalist, writer, and translator. He has been writing about wine and food for over 12 years in various magazines and newspapers. He writes two wine blogs (The Wine Case, in English, and À chacun sa bouteille, in French) and, as if he didn't have enough things to do, he also started a food blog in English, The Food Case, and one in French, À chacun sa fourchette.