A fine rosé is a wonderful thing. Not only does it massage the palate, but it's also an intellectual exercise, a philosophical study, and a work of art. That's a lot of gravitas for what's often dismissed as a lightweight pink wine.
But I'm not speaking of the accidental or opportunistic rosé made to satisfy the demand of the market, or simply by happenstance or out of a winery's pure laziness. I'm talking about an intentional rosé—a wine whose sole purpose is to be a rosé.
Saignée rosés, where lightly tinted wine is pulled from red wines, are usually pretty good and satisfying, rich in flavor and good partners with savory foods. Most often, these wines are of a single grape variety and reflect that singular nature.
But the finest rosé, the epitome of rosé, is a vin de presse rosé, most especially a Provençal rosé. Provence has elevated rosé to its highest form, an artistic expression equivalent to that of the region's most famous painters: Cézanne, Renoir, Van Gogh. With a savory palette of grenache, syrah, cinsault, and mourvèdre, these Provençal artists work their magic in the gritty red soils of their vineyards, enduring the bluster of the Mistral winds.
The vignerons nurture different vines in separate plots, each intended to be a component in a final blend. The varieties are separately harvested, separately pressed, and lightly macerated to attain the desired color, aroma, and flavor. Then they're separately fermented and finally blended to achieve a precise and elegant balance of all the elements. The vigneron will ensure that the wine's fruit will be balanced by acidity, ensuring a good structure and a wine that is refreshing, seductive, and compelling from start to finish.
Summer brings heat in long, dry days and blessedly cool evenings, and one of its many joys is the tumbling profusion of fresh rosés from the previous year's harvest. Although we now find the shelves full of pink wine, the most dependable, the most reliable, and the most satisfying rosé, to me, is always Provençal. The wine can transport you to the ruggedly beautiful, sun-drenched Provence. Or you can simply quaff it on a warm evening to make yourself feel good.
Provençal rosé is easy that way: it doesn't require, yet it still rewards. Here are three to consider: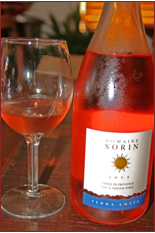 Domaine Sorin Terra Amata Côtes de Provence Rosé 2009
Winemakers Luc and Sergine Sorin manage a small estate vineyard in Bandol, producing both Bandol AOC and Côtes de Provence AOC wines, and the Sorin Bandol AOC Rouge is garnering rave reviews for its style. Their rosé, Terra Amata Côtes de Provence, is widely available in the U.S., and at roughly $10, it's worth keeping a bottle in the fridge. A blend of grenache (40%), cinsault (15%), syrah (10%), mourvèdre (15%), carignane (10%), rolle (5%), and "other" (5%), this rosé offers seamless flavors of mild peachiness, intense strawberry, mouthwatering watermelon, and a bit of tart raspberry. The juicy flavors are balanced with crisp, lively acidity.
Many of us may be able to parse the Latin name Terra Amata, if only from vaguely remembered declensions of 'amo, amas, amat…' The name reflects Sorin's intimate connection with the soil and climate, or what the French dub terroir.
Chateau de Miraval Rosé "Pink Floyd", Côtes de Provence 2009
The Pink Floyd is undeniably pink—a glowing, gorgeous, soft, beautiful pink. It is also bright and lively, lavish with rose petals, peach, pear, and strawberry. Very lightly spiced, it offers intense flavors and has an incredibly long finish. The wine's primary fruit is old vine cinsault, with younger grenache to add strawberry-watermelon notes. These flavors are balanced with a wonderfully tart, lively acidity that keeps the wine constantly fresh and vibrant on the palate.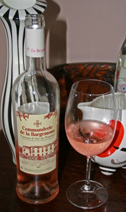 Commanderie de la Bargemone Rosé, Coteaux d'Aix en Provence 2009
In the sub-appellation of Coteaux d'Aix en Provence, a small area centered around the city of Aix, Bargemone makes a traditional steely, crisp and mouthwateringly tart rosé from a blend of grenache (50%), cinsault (30%), syrah (15%) and carignan (5%). Faint orange and peach in color, and laced with the smell of honey, the wine surprises with not-quite-ripe strawberry, fresh herbs, and lean minerality. As it rests in the glass, taking on air and warming, it expands in the mouth to become fleshier, more rounded and less austere.
So there you have it:  three roses from Provence, each different, each distinctive, and each a structured, complex and nuanced work of art. Fortunately for us, this is one art form that can as easily be appreciated in St. Tropez as in one's own back yard.
---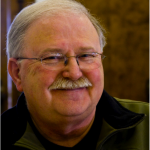 An enthusiastic lover of wine and spirits, Mr. Harden left a career in academia to follow his other muse for the last 27 years, trekking around the world to the great wine producing regions. He has experienced every possible facet of the world of wine and spirits as a retailer, restaurateur, bartender, buyer, wholesaler, supplier, marketer, critic, writer, competition judge, and educator. He is currently with Elixir Vitae Wine & Spirits Consultants, holds a CSW and CSS from the Society of Wine Educators, is the Portland Spirits Examiner for Examiner.Com, the Wine & Spirits Instructor at Mt. Hood Community College, and a Master Instructor with the French Wine Academy. His blog is at www.violentfermentation.blogspot.com.