Despite repeated attempts at coercion, I can't get Franz Landauer-Gisperg to tell me how he acquired his amphorae. "If the other winemakers round here knew where I got mine, they'd all want one" is his rather cryptic comment.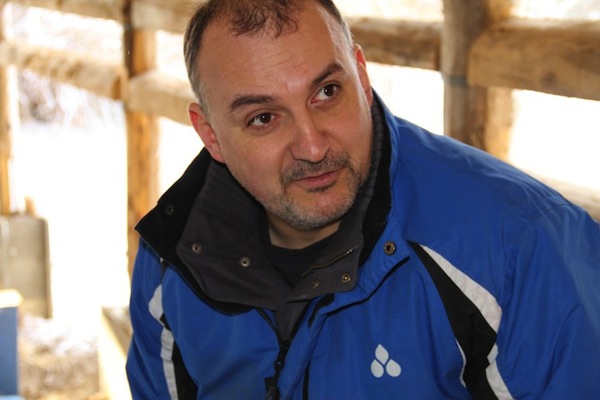 A better question might be "what the hell is an amphora doing in an Austrian winery?" – we're in Tattendorf, in the east-central Thermenregion. The tradition of fermenting wine in large clay pots (or qvevris) is more properly part of ex-USSR Georgia's wine culture – not Austria.
On the face of it, Tattendorf isn't a promising place to make wine. The vineyards surrounding the village are flat, with limestone soils. Irrigation is permitted – and necessary in most years. Winemakers with holdings in more prestigious Gumpoldskirchen or Bad Vöslau sometimes disparagingly question whether Tattendorf has any right to the Thermenregion name at all.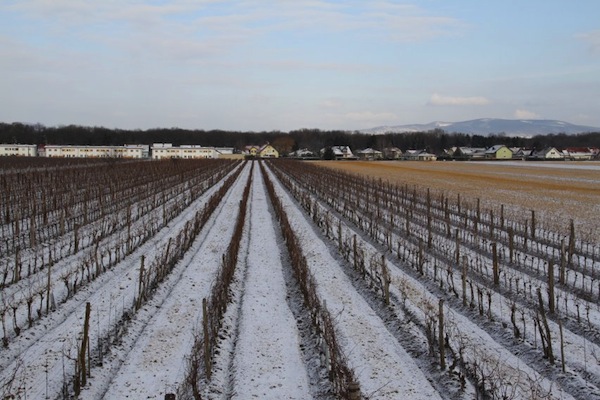 That said, the area has established itself as one of the most important for St. Laurent (Austria's indigenous pinot noir-like red grape), and as the only part of Thermenregion where any significant amount of red wine is produced.
Franz doesn't come from a long lineage of winemakers – in a previous life he was a mechanic. Perhaps this explains his healthy disregard for accepted wisdom: "It doesn't matter if experts tell me something will never work, I'll try it anyway". This willingness to experiment has lead him to convert the estate to organic viticulture – with experiments in biodynamic cultivation also underway.
Underpinning this is a deep-rooted belief that the key lies in old traditions: "I don't believe that our ancestors drank bad wine". Thus, a new programme of replanting vineyards using the old stake-training system (something like Albarello, with a single post per vine) – and, taking inspiration from Josko Gravner's qvevri-fermented wines, the desire to use amphorae for fermentation.
Franz being Franz, there are some more experimental additions to the long-established qvevri tradition chez Landauer-Gisberg. Normally a qvevri would be sealed with a wooden lid, and earth. But Franz has developed a slightly Heath-Robinsonesque pneumatic rubber seal, to better prevent oxygen entering the vessel.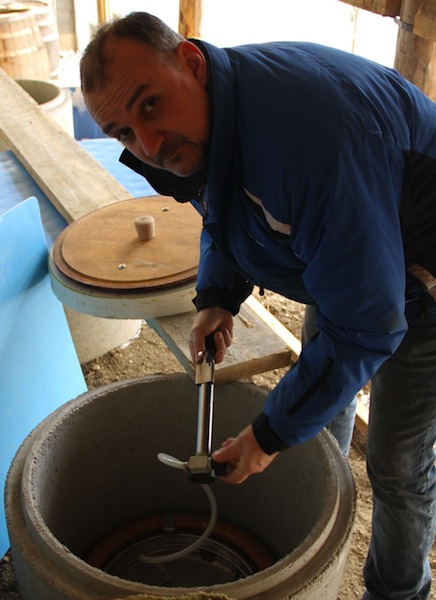 I'm sceptical as to whether Franz's multitude of ideas and experiments can result in good wine, and a consistent character. But on tasting, something becomes very clear: there are serviceable wines in the basic range, better ones in the "Klassik" and "Best of" cuvees (especially the seductive St. Laurent 2010), but the best of all are indeed the two qvevri-fermented labels.
Amphorae 2011 "Weiss", made from rotgipfler and pinot blanc, has a floral, nutty complexity and impressive freshness. Amphorae 2009 "Rot", from zweigelt, st. laurent and cabernet sauvignon is rich, earthy, satisfying and vibrant, while the 2011 vintage is attractively and energetically pungent with Christmas spices and cinnamon.
These are great wines that I would happily spend time with. Purists might argue whether they are truly an expression of Thermenregion, and perhaps they are not – yet there is freshness, elegance and restraint, all hallmarks of the best wines in this region.
Franz isn't alone in importing Georgia's 8,000-year-old traditions to Austria. Head south to Ploder Rosenberg, in the Vulkanland part of Styria, and here too there are a row of qvevris, buried in the ground. Both Fredi Ploder and his son Manuel have spent time in Georgia – Manuel tells an extraordinary story about an abortive internship, which nonetheless ended with him travelling the country and getting enthused with its traditions and culture.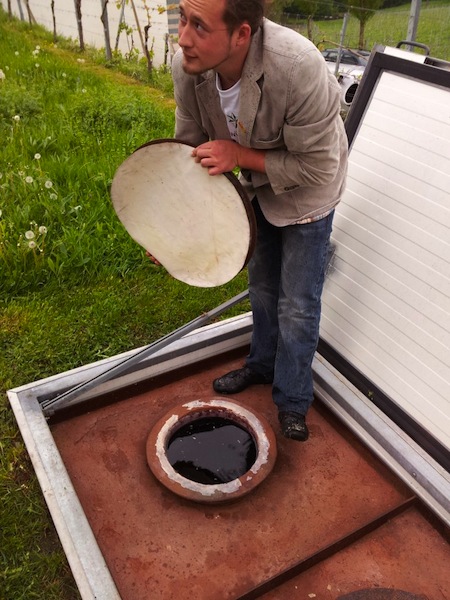 Ploder Rosenberg's range of three qvevri-fermented wines are surprising and sometimes thrilling, but feel like work in progress. I love Aero 2011, with its typically Styrian mix of sauvignon blanc, traminer and yellow muscat, and less typical aromas of red grapefuit and cloves, but find Maro and Tero harder to get to grips with (And Tero is quite grippy).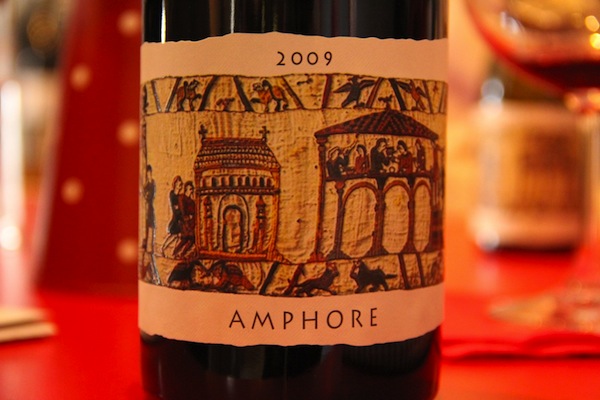 The amphora/qvevri as fermentation vessel has much to offer, promoting slow maturation without undue influence on flavor. But whether its usage is a growing trend in Austria, or merely a cultural irrelevance and fad is too early to tell. Meanwhile, in the hands of winemakers who want to push the boundaries a little, it's helping produce some damn fine wine.
[author] [author_image timthumb='on']http://palatepress.com/wp-content/uploads/2012/08/simon-woolf-2010-e1345614169633.jpg[/author_image] [author_info]Simon Woolf is a WSET trained wine and food enthusiast living in London. His blog themorningclaret.com focuses on smaller producers who use organic, biodynamic or natural wine-making methods, and on those parts of the wine world less well travelled. Simon also writes for timatkin.com[/author_info] [/author]