Shelf talkers are small informational marketing pieces that are affixed to the displays where wine is sold. Often called "silent salesmen," they are a source of considerable controversy in the wine trade.  The ways shelf talkers can mislead shoppers range from innocent mistakes to unattributed no-vintage barkers to outright fabrications. The excuses retailers use to defend them are no less varied.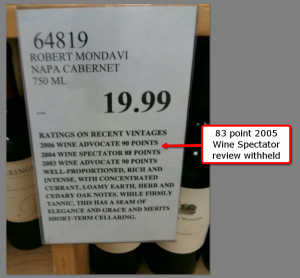 A recent visit to the Costco in Waltham, outside of Boston, gave me a chance to spot-check an assertion I had made while defending Costco's shelf talkers on another wine blog. I said that I hadn't seen Costco withholding more recent ratings when they were available and cited the Robert Mondavi Napa Valley Cabernet Sauvignon specifically. I'm sad to report that it appears I was wrong.
The photo to the right shows the 2006 vintage of the wine for sale, and while the ratings on the store-made shelf talker go as far back as 2003 and include scores between 88 and 90 points, the 83-point rating this wine received from
Wine Spectator
in the 2005 vintage is not mentioned. Further, the 2006 vintage
has
been rated by Wine Spectator: 88 points. However, only the higher 90-point rating from Robert Parker's
Wine
Advocate
is mentioned.
Simply put, this Costco shelf talker is a prime example of cherry picking. It's cherry picking in that the 83-point 2005 rating from Spectator is selectively overlooked since the 2004 rating is higher. And it's cherry picking because ratings from other publications are used when they're higher than the Spectator ratings. Taken as a whole, the shelf talker paints an unrealistically positive picture of the wine being sold.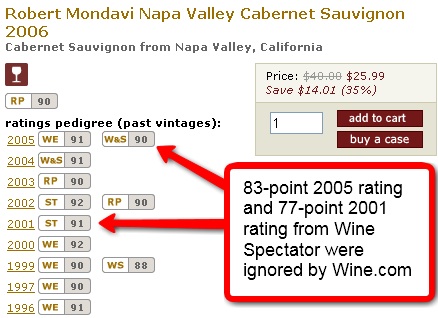 Costco (the largest wine retailer in the United States) isn't the only one who plays this game. I've seen it at local wine stores and on Wine.com (the largest online wine retailer). The image to the left shows a listing for the same Mondavi Cabernet on Wine.com. Here, instead of a laminated store-made sign, the shelf-talking is done by a hefty roster of scores. Notice that the ratings go back 10 years and draw from sources like Wine & Spirits and Stephen Tanzer in addition to Robert Parker, Wine Enthusiast and Wine Spectator. A reasonable person would infer from the long list that Wine.com is providing a comprehensive summary of all available ratings; in reality, this retailer too is misleading the consumer. In addition to the 83-point Spectator rating of the 2005 vintage being excluded, a shockingly low 77-point WS rating of the 2001 is also selectively ignored.
I should note that I don't have a problem with including ratings from past vintages. In cases where the wine being sold hasn't been rated yet, a track record of recent reviews can be helpful. However, they shouldn't be deceptively selected, and they should be updated within a reasonable amount of time of new ratings being released.
C'mon, Costco and Wine.com! You're better than that, and so is the Mondavi Cab. I'd really like it if Costco, Wine.com and others took note of this and worked to clean up their point of sale material. It's just not fair to consumers.
Question of the day: What do YOU want from retailers in terms of shelf talkers?
Robert Dwyer is a Massachusetts-based wine blogger at
The Wellesley Wine Press
.  He helps people enjoy wine more while spending less money by discovering wines of value at all price points.