Note from the Publisher – Palate Press, The online wine magazine, is thrilled to announce that we will once again host Open That Bottle Night on the last Saturday in February. On Saturday, February 23rd, please join us and share the story of your Open That Bottle Night bottle. Dottie Gaiter will host.
Open That Bottle Night is an occasion to uncork sweet memories and the wine we'll open on Feb. 23rd.  This year, it's, a 1973 Dry Creek Vineyard Sonoma County Petite Sirah that takes us back to the beginning of "us," the year we met, 1973.
To be exact:  June 4, 1973, at around 9 a.m., in the newsroom of The Miami Herald.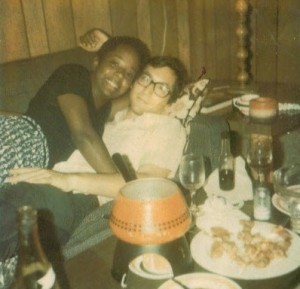 We were 21-year-old cub reporters, and it was the first hour of our first day of our first jobs out of college. Metro Editor Steve Rogers introduced us. (The young couple can be seen, right, in the 70's-est picture still in existence.)
Many people probably have publicly testified to similarly life-changing moments, but this is how we described it in our memoir, Love By the Glass, Tasting Notes from a Marriage: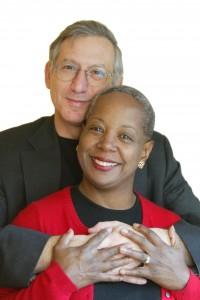 Dottie looking at John: " God, was he handsome. What's a girl to do?

   I raised my hands over my head and bowed three times 'Salami, Salami, Baloney!' We laughed and I looked into those eyes again. It was as though I was looking into myself. I felt in my bones like I had known him forever."

   John looking back: "She was, simply, the cutest person I had ever seen.  Her body seemed covered in sparkles that exploded all around her, and everything else in the room suddenly looked flat and dull. But there was something more than that. I felt the instant I saw her that we had always been together, and knew we always would be."
OK, OK. Back to the wine. Yep, we love reading those paragraphs. And, yep, our daughters Media, almost 24, and Zoë, 22, roll their eyes when we do.
We invented Open That Bottle Night to nudge all of us to open those wines that we've been keeping for a momentous event and never drink because no occasion, it turns out, is momentous enough. We kept hearing from readers of our column in The Wall Street Journal (which we left in 2009) about all manner of milestones  celebrated without these wines.  So we designated the last Saturday in February as the date when we would all summon the courage to open that bottle and make it the cause of jubilation. Just gather loved ones and celebrate the bond you share and the contents of those bottles. In truth, every night should be OTBN. And, yes, we celebrate every June 4 as well.
The wine doesn't have to be a precious, dust-covered relic. It could be a wine, old or young, that just has some significance for you.  Our OTBN 14 bottle fits the "old" category. John bought it in December from Chambers Street Wines, a reputable purveyor of fine wines near New York's City Hall.  It cost $26.99 and a sticker on the back says it was acquired from a private collection. It is number 2,101 of 3,100 bottles: only 258 cases were made.
Last year, we enjoyed a Sanford & Benedict Winery Parral that we purchased for $1.99 long ago, when we lived in Miami.  That selection led us to legendary grape grower Richard Sanford, who made it, he told us, either in 1978 or 1979, before his partnership with Michael Benedict ended.  Sanford left his namesake winery in 2005. The Merlot and Cabernet Sauvignon vines that made the Parral were eventually grafted to Pinot Noir.  For OTBN 12, we opened a bottle of Dixie Blush from Bryant Vineyard in Talladega, Ala., that was given to us more than a decade ago by our friends Harold and Jean Settle. We had lost Jean in late 2010 to pancreatic cancer. Winemaker Kelly Bryant told us he made Dixie Blush from Creek grapes, a type of Muscadine. It was sweet and crisp and delightful and served as bookends to the 1989 Château Meyney (from our daughter Media's birth year) that we had with dinner.
For our first OTBN, we had four vintages–the 1982, '85, '86 and '91–of Château Musar, the famous red wine of Lebanon that we used to collect, with our cousins Jon and Wendy Smith, who we don't see enough.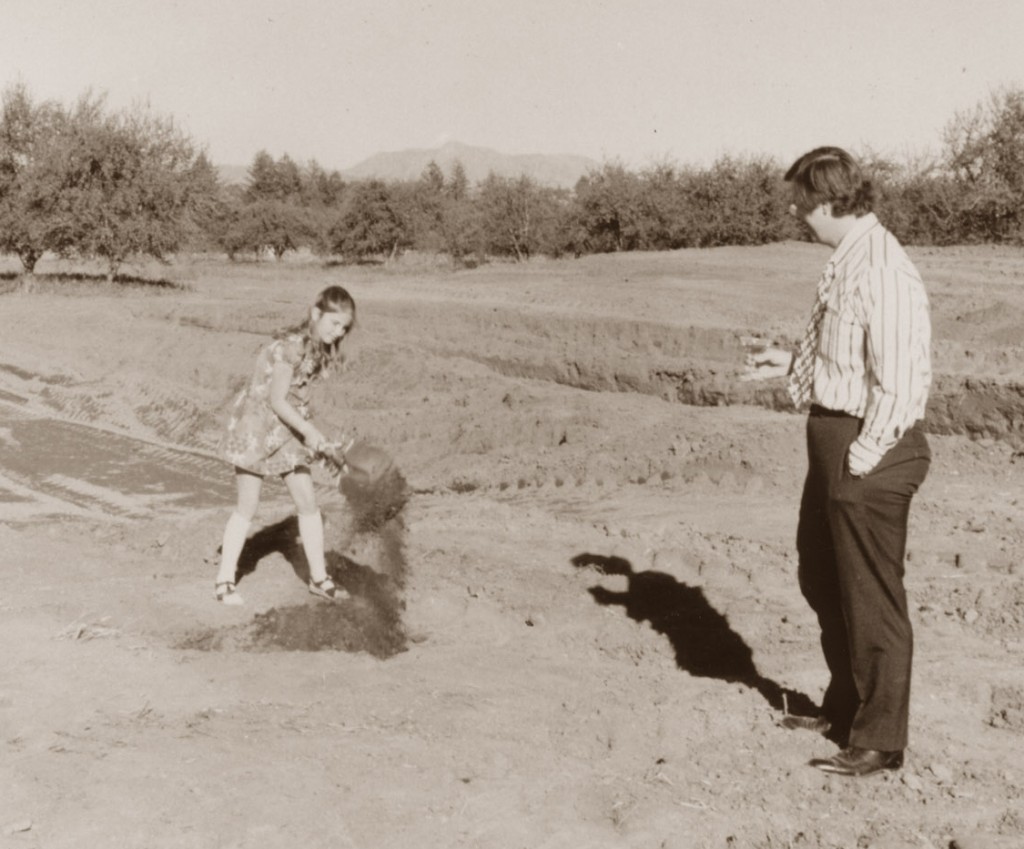 On to this OTBN. Pioneering winemaker Dave Stare (pictured right, with his daughter Kim, 9, breaking ground) founded Dry Creek Vineyards in 1972, the first new winery in Sonoma's Dry Creek Valley since Prohibition.  He told us that his very first wines were made at Cuvaison and that our bottle was from "our first year of red-wine production at our own facility."  It's 60 percent Petite Sirah and 40 percent Zinfandel, all purchased grapes. And it was made at a time when you could give a wine a varietal name if it had only 51 percent of the grape type instead of the currently required 75 percent.  "We didn't get very much Petite Sirah, but we had lots of Zinfandel," he recalled.  "I haven't tasted that wine in about 12 years, but if the cork is sound, it should be a magnificent bottle of wine."  He has 20 to 30 still at the winery and invited us to drop by to share one.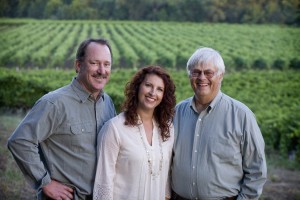 His daughter and the president of the winery, Kim Stare Wallace (pictured, left, with Dave and husband Don) said she tasted it a little over two months ago. MaryAnn Graf, who in 1965 became the first woman to graduate from the viticulture and enology department at UC Davis, gave it to her last year during the winery's 40th anniversary festivities. "She had it in her home," said Wallace, who later shared it with friends and pronounced it "phenomenal."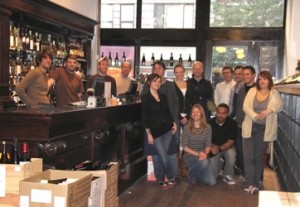 How did Chambers Street Wines (pictured at left) come to have it? John Rankin, a salesman and buyer, said, "Sometimes we buy collections that are full of random bottles. People buy more wine than they realistically can drink and some collections include a lot of older California wines, made in a style that we like. People forget what they have or they move on to Burgundies, Bordeaux, other things. So there are these old bottles from the '70s and '80s and a lot of people are really happy to try them at a good price. I hope that it's fabulous."
How can it not be? It may hit some bumps as it unfurls on OTBN, but there are 40 years of memories in that bottle.
——————————————————————————
Dorothy J. Gaiter, with her husband John Brecher, wrote the wine column Tastings for The Wall Street Journal from 1998 to 2009, when, to the consternation of wine lovers everywhere, they suddenly announced their last column. Together they share their lives, raised daughters Media and Zoë, and wrote Love By the Glass, Tasting Notes from a Marriage, Wine for Every Day and Every Occasion, and several editions of The Wall Street Journal Guide to Wine. Dottie and John have hosted Open That Bottle Night in Palate Press: The online wine magazine since they left the Journal. For Palate Press' first interview with Dottie and John please see Dottie and John Share Their Thoughts About 'Open That Bottle Night,' by Meg Houston Maker.