It's that time of year again. This week we will be running our favorite articles from Palate Press staff writers. In this piece, Born Digital Wine Award-winner Simon Woolf ruminates on wine and beer "faults."
Brettanomyces and volatile acidity – these are a few of my favorite things. No really – in the past month I've enjoyed both a wine and a beer that managed a perfect fusion of the two. Let me explain, lest you think I've gone clean out of my senses from all the bacteria.
First the beer – Brouwerij Oud Beersel's Oude Geuze Vieille, a superb, complex Belgian sour beer, with a bracing citrus kick perfectly balanced by creamy, cooked apple and some bretty funkiness. Oude Geuze (sometimes spelled "gueuze" and not to be confused with "gose," a light, German sour style) is an old tradition from the Zene valley near Brussels, where young and aged Lambics are blended together in a champagne bottle and allowed to referment painstakingly slowly, fuelled only by the remaining sugars in the young lambic. Lambics are themselves fermented spontaneously, and are traditionally sour, bone dry and not particularly sparkling.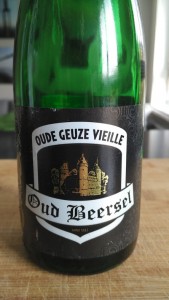 The two indigenous yeasts that usually join the party in the Zene valley are both forms of Brett –  Brettanomyces bruxellensis and Brettanomyces lambicus to be precise. This goes a long way to explaining the special, farmyardy character that is typical and desirable in a good Geuze. Volatility is another key element, providing the fresh spritzy kick that slices through the murk. Again, it's a feature, not a fault.
Traditional geuze beers are unique and wonderful, albeit something of an acquired taste. Sour beer is somehow out of sync in the modern age where flavor, or its replacement, is usually achieved with large quantities of added sugar and salt. Dig a little deeper though, and sourness has always been a revered quality – think sourdough bread, vinegar, pickles, tamarind in South India or Sumac in the middle east.
Onto the wine. La Stoppa's "Ageno", from Emilio-Romagna, Italy, is fast becoming a new wave classic when it comes to orange wines – white wines made with long skin maceration, if you prefer. Here we have a blend of Malvasia di Candia Aromatica, Ortrugo and Trebbiano left on their skins for 30 days.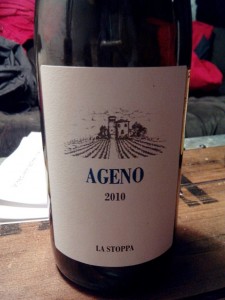 This is one of those wines that shouldn't work – there's a definite note of nail polish remover on the nose, a sure sign of volatile acidity, but it genuinely isn't unpleasant here. In the same way that some back vintages of Chateau Musar get away with it, so does "Ageno". The Brett influence seems to vary from year to year – 2010 is fairly clean, although there are some Christmas spices (clove and so forth) which is usually a hint. 2009 is another matter, being riddled with all things savory and barnyardy. In both cases, there's a certain tartness which keeps the wine taut and lively.
Somehow all the elements combine into a super satisfying beverage that refreshes, entertains and thrills. This is everything your mother warned you about when she said "Stay away from those natural wines sonny – their off-flavours, rustic tannins and bizarre bacteria will stunt your growth!". Yet it's wonderful and moreish.
I wasn't just struck by how much I loved both these beverages, but also by how much their flavor profiles overlap. The sourness, high acidity, baked fruit and what the Oxford Companion to Wine once wonderfully described as "the smell of decrepitude" are key factors in both drinks. One can argue about loss of terroir and whether Brett in wine constitutes a fault, but for me this misses the point.
Brett and acetic acid create distinctive, strong flavors that can add interest, excitement and uniqueness. Both Oude Geuze (now a protected term) and the skin macerated style of white wine have long tradition and authenticity behind them. These are venerable styles that will shock you out of the bland, bacteria-free mediocrity that dominates 21st century food and drink. Cheers!
---
La Stoppa – Ageno is available across the US for around $35 a bottle.