It is always worth a trip to the southern regions of Italy, particularly in summer when nature is in full bloom. This season I was invited to participate as a judge in Radici del Sud, the Exhibition of Southern Italian wines (organized by the Association Propapilla) which was hosted by the city of Bari.
This is a complex event with a rich program that lasts a whole week. The first two and half days are devoted to B2B meetings between foreign buyers and wine producers. At the same time, wine writers are invited to discover different areas of Puglia; this year I visited the Valle d'Itria and Salento areas.
During the latter half of the week there are blind tasting sessions for the South Italian wines competition. (Here's the list of the winners). And then, at the final exhibition, wine lovers can taste hundreds of wines from Basilicata, Campania, Calabria, Puglia and Sicily and attend a gala dinner prepared by renowned chefs from all these regions.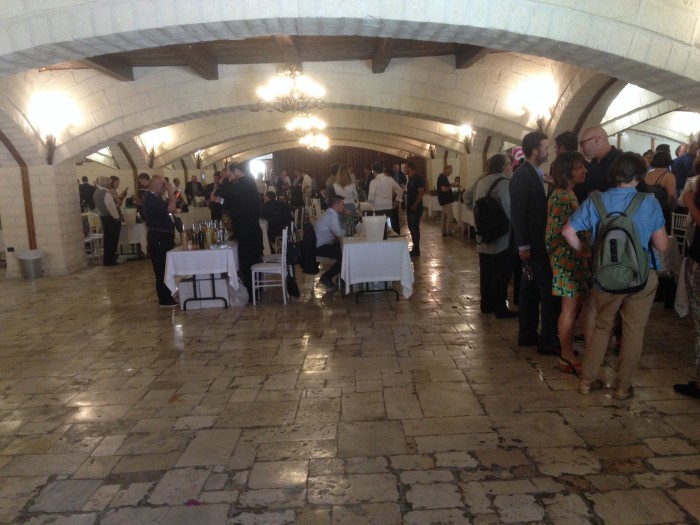 So, what are the most remarkable aspect of this exhibition? First and foremost, only wines from indigenous grapes are allowed because the main goal is to promote and raise awareness of the amazing wealth of local varieties from Italy's southern regions, for both consumers and wine industry members. Secondly, it's a great opportunity – one of the few – where you can taste wines from the smallest and least known denominations. (I admit I wasn't familiar with the Locorotondo DOC, nor the Alezio DOC.)
But the main reason I'm going to tell you about these ten wines is because each one of them is food-friendly, and they are perfect for summer meals and barbecues.
Furthermore, most of them are from organic wineries and all of them are available in the US market, so why not give them a try? Let's get started with a rosè wine:
2015 Severino Garofano "Girofle" Salento IGT. A nice, easy-to-drink rosé made with the typical red grape of Salento: negroamaro. Small red fruits on the nose, fruity on the palate, clean and fresh with a citrus finish. This is a gentle wine you can pair with appetizers or fried snacks.
And now, some whites:
2015 I Pastini "Rampone" Valle d'Itria IGP. It's time to re-discover an ancient, semi-aromatic white grape: minutolo. For a long time it was confused with fiano, a better known variety. Still, nowadays you can find bottles of white wines from Puglia labelled as "Fiano Minutolo." However, minutolo is a rather different grape, very interesting, and the Valle d'Itria is probably the best place to grow it. This wine has quite a Mediterranean character, with flavors of rosemary, thyme, oregano. It's very fresh, clean, citrusy, slightly salty: ideal for pairing with a serving of hot, crisp French fries!
2015 Cardona "Il Castillo" Locorotondo DOP. This wine is actually a blend of three native grapes: the flavors are those of fiano, the saltiness derives from verdeca, and the body is from bianco d'Alessano. The final result is a salty and fresh wine, mineral and long, ideal to refresh you at the end of the hottest summer days. Pair with fresh fish and light dishes.
2014 Carbone Vini "Fiano" Fiano Bianco Basilicata IGT. A pure Fiano from volcanic soils in the Basilicata region. On the nose it expresses flavors of Mediterranean brush. The taste is very dry, straightforward, almost sharp, and very clean.
2015 Cantine Astroni "Colle Imperatrice" Campi Flegrei DOP. Campi Flegrei (Phlegraean Fields) is a renowned volcanic area in Campania: the name is from Latin and Greek, and means "burning fields." It's a big caldera which lies mostly underwater and comprises 24 craters and volcanic edifices. "Colle Imperatrice" is the name of a volcanic sand vineyard of falanghina located very close to the sea. Like the previous wines, it is made only in steel (no wood) so it's fresh, long, with tropical flavors and a lengthy finish. Another great wine for fine fish or seafood dishes.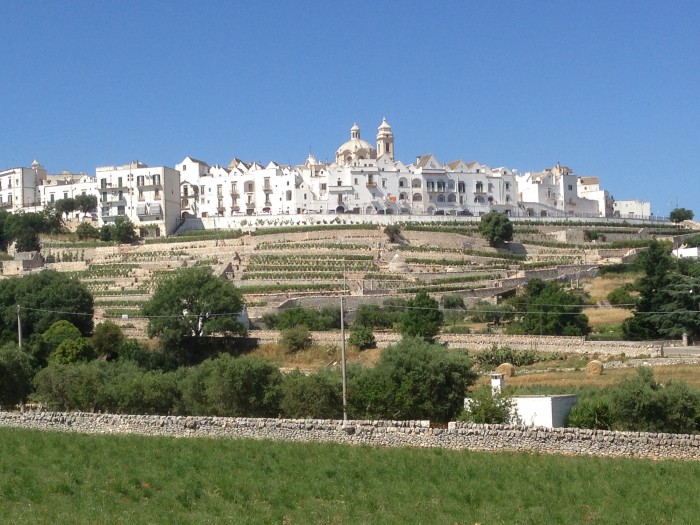 I'm going to conclude this list of suggestions with some very good red wines.
2014 Tenute Rubino "Oltremè" Salento IGT. We could translate the name of this wine as "Beyond me." Beyond me…there is you! A wine especially for lovers. It's made with another local grape, typical of Brindisi area, which is definitely worth being rediscovered by wine drinkers around the world: susumaniello. This is the third native grape variety of Salento and some years ago a group of Italian researchers found that is a cross of Sangiovese and another, so far unidentified grape. In the past, susumaniello was never vinified on its own; it was only blended with other grapes, and was used strictly to produce a heavy, densely colored wine that was used to beef up thinner, less colorful bulk wines. Over the last ten years or so, though, many producers have been experimenting with varietal Susumaniello wines with very promising results, and Luigi Rubino is one of these producers. His Susumaniello "Oltremè" is fresh, easy to drink, very fruity and juicy, with a good balance. Easy to pair with food (like ham or cold cuts), it can also be sipped on its own.
2013 Du Cropio Winery "Dom Giuvà" Cirò Rosso Classico Superiore DOC. Who is unfamiliar with Cirò? It may be the most famous denomination of origin in Calabria, with quite a fascinating history; arguably it is the most ancient wine in the world. This wine is made with 100% gaglioppo (a local grape possibly of Greek origin); it has appealing flavors of oregano, capers, pepper, thyme. On the palate its tannins are a bit rustic, but this is not a wine to drink by its own. It needs food, like a pizza with a lot of tomatoes.
2008 Cupertinum Antica Cantina del Salento "Copertino" DOC Rosso Riserva. From a small cooperative in the town of Copertino, this blend of negroamaro with a small percentage of malvasia nera and montepulciano is vinified in steel tanks and aged in cement vats, whereas the most of the wines of the area are aged in oak. The final result is a wine that's a bit wild, rustic, with flavors of dark leather, balsamic and Mediterranean herbs. It's fruity (blackberries, blueberries) and mature, with velvety tannins. And very drinkable.
2012 Casa Comerci "Libìci Rosso" Calabria IGP. This wine is made with another interesting indigenous grape; it's purely magliocco canino. It is named a wind (libeccio) in the local language. Fermented with indigenous yeasts and aged only in steel tanks, it is a very fresh wine, straightforward, almost sharp but elegant, with citrusy aromas and a nice flavor of pomegranate. Perfect with hearty (fatty) fish.
2012 Vigne Mastrodomenico "Likos" Aglianico del Vulture DOC. The last wine on our list is another one from the volcanic soils of Basilicata. It has flavors of fruits, wild herbs, a scent of graphite and menthol, while the taste is fruity (plums) long and clean. A well balanced and harmonious wine which will be a worthy companion throughout summer meals with meat courses.