They used to call them "the hidden generation." The women of Burgundy's domaines: once banned, never heard, and rarely seen. Women in the shadows.
The women of the hidden generation were the mothers and grandmothers of today's rock star wine makers like Ludivine Griveau, Hospices de Beaune's first female wine maker since 1443. Her 2015 inaugural vintage broke all previous auction records.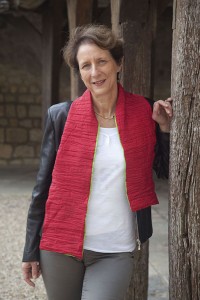 But such cultural adjustments did not happen overnight. Chantal Michel Tortochot of Domaine Tortochot in Gevrey-Chambertin, is a calm woman with wise eyes. She recalls: "When I came back to Burgundy to work with my father in the late 1990's, we were very few female wine makers in Gevrey-Chambertin. Among 80 producers, only three were women – myself, Sylvie Esmonin, and Alexandrine Roy. It is the reason why we started our association (FEVB)."
In 2000, six women wine makers from family domaines – Anne Parent, Anne Schussler, Mireille Desmonet, Chantal Michel Tortochot, and Virginie Taupenot founded Femmes et vins de Bourgogne (www.FEVB.net). Today the organization boasts 38 members.
Exact statistics from 2000 citing the number of women wine makers in Burgundy at that time prove elusive. Cécile Mathiaud, the impeccable, efficient head of PR for Bourgogne Wine Board (BIVB) explains, "It is very difficult to have any number as women always were part of the work but on secondary tasks. Even now, many domaines carry the name of men but are directed by women."
Why? While more and more women winemakers assume directorships, many domaine names remain constant. For example, Veronique Drouhin-Boss makes wine for Maison Joseph Drouhin. Most family domaine names derive from the founder, typically male, some generations earlier. Sometimes a father may modify the name when including son(s) and/or daughter(s) in the operations, usually by altering the name to 'Père et Fils [Father and Son(s)]'
The now venerable Drouhin-Boss, fair-haired and regal, is the vigneron at both Maison Joseph Drouhin in Burgundy, and at Domaine Drouhin in Oregon's Willamette Valley. Drouhin-Boss offers a simple explanation for the favorable attitude towards women winemakers in Burgundy today. "[Change in] mentality! [Changes like] when women were given the right to vote, and not long before that, to write checks, and so forth. Also more women have now done higher studies."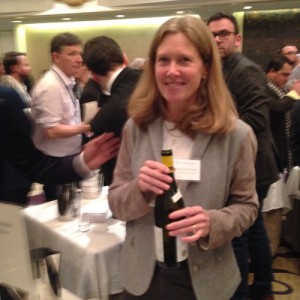 Virginie Taupenot (of Domaine Taupenot-Merme in Morey-Saint-Denis) and her colleagues deliberated carefully before choosing a name for their organization. "The first meeting we spent about four hours coming up with a name. It's not original, but it's explicit. The 'Women and Wine of Burgundy' is one phrase. For most women – me, for example – I work with my brother Romain and my father, both involved in the vineyard and domaine." The petite dynamo continues, "So we don't want to be reductive, or simplistic, and say we're 'wine women' and they are 'wine men.' It's not about competition. No, [in this region] we are a mosaic, with as many personalities behind each wine as the terroirs of Burgundy!"
"Women have a different, yet complementary sensitivity," asserts Taupenot. "It is the passion that drives us all, and the transmission of this magnificent terroir that moves us forward every day. I have heard my Dad, who had only daughters, express pleasure that our association exists. You feel less alone with FEVB in our family estates that are sometimes very small."
Ancestry
For these Burgundian women of the vine, family obligation, rather than the American notion of 'lifestyle choice,' drives their profession. Rather than a burden, obligation to family elicits pride, gratitude, and honor.
Notes Claude de Nicolay, "For me this family domaine has been part of my life since I was a little child. We grew up in Paris, but my joy was to come during every holidays and help in the vineyard and the cellar. Today this family domaine is my principal work, and I would say my finest passion is embodied by my mother!"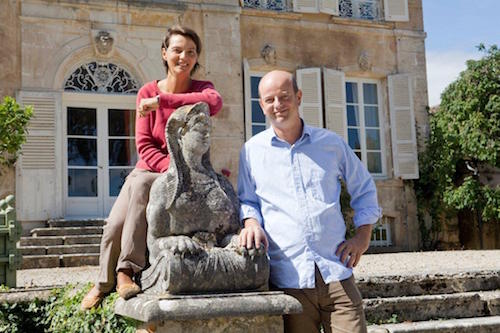 Virginie Taupenot points out, "The Domaine has existed for over seven generations. We are lucky because the area is in the heart of the Côte de Nuits, in God's blessed Earth. Terroir is the land and the history so it is up to us to preserve this wealth. I am also mother of two children — Maxime (Vintage 2002) and Manon (Vintage 2006) — and so I make a point of showing them their heritage, and especially how making wine and drinking is noble."
"In Burgundy, there are so many family domaines," says Florence Heresztyn-Massini, an elegant, cheerful woman from Domaine Heresztyn-Massini in Gevry-Chambertin, "Family and domaine are intimately related. I like to say that you can find the soul of the winemaker/winegrower in his/her wines. For me, it's more powerful than a family."
Attitude
So do women wine makers in Burgundy receive the respect and recognition accorded their male counterparts? Absolutely, according to the women wine makers interviewed here.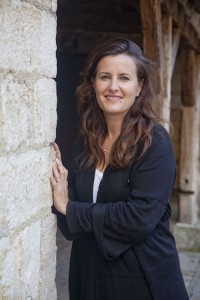 "Yes, as soon as the women have good knowledge of the business, enough experimentation, and strong minds," agrees Claude de Nicolay. "It's like in all business lines," maintains Virginie Taupenot, "To be equal, a woman must work twice as hard. But once she proves she has the capacity, she is respected, and even more acclaimed than some men."
"I arrived at the right time in the 90's," concedes Claude de Nicolay  "It was much harder for my mother in the 80's. Nowadays, mentalities have changed and women in general are much more in the forefront. My mother learned everything by herself and by experience which was a very good example for me: she had great instincts. I arrived at the Domaine with more theoretical knowledge through my viticulture and oenology studies. We are very complementary!"
Taupenot remembers, "My grandfather Armand Merme had four daughters, including my mother.  For others, it was a "drama" to not have boys. So that generation of my mother suffered more because the women were very present, but hidden. In my generation," she confesses, "I was able to start when I was younger, and faced some macho situations; when you're young, you can lack confidence in a male environment. I used to suffer sometimes– but not any more, because I have more trust in myself. And the position of women has evolved and become more respected through the many women who have opened the way, such as Anne-Claude Leflaive, Nadine Gublin, and Anne Gros." 
Approach
In some areas of the world, women winemakers speak of struggling to juggle winemaking and family responsibilities. But women winemakers in Burgundy espouse a pragmatic approach to the dual roles of vigneron and mother, often referring to their wines as they do their children, with stern affection.
Claude de Nicolay acknowledges, "My husband (Frederic Drouhin) and I are in the wine business and we have always shared the family work and responsibilities, so for me my way of living in Burgundy is a privilege! And I give as much affection as possible to my three children and to my vineyard and my wines."
Adds Virginie Taupenot, "In their approach to wine, a man and woman have the same "fight."  We work with passion and respect for nature — we depend a lot on nature — we have the same problems or prosperity."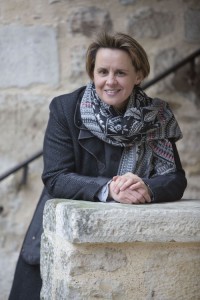 "Our work has become so complex," admits Florence Heresztyn-Massini. "Each man or woman needs to be a good winegrower, a good winemaker, a good commercial, a good approach of finance…You have no choice, you must manage your winery like your own family. It's a passion job!"
Chantal Michel Tortochot asserts, "For me the question of a balanced family life and professional life does not exist, I had no choice, and I had no right to make a mistake." She concludes, "I was well trained in wine making and in a business school, so I was able to do the job."
In other words, Tortochot did not have the luxury of opting for a 'balanced' family life. She had to honor her family duties, as a woman, daughter, and wine maker.  But because of her wine training and business background, she was up to the job, and able to push through any 'unbalanced' times.
Asked if wines made by a woman differ from those made by their male counterparts, she proffers, "I think women winemakers allow wine to ferment and age with less manipulation, resulting in wines with more honest aromatics. So these wines have a certain level of restraint, along with delicacy and complex aromas."
A candid Virginie Taupenot submits,  "Women have less need or lust for power and recognition – they work every day to get things done, but not for recognition."
Veronique Drouhin-Boss sums it up this way,  "My experiences in winemaking in Burgundy and Oregon are both fascinating. In Burgundy I feel my mission is to always make sure that when we bottle a wine it reflects the secrets and characteristics of its terroir. In Oregon my goal is to produce elegant and refined wines and learn about the soils of this inspiring region."
Clearly, for today's women wine makers of Burgundy, it's no longer about making their ways in the wine world, but simply about making the wine.
Correction: A previous version of this article misquoted Virginie Taupenot.