Gary Finnan, of GFC Marketecture, contributed this marvelous bottle of Williams Selyem Russian River Pinot, 2002. Retail value is $65.00.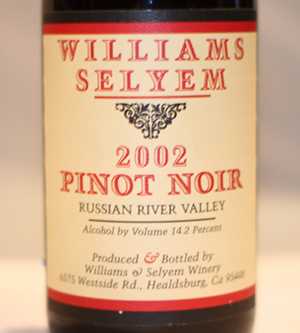 "Deeply pitched red and black pinot fruit aromas nuanced by hints of mocha and spice combine with sexy, rich and generous flavors that deliver good volume if limited complexity at present. The finish is sappy, dusty and mouth coating with a hint of warmth. This is a pretty effort and I like the overall balance here that should enable it to reward 4 to 5 years of cellaring." 88 Burghound Issue 19.
Opening bid is $40.00. Minimum bid increment $5.00.
[How it works- Each auction lot will get its own post. As soon as it gets its own post, the auction is live. After seven days lots will go live AND HOT. Every item will got "hot" if bidding reaches retail value.  Once hot, each lot is on a 24-hour cycle, ending at 10:00 p.m. Eastern Time. If a lot goes a full 24 hours, from 10:00 p.m. to 10:00 p.m., without a new bid, the last bid in the comments wins. If we get into a bidding war, with the same people going back and forth, one day at a time, we will post something in the comments of that Auction Lot and schedule a time to bid to the death, at a time mutually agreeable to everybody involved.]
For more auction Wine for Haiti auction items, please see the Wine for Haiti Auction Catalogue.
February 9, 2010.