The Hudson Valley Wine Goddess contributed a mixed cased from the Hudson Valley, one of everything, something for everybody. Retail value $172.50.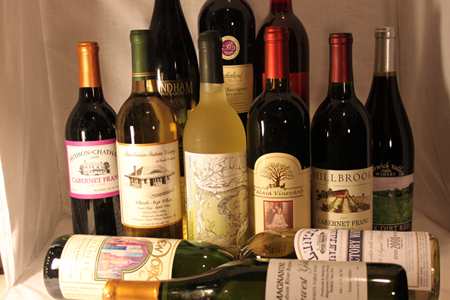 There you go, a tour of Hudson Valley, one bottle at a time. Drink some, save some for gifts, make everybody happy at Thanksgiving.
Opening bid is $50.00. Minimum bid increment $10.00.
[How it works- Each auction lot will get its own post. As soon as it gets its own post, the auction is live. Once a lot has been up for seven days it will go "hot." Every item will got "hot" if bidding reaches retail value.  Once hot, each lot is on a 24-hour cycle, ending at 10:00 p.m. Eastern Time. If a lot goes a full 24 hours, from 10:00 p.m. to 10:00 p.m., without a new bid, the last bid in the comments wins. If we get into a bidding war, with the same people going back and forth, one day at a time, we will post something in the comments of that Auction Lot and schedule a time to bid to the death, at a time mutually agreeable to everybody involved.]
For more auction Wine for Haiti auction items, please see the Wine for Haiti Auction Catalogue.
February 5, 2010.