Palate Press: The online wine magazine is turning over its pages to Wine for Haiti, a joint effort of  Palate Press: The online wine magazine and Brother, Can You Spare a Bottle? Our regular features will be replaced with auction lots to raise money for Haiti earthquake relief. The response has already been overwhelming verifying something we already knew. There is no more loving or generous community in the world than the wine community. Thank you all for your generous contributions and I hope you find some perfect jewels in our auctions.
In other news, Palate Press: The online wine magazine, is proud to announce that Meg Houston Maker and Jeff Lefevere have agreed to join the Editorial Board as Executive Editors.
Meg Houston Maker

Meg Houston Maker is a nonfiction essayist currently writing a memoir of home. She's also an experienced cook and gardener, passionate about growing, preparing, and sharing beautiful food. Her interest in local, sustainable, and organic agriculture gives her a particular appreciation of terroir, the expression of place through food.
Meg chronicles her foodie exploits—from wine tastings to the garlic harvest to reviews of imported olive oil—in Maker's Table, a journal of food, wine, and the pleasures of the table. Follow her on Twitter @makerstable.
Professionally, Meg directs e-commerce operations for a large nonprofit, setting web, email, and social media marketing strategy. She lives, dines, and drinks wine with her husband in Lyme, New Hampshire.
Jeff Lefevere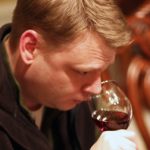 A journalist by education and a technology sales and marketing professional by career, Jeff marries both as the author of the popular national wine blog Good Grape:  A Wine Manifesto.   Writing daily since 2006, Jeff's contemporary and pragmatic take on the culture of wine has led to three nominations and two wins in the American Wine Blog Awards, numerous accolades, trade and consumer magazine writing credits and enough fans to consistently rank within the top tier of wine bloggers internationally.
In his spare time Jeff is an avid Notre Dame football fan and lives in Indianapolis, IN with his wife Lindsay and their dog Coco.