From the private cellar of Janet Majors of Catalyst Wine Group, three signed bottles of Miller Wine Works 2006 Grenache. Retail value $100.00.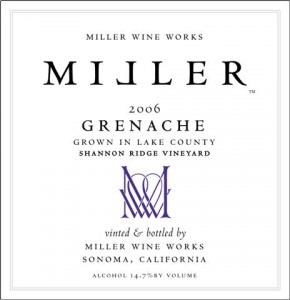 The 2006 Miller Wine Works Grenache is a very limited production (150 cases) wine from the Shannon Ridge Vineyard in Lake County.  It is sold out and Miller and absolutely unavailable except from private cellars. Winemaker Gary Miller makes an absolutely delicious Grenache that stays true to its Rhone heritage, but with a California twist.
Hugging the mountain ridge of the High Valley appellation above Clear Lake, the Shannon Ridge vineyard takes advantage of the warm daytime temperature and the cool air that comes off of the Mountain in the evenings.  Each block of this immaculate vineyard is carefully fitted into the contours of the 40% slope overlooking the lake.  The 2006 Miller Wine Works Grenache exhibits telltale notes of sweet cherry kirsch, violets and strawberries on the nose and hints of dark cherry, raspberry and earthy red plum all cloaked in generous, velvety round mouth feel. This is one of Janet's favorite wines!
Opening bid is $50.00. Minimum bid increment $5.00.
[How it works- Each auction lot will get its own post. As soon as it gets its own post, the auction is live. Once a bit of time has passed, and people really know about Wine for Haiti, lots will go live AND HOT. Every item will got "hot" if bidding reaches retail value.  Once hot, each lot is on a 24-hour cycle, ending at 10:00 p.m. Eastern Time. If a lot goes a full 24 hours, from 10:00 p.m. to 10:00 p.m., without a new bid, the last bid in the comments wins. If we get into a bidding war, with the same people going back and forth, one day at a time, we will post something in the comments of that Auction Lot and schedule a time to bid to the death, at a time mutually agreeable to everybody involved.]
For more auction Wine for Haiti auction items, please see the Wine for Haiti Auction Catalogue.