Two Weekend Packages to Hospice du Rhône 2010*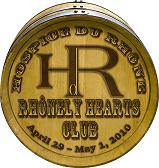 Revel in the international world of Rhône variety wines at the 18th annual Hospice du Rhône celebration April 29 through May 1, 2010 in Paso Robles, California USA. This three-day event boasts Rhône wine producers and wine enthusiasts from across the globe who have gathered all in the name of Rhône. Come expand your knowledge of the Rhône wine varieties at this one-of-a-kind experience with Rhône focused seminars, meals and tastings all while rubbing elbows with the winemakers whose passion spurs the energy created at this spirited affair.
This amazing opportunity comes from the generous people at Hospice du Rhône. Retail value for the conference is $2040.00, but with the added Passes, it is a priceless opportunity.
Two (2) Weekend Packages to attend the 18th Annual Hospice du Rhône celebration April 29 – May, 1, 2010 in Paso Robles, CA USA. The lucky winner will also receive two (2) Passes to the always entertaining Rhône 'n Bowl event and two (2) Passes to the inaugural Sommelier Soirée.
Friday, April 30 – Saturday, May 1, 2010
Package Includes:
Two (2) Garden Breakfasts
Four (4) Seminars (see below for lineup)
Friday Rosé Lunch
Friday Rhône Rendezvous Tasting
Saturday Lunch and Live Auction
Saturday Grand Tasting
Saturday Farewell BBQ
Two Passes for the Annual Rhône 'n Bowl*
Thursday, April 29, 2010
6:30 p.m. – 10:30 p.m.
The highly anticipated and always spirited annual bowling tournament at the Paso Bowl and Grill in Paso Robles brings out the athlete in all Rhône Revelers! This is a "don't miss" event.
Two Passes for the Sommelier Soirée*
Friday, April 30, 2010
7:00 p.m. – 10:00 p.m.
Sommeliers choice! Top Sommeliers, hailing from throughout the United States, have searched far and wide, pilfered their personal cellars and promised favors they most likely cannot keep to bring an exceptional array large format bottles, filled with Rhône wines of course, for all to savor. Stay on the lookout for exclusive Rhône producers as they will be amongst the crowd. Continue to indulge your palate with the tastes of Rhône inspired cuisine prepared by Chef John Toulze of the girl & the fig from Sonoma, California USA.
2010 Seminar Series
Vincent Maurel of Clos Saint Jean and Michel Tardieu of Tardieu-Laurent, both hailing from Châteauneuf du Pape, along with consultant Philippe Cambie
Charles Smith of K Vintners and Charles Smith Wines of Washington State
Stéphane Ogier of Domaine Michel and Stéphane Ogier of Ampuis, France
Six South African producers will host a seminar. They are: Boekenhoutskloof based in Franschoek, De Trafford based in Stellenbosh, Mullineux Family Wines based in the Swartland, Sadie Family based in the Swartland,  Stellenzicht based in Stellenbosch, and Tulbagh Mountain Vineyards based in the Tulbagh Valley.
About Hospice du Rhône
Hospice du Rhône (HdR) will celebrate 18 years of all things Rhone, April 29 – May 1, 2010. Noted as the World's largest International celebration of Rhône variety wines, Hospice du Rhône serves as an International Vintners Association providing promotional and educational opportunities through an annual event. Proceeds from the annual event are used to carry out programs that benefit Rhône producers worldwide. Operating as a non-profit business league, Hospice du Rhône strives to improve the business conditions of grape growers and wine producers of Rhône variety wines and grapes throughout the world. Hospice du Rhône is not affiliated with any other charitable organization. Non-profit 501 (c) (6) Business League.
Opening bid is $1,000.00. Minimum bid increment $100.00.
[How it works- Each auction lot will get its own post. As soon as it gets its own post, the auction is live. Once a bit of time has passed, and people really know about Wine for Haiti, lots will go live AND HOT. Every item will got "hot" if bidding reaches retail value.  Once hot, each lot is on a 24-hour cycle, ending at 10:00 p.m. Eastern Time. If a lot goes a full 24 hours, from 10:00 p.m. to 10:00 p.m., without a new bid, the last bid in the comments wins. If we get into a bidding war, with the same people going back and forth, one day at a time, we will post something in the comments of that Auction Lot and schedule a time to bid to the death, at a time mutually agreeable to everybody involved.]
For more auction Wine for Haiti auction items, please see the Wine for Haiti Auction Catalogue.